In an interview with Glenn Beck Tuesday, Republican presidential hopeful Ted Cruz went so far as to say he believes fellow 2016 candidate Donald Trump's operatives are using the "tactics of union thugs" on the campaign trail.
Cruz's bold comments against his chief GOP rival came after Beck asked the Texas senator for his thoughts on reports that longtime Trump ally Roger Stone is threatening to make public the hotel room numbers of Republican National Convention delegates who switch from Trump to another candidate.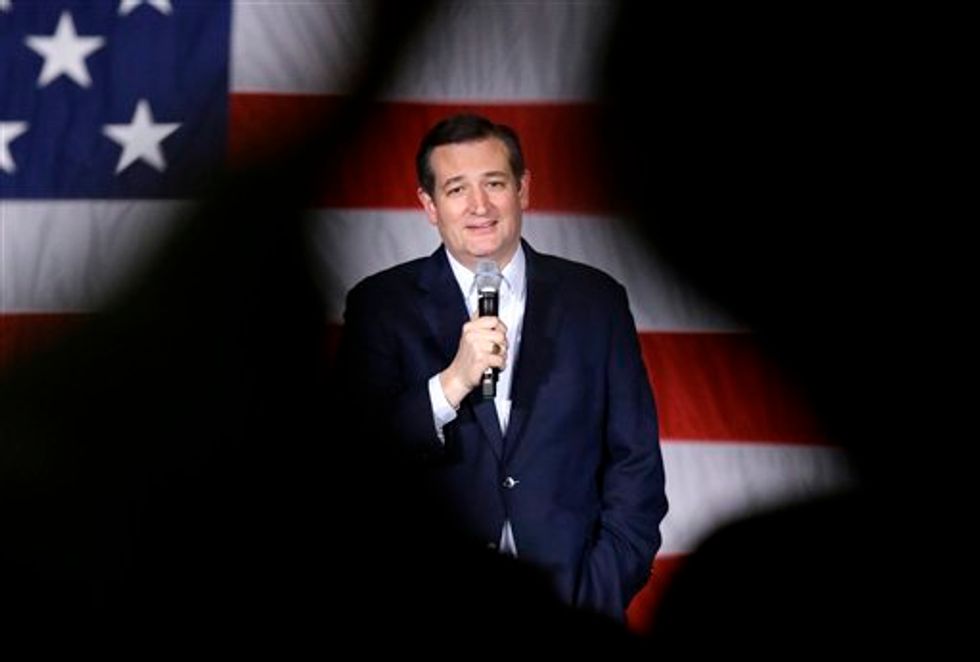 Republican presidential candidate Texas Sen. Ted Cruz speaks at a campaign stop at Waukesha County Exposition Center in Waukesha, Wisconsin. (AP Photo/Nam Y. Huh)
"Roger Stone is threatening in Cleveland to put out the hotel rooms of any delegate that dares cross Donald Trump — that is the tactic of union thugs, that is violence, it is oppressive," Cruz told Beck. "The idea that Donald is threatening delegates — we're seeing this pattern over and over again."
Cruz went on to say Trump has a "consistent pattern of inciting violence," adding that he feels the billionaire businessman "needs to understand he's not Michael Corleone," the lead fictional character in the "Godfather" trilogy, and his campaign staff is not La Cosa Nostra, the name of a famous crime syndicate in Sicily, Italy.
"It is wrong for a presidential candidate or for his henchmen," Cruz said. "You know, Donald keeps hiring people with records of dirty tricks, of lies and of threats to violence."
In response to potential violence at the GOP convention in July, RNC spokeswoman Kirsten Kukowski said that the party has "planned for every contingency" and that they are trusting the U.S. Secret Service to keep all conventiongoers, delegates and candidates safe.
"The convention is responsible for creating a safe and efficient environment for the delegates to do their jobs in the most fair and transparent way possible and that's what we will do," she told TheBlaze.
According to Cruz, who is seeking to position himself as the unity candidate, the Republican Party needs to come together at this moment because the country "is at the edge of a cliff" and the Constitution "is dangling by a thread."
"Donald is spending his time dividing us and inciting violence — that is wrong," Cruz said. "And, you know, when Donald has rallies where he demands of every person there, 'Raise your hand and pledge allegiance to me, Donald Trump,' this is the United States of America; we don't pledge allegiance to a man."
Complimentary Clip from TheBlaze TV The full episode of The Glenn Beck Program, along with many other live-streaming shows and thousands of hours of on-demand content, is available on just about any digital device. Click here to watch every Glenn Beck episode from the past 30 days for just $1!
—
Follow the author of this story on Twitter: