A progressive high school senior penned an op-ed Tuesday criticizing his peers for their efforts to "to shut down free speech" on college campuses.
Mahad Olad, a high school senior who lives in Minnesota, wrote the piece titled "I'm a progressive student who's scared my peers have gone off the deep end in killing free speech" for The College Fix.
Olad said that he was excited to attend a joint lecture by conservative speakers Christina Hoff Sommers and Milo Yiannopoulos at the University of Minnesota, which was one of his "first campus experiences" as he prepares to attend Ithaca College in the fall.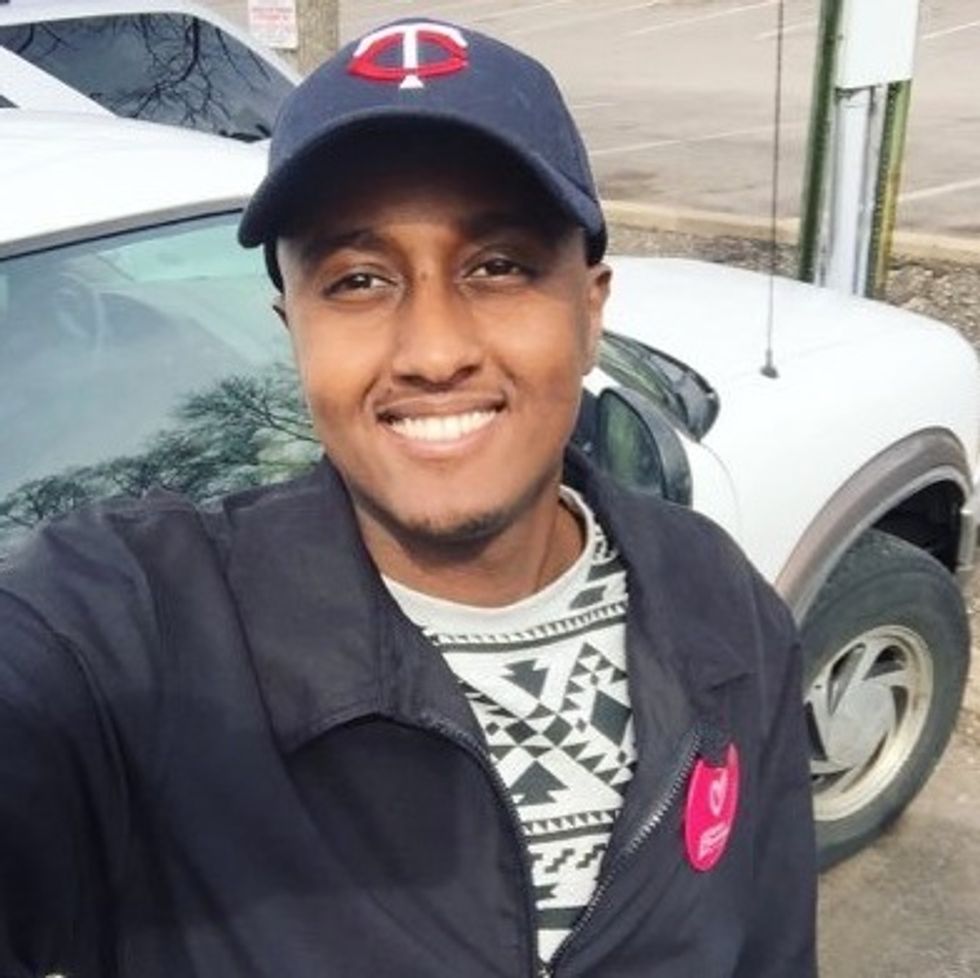 Image source: Twitter @_atariz
But upon arriving at the lecture's venue, Olad was frustrated to discover that student activists protesting the event would succeed in making him 90 minutes late to the event.
"The unruly protest included a throng of students holding signs and shouting that the university was supporting 'transphobic hate speech.' They chanted 'trans lives matter' and 'end rape culture,'" Olad wrote.
Olad, who describes himself as a progressive "who has been celebrated by the ACLU of Minnesota for my youth activism," said that it is both "ludicrous" and "a personal affront" to suggest that he supports such things.
"That evening I had something of an epiphany," Olad wrote. "I really began to understand the pernicious influence student activists who would normally have my sympathies have on the campus environment, especially when it comes to free speech."
He wrote that the activists' "flagrantly intolerant behavior" was "off putting, disheartening," and he condemned their "crusade against free speech."
Olad added that such displays have interrupted — or even led to the cancellation of — on-campus events with speakers like Ayaan Hirsi Ali, Condoleezza Rice and Ben Shapiro.
"As a rising college freshmen, I am very concerned about my future experience," he wrote. "These trends scare the living hell out of me."
College, Olad continued, should "be a place of intellectual growth that respects and permits all views to be to presented, challenged and debated through constructive dialogue, not a hostile arena that demands ideological conformity and persecutes those who dare to voice opposing viewpoints."
He argued that social justice activists who shut down opposing viewpoints contradict themselves.
"Young people pride themselves on being inclusive to other forms of opinion and for encouraging others to have open minds towards people of different genders, sexualities, and ethnic backgrounds," Olad wrote. "But what we're finding to be true is that those who are encouraging a more inclusive atmosphere are only encouraging viewpoints that they themselves find to be true. But I thought an integral part of the college experience is to be exposed to different opinions and values — even if they make you uncomfortable — so that you can form your own opinions and positions on important and contentious issues."
Far from preventing the spread of racism, sexism, and bigotry, the activists are actually "brazenly hindering students from exercising their constitutional right to free expression," he argued.
"I am a firm believer in free speech and this current wave of activism happening across America's finest institutions is brazenly hindering students from exercising their constitutional right to free expression," he concluded. "College is supposed to be a place where people with various backgrounds and beliefs come together to better their education. Individuals should be able to speak freely about their views without having a witch hunt against them for uttering words that make a person feel even slightly uncomfortable. That principle should be applied to both sides of the debate."