Fox News' Judge Andrew Napolitano rebuked Democratic front-runner Hillary Clinton Tuesday, after the former secretary of state said during a gun violence forum in New York Monday that "most of the guns that are used in crimes and violence" in New York come from Vermont.
Clinton's comments were an obvious attack at her Democratic rival, Vermont Sen. Bernie Sanders, but according to Napolitano, Clinton is "profoundly wrong."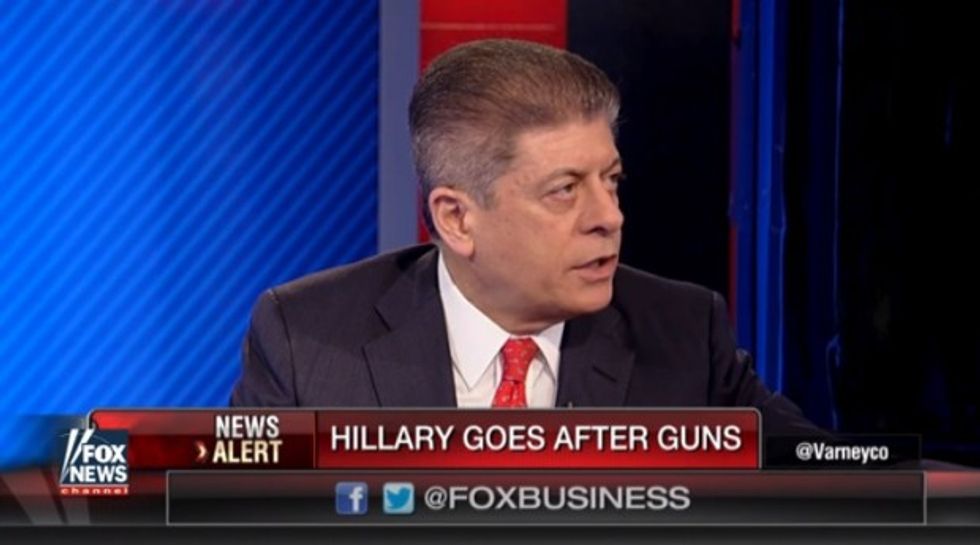 Image source: Fox News
"[Clinton is suggesting] that killings have occurred in New York because of guns that have come from Vermont — there are no gun manufacturers in Vermont," Napolitano said. "So she's adding two plus two and getting 22."
"Not a surprise that she's doing that," the former judge added.
Napolitano went on to explain that Clinton blaming gun manufacturers for people who use guns to commit crimes is like a person suing General Motors because someone used a GM car in a DWI.
"There is simply no due process. There's no fairness," Napolitano said. "There's no connection between the manufactured product and it's misuse by an ultimate owner."
The Washington Post has also taken aim at Clinton's comments. In a fact check posted Tuesday afternoon, the Post gave Clinton three pinocchios for her comments, saying Clinton's claim is a "a misleading data point."
—
Follow the author of this story on Twitter and Facebook:
[facebook //www.facebook.com/plugins/like.php?href=