The "Ferguson Effect" is hitting the city of Chicago especially hard, according to a new analysis from FiveThirtyEight.
The analysis of Chicago crime statistics revealed that the recent spike in violence across the city is directly related to the release of the Laquan McDonald police shooting video last November and the subsequent protests, reforms and policing investigations.
In turn, police are taking a less proactive approach to their jobs, fearing they may be the next police officer on the wrong side of a viral video. Police are also more cautious today due to the increase of anti-police sentiment, according to the report.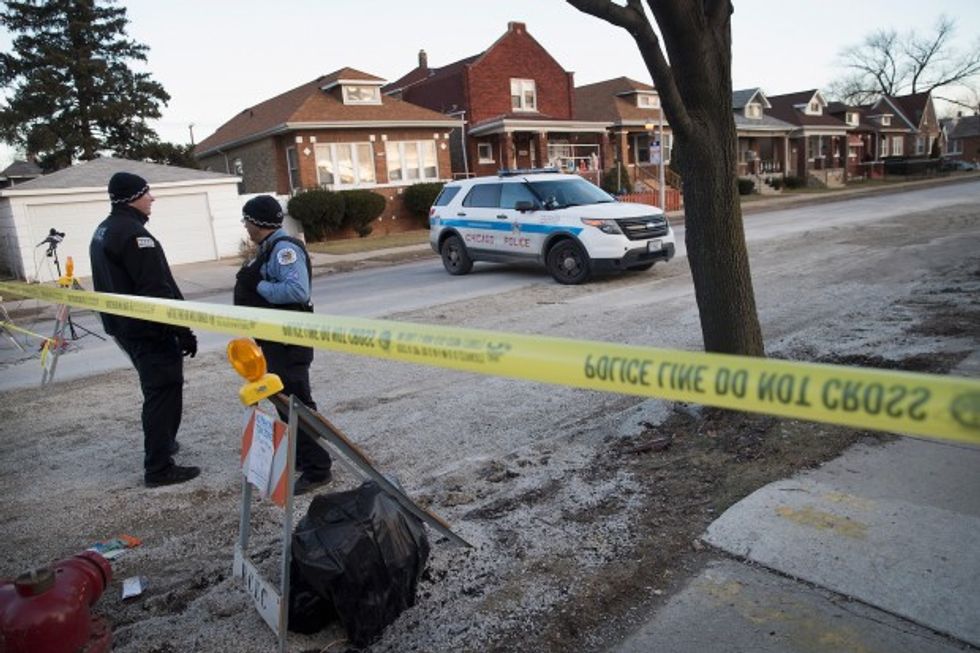 Chicago police guard the perimeter of a crime scene where six people were found slain on the city's Southwest Side Feb. 4. (Getty Images/Scott Olson)
According to the analysis of crime data, 175 homicides and 675 nonfatal shootings have occurred in the city of Chicago between Dec. 1 and March 31. The spike reflects a 48 percent increase in homicides and a 73 percent increase in nonfatal shootings over the same period one year ago, the report said.
However, according to FiveThirtyEight, the huge spike in crime is "too sharp to be explained by seasonal fluctuations or chance." What makes the data even more statistically significant, the report alleges, is that the crime spike began in December, which is a time of the year when Chicago typically sees their crime rates drop due to colder winter weather.
FiveThirtyEight said their theory is further solidified by the fact that there has been a significant decrease in the number of arrests made in homicide and nonfatal shooting cases:
Chicago police made a relatively steady number of arrests per homicide and nonfatal shooting incident each year from 2001 through 2014. But the ratio of arrests for each fell in the immediate aftermath of the video's release and then plummeted even further in March. Only seven of more than 500 nonfatal shooting incidents (about 1.4 percent) and 24 of 143 homicides (16.7 percent) in the first three months of 2016 have led to an arrest. By comparison, an arrest was made in 16 of 166 nonfatal shooting incidents (9.6 percent) and 7 of 30 homicides (23.3 percent) in October, the month before the video's release. The average murder clearance rate for large cities is 61 percent, according to the most recent FBI statistics.
Though no evidence was uncovered to prove that there is an "organized police slowdown" in response to the video and anti-police protests, those who are familiar with the Chicago Police Department say morale is down.
"No police officer wants to be the next viral video," department spokesperson Anthony Guglielmi told FiveThirtyEight.
In addition, Roseanna Ander, an executive director at the University of Chicago Crime Lab, believes officers are just plain uncomfortable. Ander suggested that because of the rise of anti-police sentiment, officers are no longer practicing proactive policing, in turn decreasing the amount of contact they make with citizens.
"Certainly they'll respond to 911 calls," she said, "but if you have a group of guys on the corner and you think you have probable cause to stop them and see if one of them has a gun, you're probably not going to do that."
Though police have not yet found a solution to combat Chicago's crime wave, one thing has become certain, according to FiveThirtyEight: With summer quickly approaching, "the gun violence may get worse before it gets better."
Chicago is currently on pace to see more than 570 homicides and 2,000 nonfatal shootings. If things continue to get worse, it would likely be the Windy City's deadliest year in more than a decade.
—
Follow the author of this story on Twitter and Facebook:
[facebook //www.facebook.com/plugins/like.php?href=