A video showing a Chicago police officer gun down a 17-year-old was released Tuesday evening after a judge ordered last week it be made available to the public.
The footage shows former officer Jason Van Dyke, 37, fatally shoot Laquan McDonald on Oct. 20, 2014. The 17-year-old had a knife on him which police said had been used to slash a squad car's tires. But officials said the shooting was "not justified" and Dyke has been charged with first degree murder.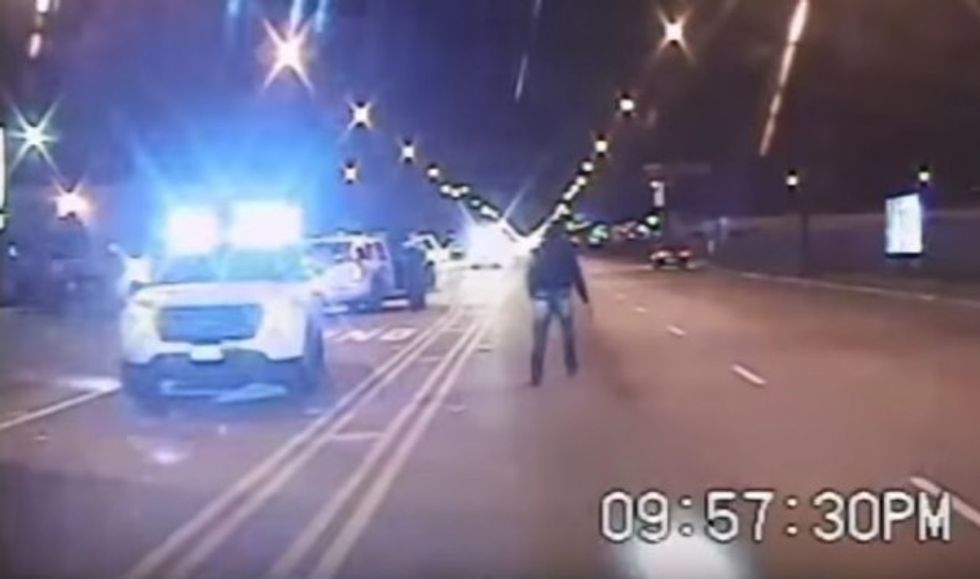 Image source: Screen grab
In the video, McDonald is seen walking in the middle of the street when he is confronted by police and seemingly disobeys their orders to surrender.
Dyke then unloads his firearm on him, shooting the 17-year-old 16 times.
The video was sure to ignite protests throughout Chicago, but city officials urged demonstrators to do so in a peaceful manner.
"I believe this is a moment that can build bridges of understanding rather than become a barrier of misunderstanding," Mayor Rahm Emanuel said. "I understand that people will be upset and will want to protest when they see this video."
"I would like to echo the comments of the McDonald family," he continued. "They have asked for calm and for those who do choose to speak out to do it peacefully. They said that they don't want violence to be resorted in Laquan's name but let his legacy be better than that."
Chicago police said that no extra manpower had been added to the force Tuesday evening.
"We are not predicting doom and gloom. We are predicting protests," Superintendent Garry McCarthy said.
—
Follow the author of this story on Twitter and Facebook: