One motorcyclist donning a GoPro helmetcam captured a frightening road rage moment when three other bikers and a BMW driver confronted one another on a Florida highway.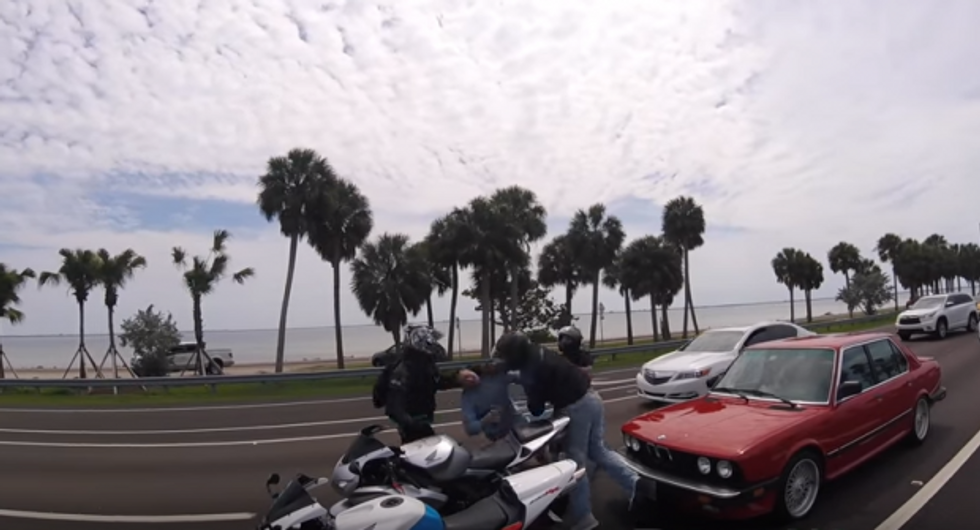 Image source: YouTube
The intense incident, footage of which was posted to YouTube Friday, occurred while the drivers involved were traveling eastbound on the Courtney Campbell Causeway near Tampa, according to WFLA-TV. The footage begins showing one motorcyclist passing the BMW at breakneck speed as he appears to slap the car's fender. Later in the video, two bikers can be seen boxing in the BMW at a stoplight.
When the BMW driver exited the car to confront the bikers, he can be heard shouting, "Stay right here! Stay right here! Hey, stay right here. Stay right here," as he attempts to straddle the front tire of one of the motorcycles.
Before long, the tense verbal argument turns into a physical confrontation as three bikers begin hitting the BMW driver and knock him down as the biker with the GoPro camera watches the exchange. After the blows begin, a woman jumps out of the passenger seat in the BMW and screams as she points a handgun at the three bikers. The driver then straddles one of the motorcycle's front tires again as the GoPro-wearing biker drives off to continue on his way.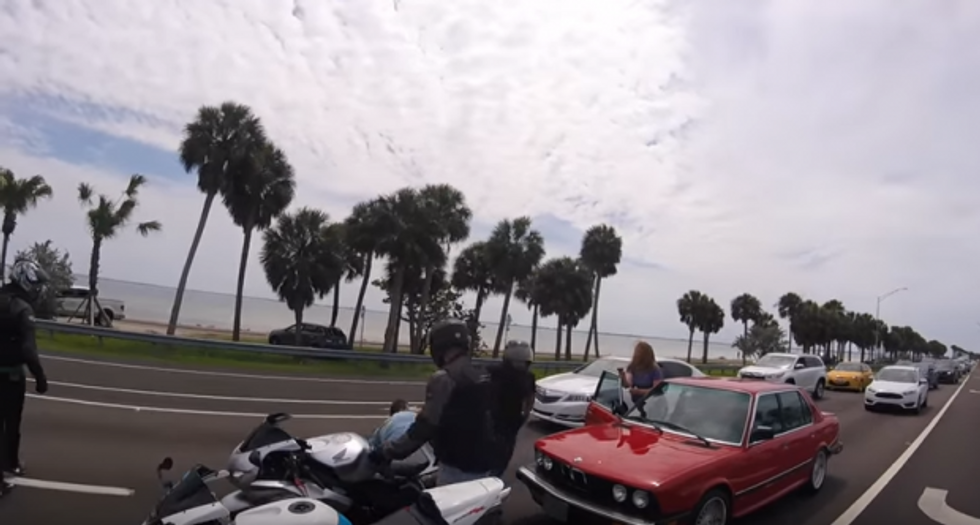 Image source: YouTube
Pinellas Park Police Sgt. Mike Lynch was frustrated with both the BMW occupants' responses and the reckless motorcyclists' shenanigans prior to the violent altercation.
"After the first incident, that's when you get on the phone. And that's when you pick up that phone, you call 911," Lynch told WFLA. "We're looking at a woman who looks terrified for either a friend that was in the vehicle or a spouse of some sort maybe. We encourage the public to call about that type of reckless driving. It endangers all of us on the road, not just their own lives but everybody else that's out there."
The motorcyclist with the GoPro helmetcam posted the video to YouTube, titled "ROAD RAGE FIGHT PULLS GUN! — BMW vs. Motorcycle," under the name Dankwheelie. The video has since been viewed more than 420,000 times, and Dankwheelie insists that he was in no way involved in the violent events depicted in the video.
Watch the entire video below.
(H/T: WFLA-TV)
—
Follow Kathryn Blackhurst (@kablackhurst) on Twitter