A Texas dad who was arrested outside a gas station earlier this month is maintaining his innocence and says that the surveillance video footage is on his side.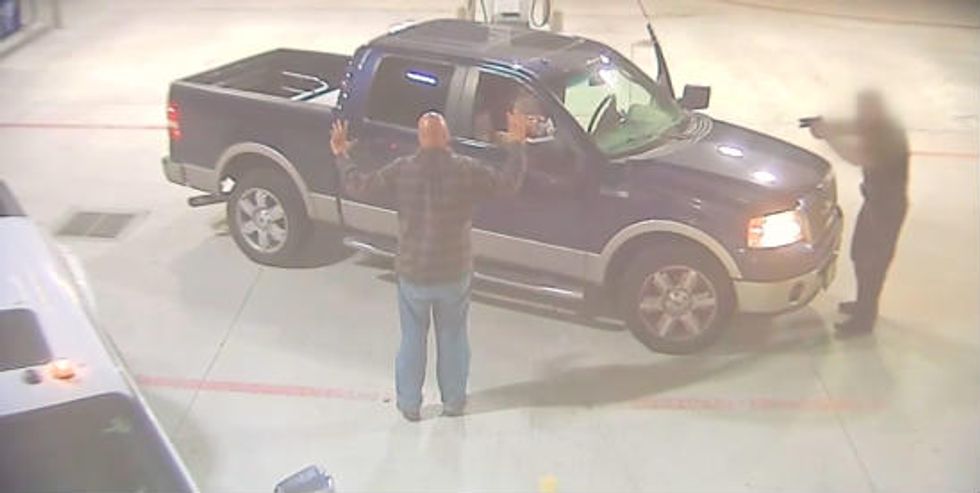 Image source: KTRK-TV
Julian Carmona said he was pulling into the parking lot of an Exxon gas station in Houston April 1 when, as he was getting out of his truck, an object fell from his vehicle to the ground. Surveillance video shows Carmona coming within feet of another truck moments before as he hurriedly pulls into the station.
"When I turned around, I see it's my gun. Because I had it in the side of my door. That's where I kept it all day," Carmona told KTRK-TV.
But after Carmona reaches down to pick up the firearm, the man driving the other truck, an off-duty police officer, gets out and points his gun at Carmona and demands that he lie on the ground, which Carmona did. He was then handcuffed.
"I do know that at some point between the steering wheel and the door jamb of the car, there is an object in his right hand that he appears to bring from the console over the top of the steering wheel," HPD Police Officers Union President Ray Hunt told KTRK. "Where that gun is pointed, I don't know."
But Carmona's attorney, Jed Silverman, said the video shows exactly what happened.
"My client never pointed a firearm at anybody," Silverman said.
Hunt acknowledged that the whole thing might have been a big understanding but isn't ready to dismiss the case just yet.
"I believe it's very likely that there was a misunderstanding on this guy's part, that this was a bad guy. And a misunderstanding on the officer's part that he was about to jack the store," Hunt said.
Meanwhile, Carmona maintains he is innocent.
"I know what I did. There's nothing, especially when I have my kids that I'd do to put them in any kind of danger," Carmona said.
Carmona faces an aggravated assault charge. The HPD Internal Affairs unit is investigating the officer.
Here's the full surveillance footage:
(H/T: KTRK-TV)
–
Follow the author of this story on Twitter and Facebook: