A University of South Alabama student who was carrying an empty holster on campus was cited Wednesday for "causing alarm" — and the exchange he had with police was captured on video.
D.J. Parten, president of Students for Concealed Carry at the university, was protesting along with with fellow student Kenneth Tews, as well as promoting the new documentary, "Can We Take a Joke?" which explores America's so-called "outrage culture," Campus Reform reported.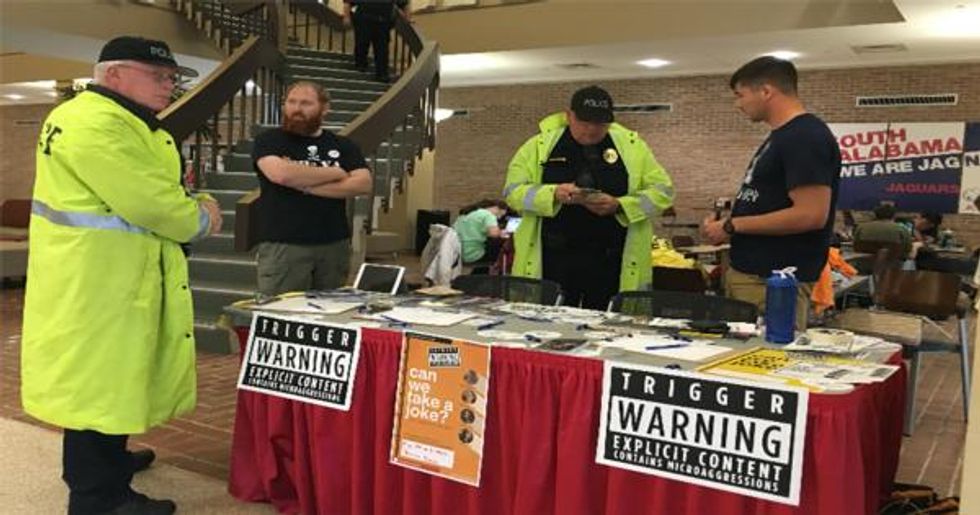 Image source: Campus Reform
But as Parten and Tews were exercising their First Amendment rights, someone apparently notified police who showed up to confront the two students. According to the university's website, "all weapons are prohibited in University housing buildings, parking lots and on University property."
"This includes, but is not limited to, bullets, ball bearing bullets, bullet balls, pellets, firearms, guns, knives, paintball guns, air guns, hunting bows, archery bows, swords, martial arts weapons and replicas of such weapons. Toy water guns are prohibited," the website states.
One officer is shown on the video confronting the students, telling them, "You know there's a no-weapons policy out here, but still you want to push it."
Parten informs the officer that he was only carrying a holster and did not have a weapon. But the officer again asks Parten if he got "permission" to wear it.
"To wear a holster?" Parten asks. "I don't need permission to wear it."
The officer tells Parten that the school has a "no weapons" policy and again, Parten points out that he isn't carrying a gun, just a holster.
"I understand that," the officer responds.
Parten is then told by the officer to "take it up with the dean of students."
"Because y'all are gonna be written up for disciplinary, and I will put in there your attitude, you understand?" the officer continues.
Eventually, the officers leave the scene, warning Parten that he'll be written up again if the department gets any more calls.
"There's some people in here that disagree with what you're doing. And when they see a holster, they call in. It's just part of your protest," the officer says.
Parten disagrees.
"The right to self-defense shouldn't end because someone chooses to get an education," Parten told Campus Reform.
–
Follow the author of this story on Twitter and Facebook: