© 2023 Blaze Media LLC. All rights reserved.
Atheists Successfully Demand Bible Verse's Removal From Public School Website — but Here's How Parents Are Reacting
"Imposing biblical morality on public school students is not the way to go."
Some parents are frustrated and pushing back after an atheist activist group complained and successfully urged a public school district in Texas to remove a Bible verse from its website.
Before staffers Freedom From Religion Foundation stepped in, text from 1 Samuel 17:48 was present on the homepage for the Troup Independent School District. The verse reads, "As Goliath moved closer to attack, David quickly ran out to meet him."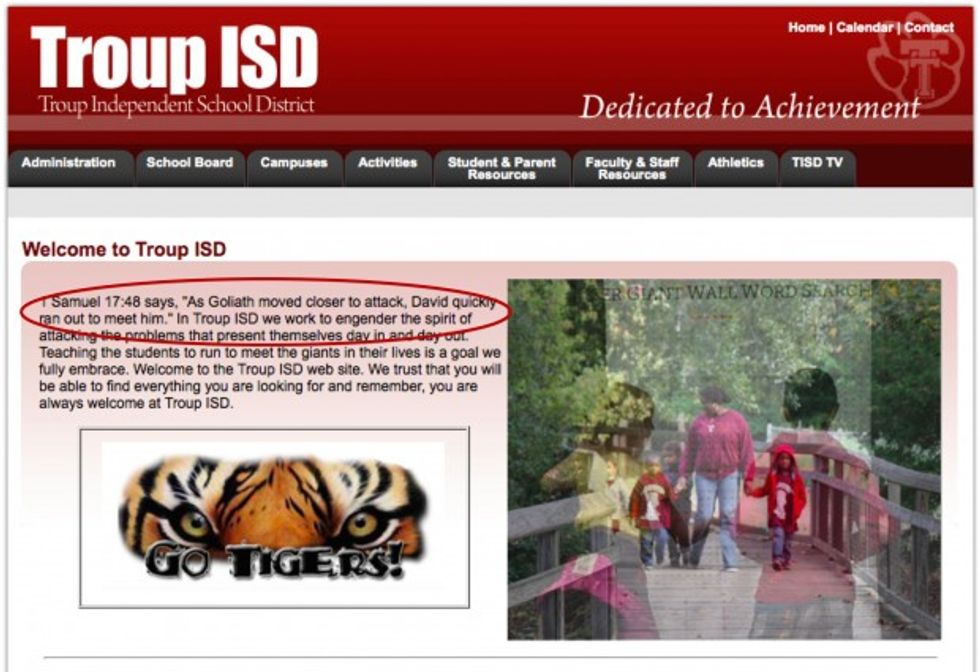 A screen shot from the district before the Bible verse was removed
The Freedom From Religion Foundation considered the presence of the verse to be a violation of the separation of church and state, with attorney Sam Grover writing a letter to Superintendent Stuart Bird that proclaimed, "Public schools may not advance or promote religion."
"No public school may urge religious viewpoints on students by granting special status to a religious text like the bible," Grover continued.
The letter was successful and the verse was removed, though the story of David and Goliath is still referenced on the homepage — something that the Freedom From Religion Foundation said is permitted as "this is a prominent story in popular culture and contemporary culture."
The Bible verse, though, was seen as a flagrant "religious endorsement."
KYTX CBS19.tv - News, Weather, & Sports | Tyler-Longview
"We're satisfied that Troup County Independent School District has seen the light," the organization's co-president Annie Laurie Gaylor
said in a statement
. "Imposing biblical morality on public school students is not the way to go."
Some parents, though, are anything but content with the decision to remove the verse. Brittany Taylor, who has two kids in the district, has joined together with other parents to order T-shirts for kids that read, "Our God is Bigger" — a message that they are hoping to drive home.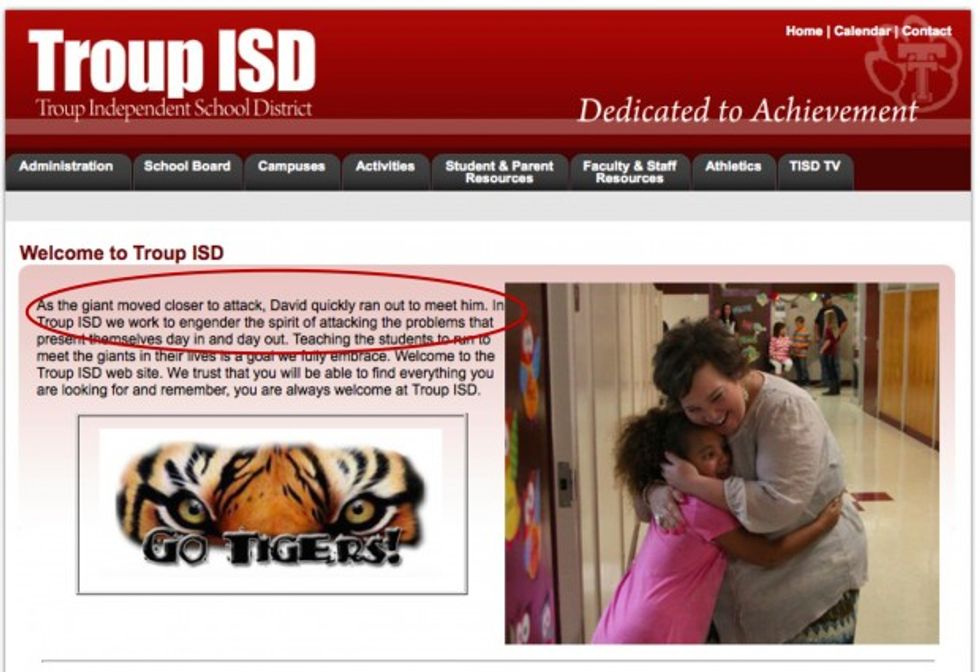 A screen shot from the district now that the Bible verse was removed
"We support our school fully, they kind of had their hands tied in the situation," Taylor told KYTX-TV. "We wanted to fight back for them."
She continued, "It will be in our children's hearts and they will not stop praising God because a group told them to."
(H/T: KYTX-TV)
--
Follow the author of this story on Twitter and Facebook:
Want to leave a tip?
We answer to you. Help keep our content free of advertisers and big tech censorship by leaving a tip today.
more stories
Sign up for the Blaze newsletter
By signing up, you agree to our
Privacy Policy
and
Terms of Use
, and agree to receive content that may sometimes include advertisements. You may opt out at any time.