The Republican National Committee will consider a set of convention rule changes next week that would reportedly shift the balance of power during this summer's convention, according to Politico.
The proposed rule changes could be heard next week during the RNC's annual spring meeting in Hollywood Beach, Florida. The changes would give more power to the delegates and increase overall transparency to the convention process.
As Politico described it, the changes would be akin to implementing a whole new rulebook.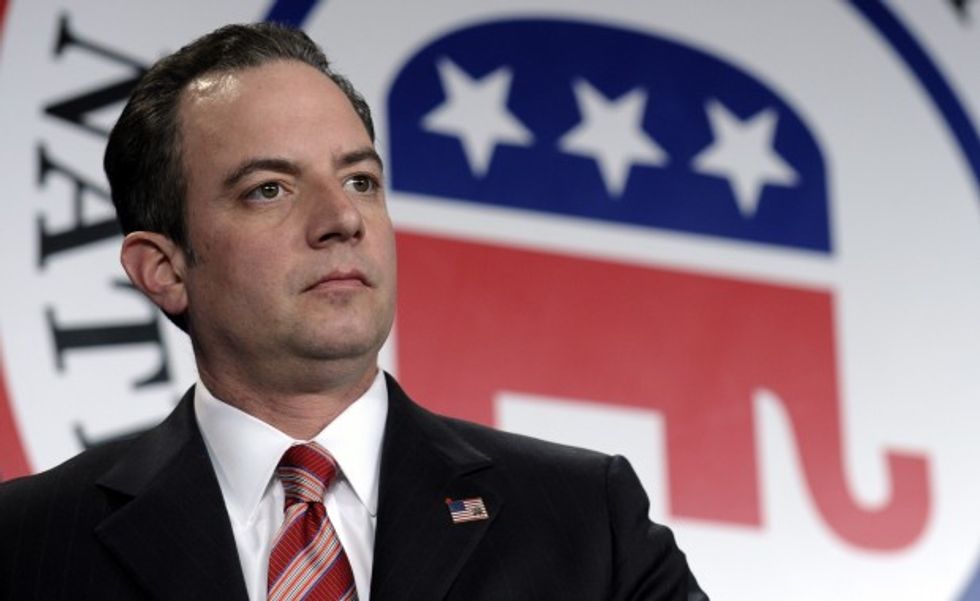 Republican National Committee Chairman Reince Priebus (AP Photo/Susan Walsh)
Currently, the convention operates under rules that mimic the rules of the United States House of Representatives. But Solomon Yue, an RNC officer and member of the Rules Committee, wants to replace those rules with Robert's Rules of Order.
Yue told Politico that under the convention's current rules, the presiding officer — which is expected to be House Speaker Paul Ryan (R-Wis.) this year — has too much power and could be persuaded by RNC officials to made decisions in their favor. But under Yue's proposed rule changes, each of the convention's 2,472 delegates would have the opportunity to raise a point of order, object or interrupt the convention's proceedings.
"This is a super-charged political year and there is the potential for a contested convention," he said. "We should operate in total political transparency."
[sharequote align="center"]"We should operate in total political transparency."[/sharequote]
Some say the rule changes would make it more difficult for the RNC to raise up a "white knight" candidate, in turn making the process more fair for the remaining candidates and the people who voted for them. But others say that drastic rule changes just months prior to the convention would add more "disruption" to a convention that is already gearing up to be the first contested convention in four decades.
"If people are really serious about rule changes, they could have made them in the last three-and-a-half years," Ron Kaufman, a Rules Committee member from Massachusetts, told Politico. "If people try to start change rules now, it's going to be interpreted as anti-this person or anti-that person. I'm not sure that's such a good thing."
More from Politico:
Under the new proposal, if a deadlocked convention were to occur, it would require a simple majority of delegates to decide to reopen the nominating process and consider other possible candidates. In a convention that will be dominated by delegates who support Donald Trump and Ted Cruz, it would be a steep hill to climb.

Yue argued that it would be the fairest way to reopen the process — leaving no doubt that it's the choice of delegates and not the people overseeing the convention.
However, despite his willingness to try and make the convention process more transparent, Yue's proposal is likely to be tabled at next week's meeting.
"The consensus was that the RNC Rules Committee is going to specifically steer clear of any proposed convention rules changes because we don't want the RNC perceived as somehow wanting to manipulate the process one way or another," committee member Peter Feaman told the Washington Times earlier this week.
Next week's meeting will be the last time the Rules Committee meets until July, one week prior to the convention to vote and establish the 2016 convention's rules. If tabled next week, Yue's proposed changes could be heard then.
—
Follow the author of this story on Twitter and Facebook:
[facebook //www.facebook.com/plugins/like.php?href=