Rosie O'Donnell reignited an old feud with Donald Trump Friday, slamming the GOP front-runner as an "uneducated bully," "serial liar," and "misogynist" who is the "worst representation" of America and "reason other nations loathe us."
O'Donnell made her comments in a nearly 30-minute interview with WABC radio host Rity Cosby.
"He claims he's a builder, he's not. He's a licenser. He's a logo-slapper. He put his brand on products like vodka, ties, some buildings — and he sells his image that is not in any way the truth," the former television personality said. "That he has been able to run as a successful businessman when he has declared bankruptcy four times, when he got the money from his father and when he has notoriously an unethical businessman. That is proven by backed-up news sources! If only the news would report it!"
— Scroll down for audio —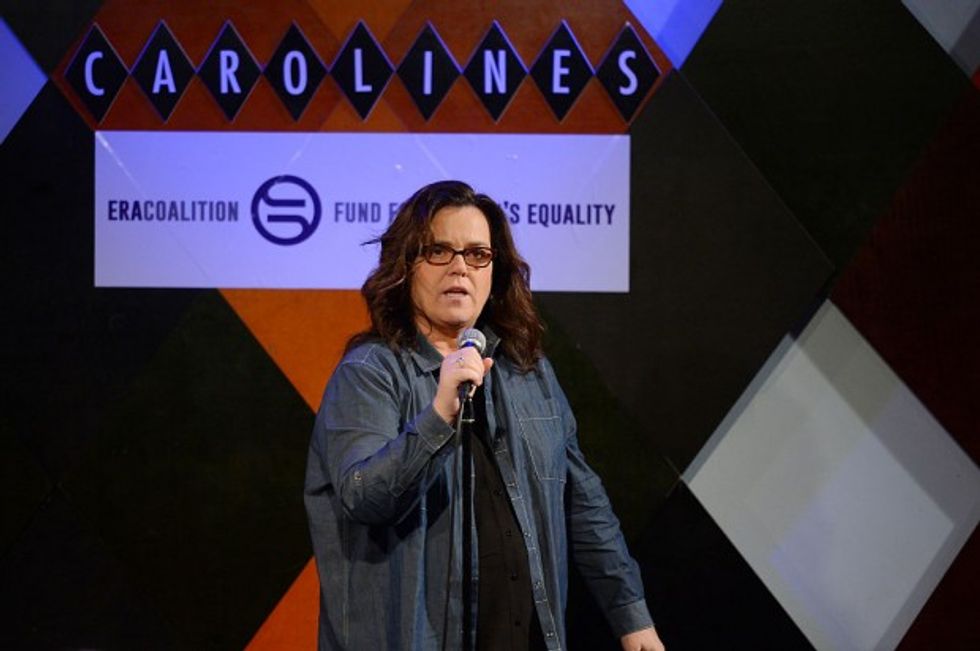 Rosie O'Donnell attends 'A Night of Comedy with Jane Fonda: Fund for Women's Equality & the ERA Coalition' on February 7, 2016 in New York City. (Photo by Andrew Toth/Getty Images for Fund for Women's Equality/ ERA Coalition)
O'Donnell said the 2016 election was "an epic battle worthy of a new Star Wars movie."
"You have to decide: are you going to be with the force or are you going to be on the dark side? It's your choice," she said. "Just like Harry Potter, he's like Lord Voldemort. You know stay away from the dementors."
Calling Megyn Kelly a "superhero," O'Donnell credited the Fox News host as the "only person who had the guts" to stand up to the real estate mogul.
"Megyn Kelly was a superhero, a fighter for the truth when she said that," O'Donnell said, referencing the moment Kelly confronted Trump at the first GOP debate. "I was at the opening night of 'Hamilton' when that happened. And I came out and my phone blew up. ... And I was like wow."
"What was your reaction when he did bring you up during the debate? How did you feel?" Cosby asked.
"When I got home I was kind of stunned. And I felt a little bit like, 'Okay, I got to start stretching. I got to put on the uniform and get back on the bench.' Because apparently I am in this game," O'Donnell said. "If you're going to use your treatment of me, still, as a representation of your core essence Donald Trump, let's go. Because I would like no more to show everything that he has ever said about me in a loop — over and over. Okay, people — come here. Just take a look. This is a result of me commenting on the truths about him that he did not like. This is the result."
Asked if Trump is qualified to be commander-in-chief, O'Donnell had a blunt reply: "Oh, dear God no. He's not even qualified to run a game show."
"He's been bankrupt four times. He's left the people who he borrowed the money for holding as he walked away with his millions. No! He's the worst representation of what the United States is or could be. He is everything we should reject as a nation," she said. "He is the reason other nations loathe us. He's bullying, my way or the highway, I'm better than you, I am the best, everyone is beneath me, women have no rights, you just need a piece of ass right near you, my daughter is so cute I'd f*** her. What the hell? This is a man running for president? I think it's pretty shocking."
[sharequote align="center"]"He is everything we should reject as a nation."[/sharequote]
O'Donnell credited Trump's rise to two things: his ability to manipulate the media and a frustrated middle class.
"I attribute it to the fact that he has gotten so much play at being this character without any reporter challenging him," she said. "And when one reporter did, Megyn Kelly, he ripped her apart too. And he tried to ruin her career. ... He is like the bully for he mafia. He thinks he can shut you up like he's Tony Soprano. But he's not. He's a rich kid who is an uneducated bully. And a serial liar. And a misogynist."
"No one has done their job in the media and said you're full of s***. ... He has been given free reign on any of these shows," O'Donnell added.
The former television personality contended that an "uneducated" middle class upset about current economic conditions might also be fueling Trump's rise.
"I understand the rage and the righteous indignation of those who feel oppressed," she said. "But this man is not your leader. This man does not care one thing about you. This man probably things you're a degenerate and unworthy and would say it if he didn't need your vote."
Listen to the Interview:
—
Follow the author of this story on Twitter and Facebook: