The United States is "undefeated" against China in complaints brought to the World Trade Organization, and that should send a message to presidential candidates and members of Congress in both parties that find facts "inconvenient," White House press secretary Josh Earnest told TheBlaze.
On Thursday, China stopped a program that subsidized small firms exporting products such as textiles, seafood, clothing, metals and medical products a year after the United States filed the WTO complaint. The subsidies, which gave China an advantage in exports, violated WTO rules. The particular program was small but demonstrated a larger problem, according to American companies that contend China subsidizes billions more in exports to large state-owned companies and puts the U.S. and other rivals at a disadvantage.
Republican presidential front-runner Donald Trump has made China a staple of his stump speeches. Meanwhile, some members of Congress — Democrats and Republicans — have opposed trade deals that they argue help China.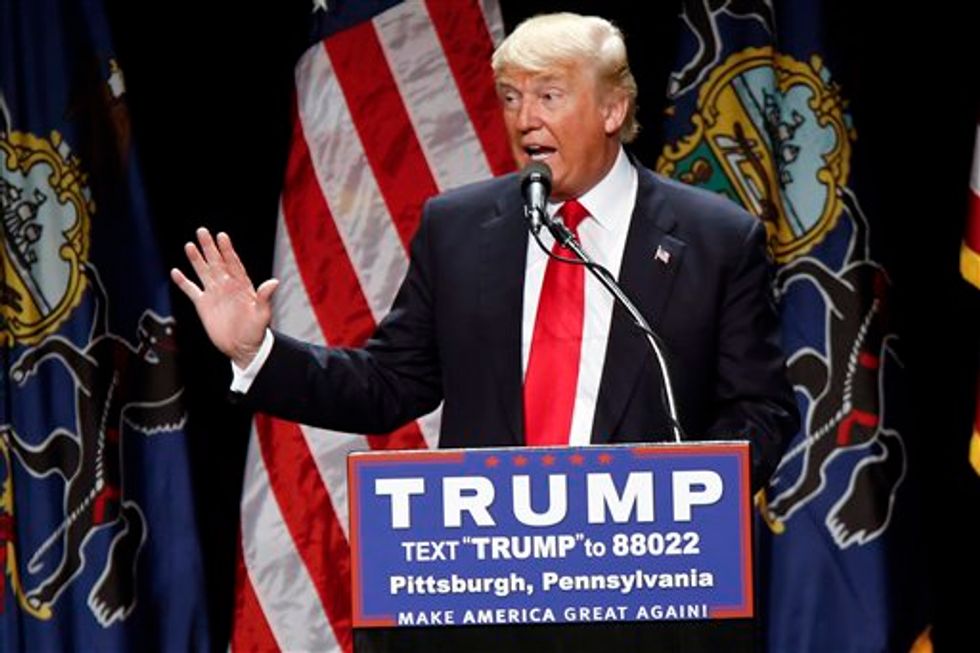 Republican presidential candidate Donald Trump speaks during a campaign rally in Pittsburgh Wednesday. (AP/Keith Srakocic)
TheBlaze asked Earnest Friday if the WTO victory blunts Trump's point that the United States regularly loses to China.
"I'll let you try to figure out what his point is, it's not always obvious," Earnest said of Trump. He added, "The facts of this case and the facts of this policy debate are often rather inconvenient to the most vociferous critics of this policy. And I'm not just referring to presidential candidates. I'm also referring to individual members of Congress, in both parties."
The Obama administration has made more complaints against China in the WTO, and at the same time it is seeking more support in Congress for the Trans Pacific Partnership with 11 countries in the Pacific — not including China.
Democratic presidential candidates Hillary Clinton and Sen. Bernie Sanders (Vt.) have also been outspoken opponents of the TPP, though Clinton initially supported the broad framework.
The Obama administration has brought 20 cases against China to the WTO. However, critics have said the WTO actions sometimes fail to address the big-picture problems.
"This administration's record fighting for American businesses and American workers at the WTO is incredibly strong," Earnest told TheBlaze. "That's not just true when you look at the number of cases America has brought at the WTO, it's true when you look at the results of those cases. All of the cases that have been decided are cases that have been decided in favor of the United States. It is an indication that the United States can be effective and is effective in defending American businesses."