Vatican sources confirmed Saturday that Democratic presidential candidate Bernie Sanders met with Pope Francis minutes before the pontiff left Lesbos, Greece. The rare meeting, combined with Sanders' visit to the Vatican this week, could prove highly influential Tuesday when New York voters take to the polls.
.@Pontifex spoke to @SenSanders about foreign policy and climate issues, five minutes before leaving for Lesbos https://t.co/wLyLNB8Ayc

— Casina Pio IV (@Casina Pio IV) 1460793621.0
"I believe that the pope has played an historic and an incredible role in trying to create a new world economy and a new vision for the people of our planet," the Vermont senator told a group of reporters outside the Vatican walls after delivering his 10-minute speech at a Vatican conference on social justice Friday, Religion News Service reported.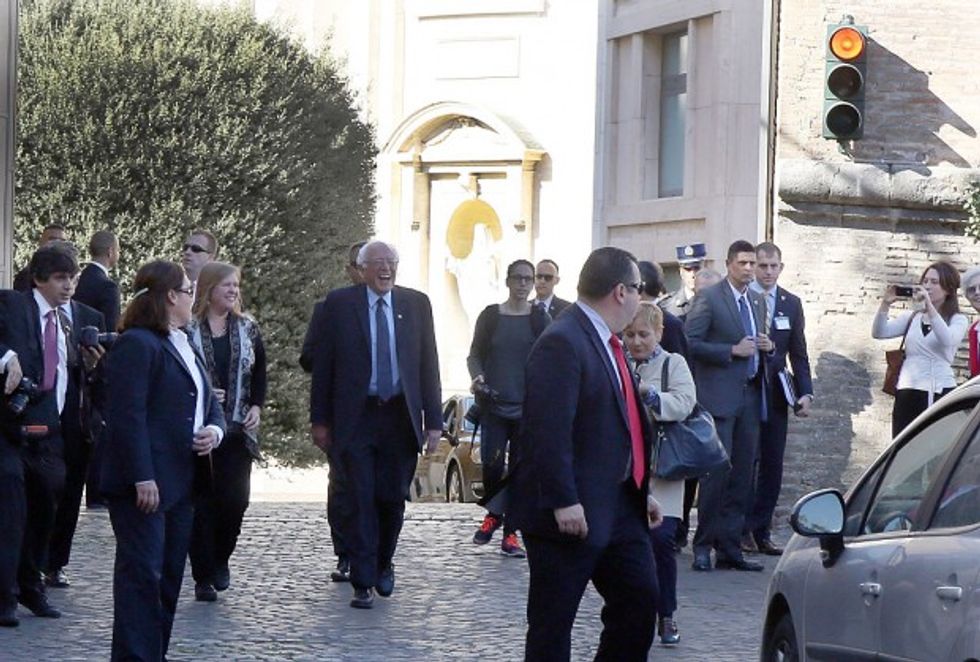 Democratic presidential candidate U.S. Sen. Bernie Sanders (D-VT) (C) and his wife Jane leave after a conference of Pontifical Academy of Social Sciences on April 15, 2016 in Vatican City, Vatican. (Elisabetta Villa/Getty Images)
"I have long been a supporter of the economic vision of Pope Francis. His views on climate change have played a profound … role in turning many people's minds around about the urgency of the moment in terms of dealing with climate change," Sanders, a non-practicing Jew, added.
By aligning his economic and social views with such a prominent and well-loved religious leader, while at the same time contrasting these with the so-called "establishment" values of his opponent, Hillary Clinton, Sanders effectively hit two major political birds with one stone.
The presidential candidate, however, insisted that "the conference is not a political event" when pressed by Italy's La Repubblica newspaper.
According to RNS, Sanders had been invited to speak at a conference of the Pontifical Academy of Social Sciences on "Centesimus Annus," a major social justice encyclical written 25 years ago by Pope John Paul II, whom the Church canonized as a saint in April 2014.
Head of the academy, Bishop Marcelo Sanchez Sorondo, said he invited Sanders to speak because he was the only American presidential candidate who has expressed serious interest in the teachings of Pope Francis, RNS reported.
In his speech, titled "The Urgency of a Moral Economy," Sanders denounced the greed that often pervades the political and corporate worlds and stressed the importance of upholding the "common good," a term seen throughout Catholic social teaching. He also referenced Francis' 2015 encyclical on the environment, "Laudato Si," which calls for universal reform in economic and environmental policy.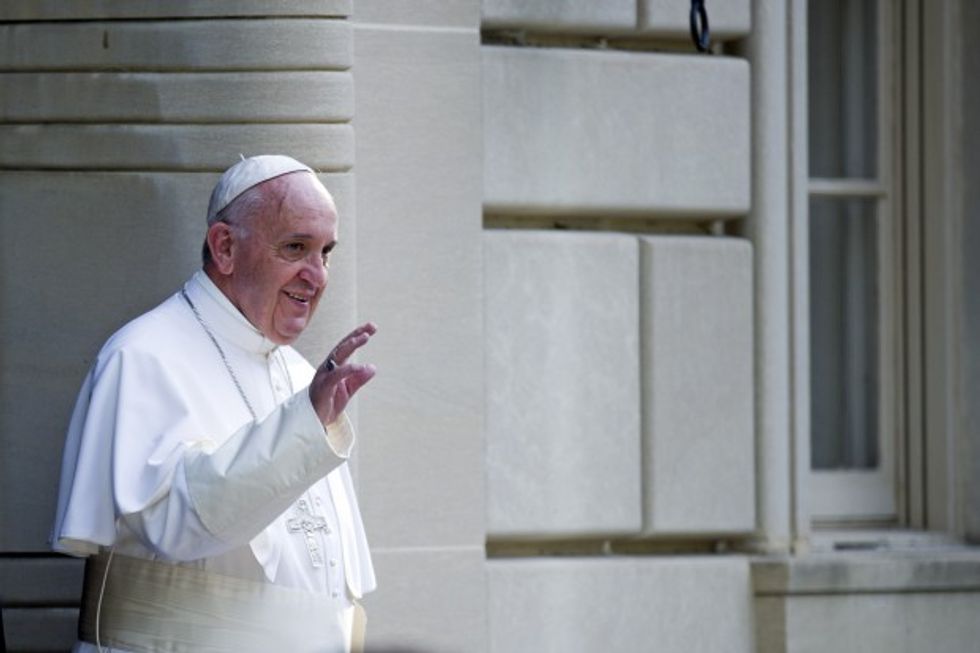 AP Photo/Cliff Owen

"As Pope Francis made powerfully clear last year in (the encyclical) 'Laudato Si',' we have the technology and know-how to solve our problems — from poverty to climate change to health care to protection of biodiversity," Sanders said.
"We also have the vast wealth to do so, especially if the rich pay their way in fair taxes rather than hiding their funds in the world's tax and secrecy havens — as the Panama Papers have shown," he added.
After delivering his speech, Sanders shook hands with Bolivian president, Evo Morales. Morales had a private meeting with the pope Friday morning, during which they discussed social policy, RNS reported.
Sanders' trip to Rome came just hours after he debated Clinton in Brooklyn and less than a week before the crucial New York primary. He was joined by his wife, Jane Sanders, who was raised Catholic, and 10 other family members, including four grandchildren, according to RNS.
The speculation surrounding the candidate's Vatican visit focused primarily on whether Sanders would meet the pope. According to RNS, the Vatican said the U.S. senator had been invited by Bishop Sorondo, not Francis, and that no meeting between Sanders and the pope was scheduled.
But some church sources and reports that came late Friday claimed that Sanders actually stayed over in the Vatican guest house, the Casa Santa Marta, where Pope Francis himself also lives. If this were the case, the chance of an unscheduled meeting would be much greater.
Just how much Sanders' trip will affect the outcome of the April 19 primary in delegate-rich New York remains to be seen.