Chuck Todd asked actor George Clooney Sunday on NBC's "Meet the Press" whether he thinks the price of attending high-profile political fundraisers is "obscene."
"Yes," Clooney answered. "I think it's an obscene amount of money."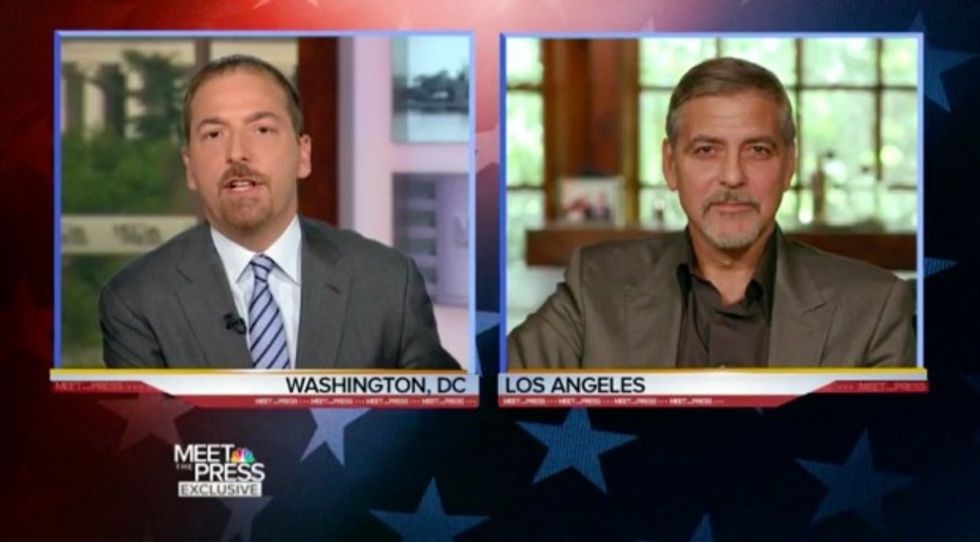 Image source: NBC / "Meet the Press"
Clooney has raised millions of dollars for Democratic presidential front-runner Hillary Clinton. The star co-hosted a fundraising dinner Friday night that sold tickets for a whopping $353,000 per couple.
Sunday's interview came one day after after an incident in San Fransisco during which Bernie Sanders supporters threw cash at the former secretary of state's motorcade en route to another Clooney-Clinton fundraiser.
The organized cash-throwing, which amounted to $1,000 in $1 bills, came ahead of a "99% Party" Saturday night hosted by Clooney's neighbor, Howard Gold, whose family founded the 99 Cents Only store chain.
Clooney told Todd that the Sanders team is justified in its criticism of the extravagant wealth surrounding Clinton's campaign.
"I think it's ridiculous that we should have this kind of money in politics," he said. "I agree completely."
Watch: