Democratic presidential front-runner Hillary Clinton will support a bill that would grant families of 9/11 victims the right to sue foreign sponsors of terrorism in federal court, her spokesman Nick Merrill announced Sunday.
Clinton appeared Sunday on ABC's "This Week," where host George Stephanopoulos asked her about several sensitive topics surrounding her campaign, such as the FBI investigation into her private email server, the transcripts of her paid Wall Street speeches and a proposed $15 federal minimum wage.
But the presidential candidate was noticeably taken off guard when Stephanopoulos mentioned a New York bill known as the Justice Against Sponsors of Terrorism Act. The legislation, backed by families of 9/11 victims, has also gained the support of New York Sen. Chuck Schumer, while the Obama administration has been lobbying against it.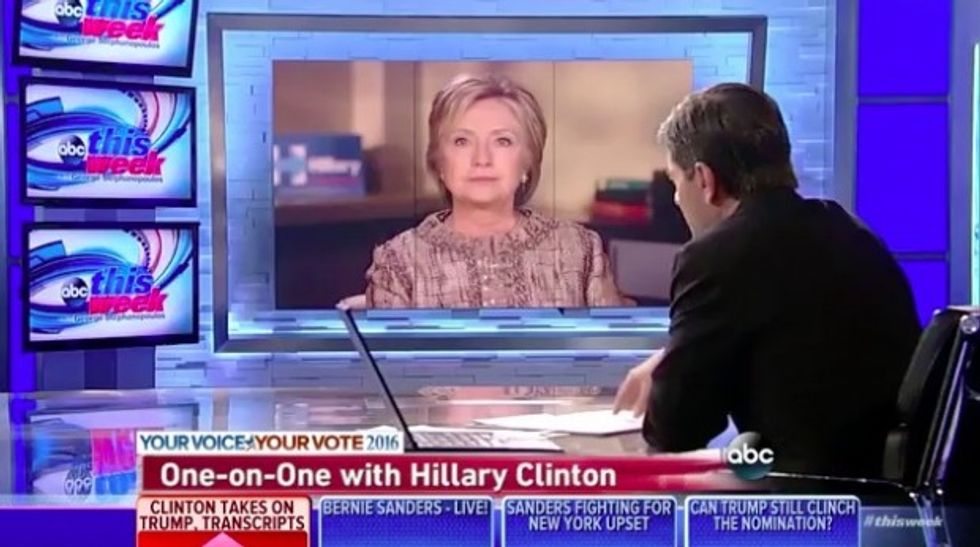 Image source: YouTube
"Now, it's opposed by the Obama administration," Stephanopoulos said Sunday. "They say it's going to expose the U.S. and its officials to retaliation. So who's right here, Sen. Schumer or President Obama?"
Though the bill was featured on the front page of the New York Times Saturday and has been covered widely by media outlets over the past few weeks, Clinton told Stephanopoulos that she was not familiar with the details and would not take a position.
When pressed to answer, she admitted she couldn't take a position because, "I haven't studied it."
"You don't know about this issue?" Stephanopoulos asked, evidently surprised by the former New York senator's response. "It's been around for several years."
"Unlike some people, I actually do try to learn what's at the core of any question before I offer an opinion, 'cause you know, it's not enough to say what's wrong. I think you've got a responsibility to say how you're going to fix it," she added.
The ABC host was visibly stunned.
Merrill's response, released on Twitter, came after the interview. According to the statement, Clinton backs the bill: "Hillary Clinton supports the efforts by Senator Schumer and his colleagues in the Senate to secure the ability of 9/11 families and other victims of terrorist acts to hold accountable those responsible. As president she would work with Congress to this end."
.@HillaryClinton on @chuckschumer's bipartisan efforts for 9/11 accountability and justice: https://t.co/uMgV1XcaIl

— Nick Merrill (@Nick Merrill) 1460904897.0
Clinton served in the New York senate from 2001 to 2009 before leaving her post to work for the Obama Administration as secretary of state until 2013.