© 2023 Blaze Media LLC. All rights reserved.
Student Confronts Teacher for Allegedly Viewing 'Something No 13-Year-Old Should Ever See in a School' (UPDATE)
"I saw something no 13-year-old should ever see in a school."
After a 13-year-old student allegedly caught his teacher viewing inappropriate material just before his math class last week, a video began circulating showing the teacher in question seemingly berating the student in front of a separate class.
The student, Jeffrey Province, claims that he showed up early to his math class at East Bank Middle School in West Virginia on Tuesday only to discover that his teacher, Thomas Yohn, was looking at "something no 13-year-old should ever see in a school," Province, a 6th grade student at the school, told WOWK-TV.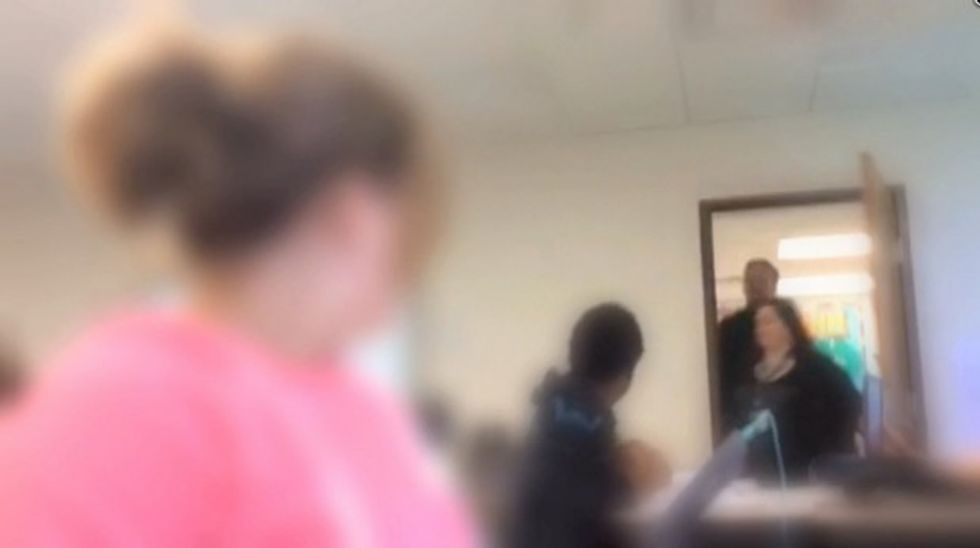 Image source: 13 News
Province says that he visited his school principal immediately afterwards to divulge the information. A few hours later, Yohn reportedly barged into Province's English classroom and began berating him publicly in front of his fellow classmates.
"Next time you open your big, stinking mouth, pal, I will write you up and send you to the office for coming into my room without permission," Yohn apparently can be heard yelling in the video that was captured by another student. "What I watch as an adult is my choice ... You as a child wait in the hall until you're invited into my room — is that clear?"
Yohn appears to continue his confrontation, although Province's responses cannot be clearly discerned.
"Now I'm telling you, you keep your big flap shut," Yohn allegedly says. "Because I'm a grownup and I can watch what I want, and if you ever set foot into my room without permission again it'll be the last time you step in my room — is that clear?"
Yohn also appeared to accuse Province of trying to blackmail him in the video.
"He tried to blackmail me, he said 'Oh Mr. Yohn,' he said, 'I'm going to get an A this quarter or I'm going to tell that you're watching inappropriate things on TV an I saw it,'" Yohn said.
Province's mother claims that the neither the school nor the board of education ever contacted her about the incident until after she discovered the disturbing video footage on Facebook, according to WOWK.
"His Grandpa said you need to get on Facebook and watch this video and when I did I was shocked," said Carmelene Short, Province's mother. "He is supposed to be safe at school and this should have never happened, at all. I don't talk to my kid like that and he is not going to talk to my kid like that."
East Bank Middle School, the Kanawha County Board of Education and the West Virginia State Board of Education all stated that they they were aware of the situation and were currently investigating it, WOWK reported.  But Ron Duerring, the Superintendent of Kanawha County Board of Education, told WOWK-TV that they found nothing questionable when they searched Yohn's computer after the incident.
WOWK 13 Charleston, Huntington WV News, Weather, Sports
(H/T: Independent Journal)
—
Follow Kathryn Blackhurst (@kablackhurst) on Twitter
Want to leave a tip?
We answer to you. Help keep our content free of advertisers and big tech censorship by leaving a tip today.
more stories
Sign up for the Blaze newsletter
By signing up, you agree to our
Privacy Policy
and
Terms of Use
, and agree to receive content that may sometimes include advertisements. You may opt out at any time.