Fox News host Bill O'Reilly slammed "smear merchants" Monday who accused him of racism last week for asking Republican presidential front-runner Donald Trump how he will get jobs for "ill-educated" black people with "tattoos on their foreheads."
O'Reilly shot back at the "race hustlers" who criticized him for his line of questioning to Trump, telling them that accusations like theirs are "why the acute problem of cultural deprivation among under-classed children of all colors is never addressed."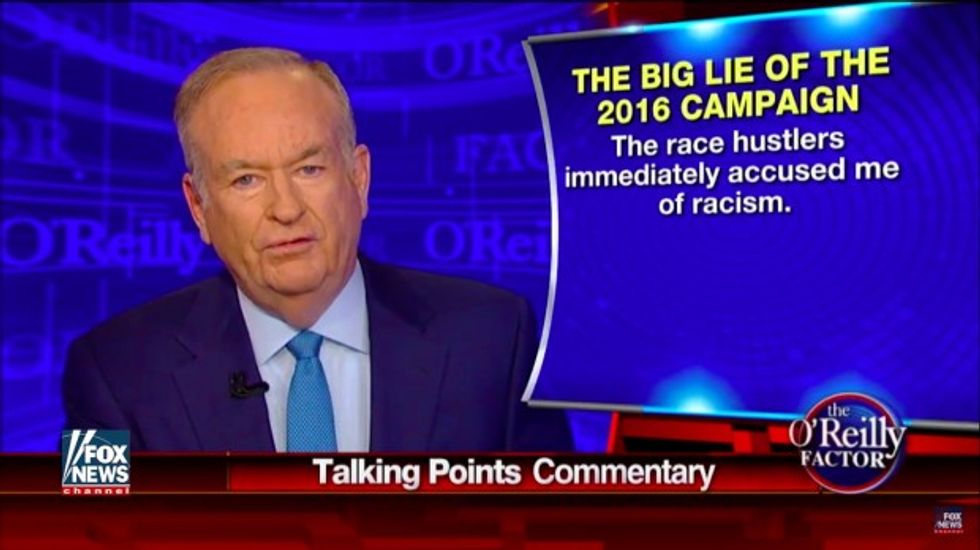 Image source: YouTube/Fox News
"The smear merchants hammer anyone who does so," he continued, adding that he feels it is "beyond disgraceful that powerful people look away from the real problem."
O'Reilly went on to say he believes Trump is "noble" for saying he wants to bring jobs to the U.S and train poorly educated Americans to do those jobs but says it will "require much more than trade deals and rhetoric."
"It will require a cultural change in many working-class and poor precincts," O'Reilly insisted. "If you reject the conventional road to success — education and hard work — you'll fail in our capitalistic system."
The Fox host then set his sights on Democratic presidential hopeful Bernie Sanders, saying "no matter what promises" the Vermont senator makes, "it all comes down to personal responsibility and motivation," which O'Reilly says is being destroyed by "phony politicians seeking power."
"[Politicians] are promising an endless series of entitlements to a population that's moving away from achievement and into the gimme zone – 'Gimme, gimme, gimme,'" O'Reilly said. "Until that deep cultural flaw is exposed — until the phonies, race hustlers and corporate greed heads are called out — we'll continue see big lies spouted by political deceivers and enabled by a gutless media."
"God help America," he concluded.
Watch O'Reilly's commentary (relevant portion begins around 6:00):
—
Follow the author of this story on Twitter: