The video begins by telling viewers that "under absolutely no circumstances" should they attempt what Hollywood stuntman and parkour professional Damien Walters is about to do.
In the viral clip posted to YouTube Monday, Walters backflips over a Formula E race car zooming toward him at 60 mph. The first portion of the 3-and-a-half minute video shows the "Skyfall" stuntman preparing for the epic jump by doing a few practice backflips just to the left of the car.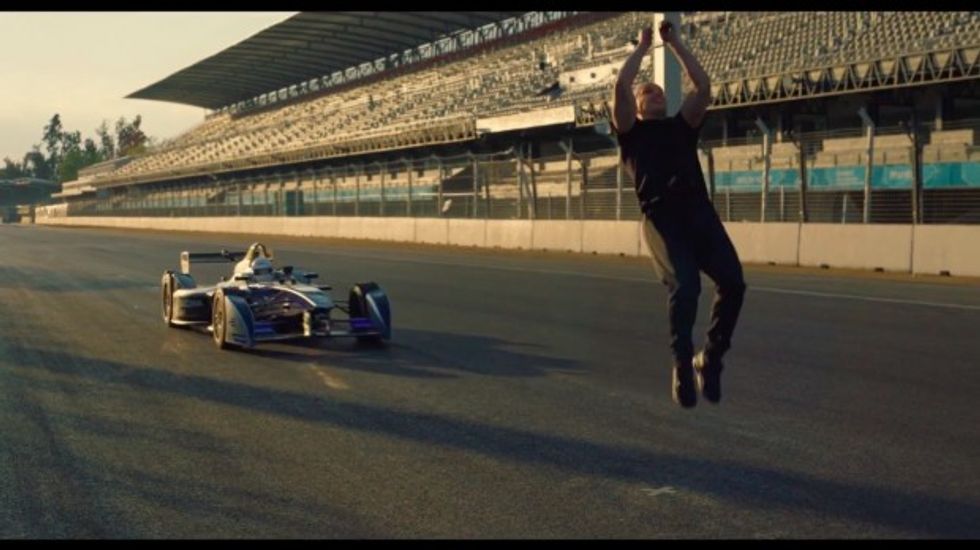 Image source: FIA Formula E Championship/YouTube
According to Walters, this latest stunt — appropriately named "Leap of Faith" — is the most difficult he has ever attempted.
"I have done some other crazy things but this was definitely one of the worst for sure," he told the Huffington Post. "Had I jumped too early, I would have hit the back of the car with my head, and if I jumped too late, the car would have hit my legs."
Walters said it took him two days of practicing and timing to get the jump just right, to ensure he could clear the speeding vehicle safely.
"As the dangers were obvious, it was very important that we worked with trained professionals and why it should never be attempted by anyone else," he said.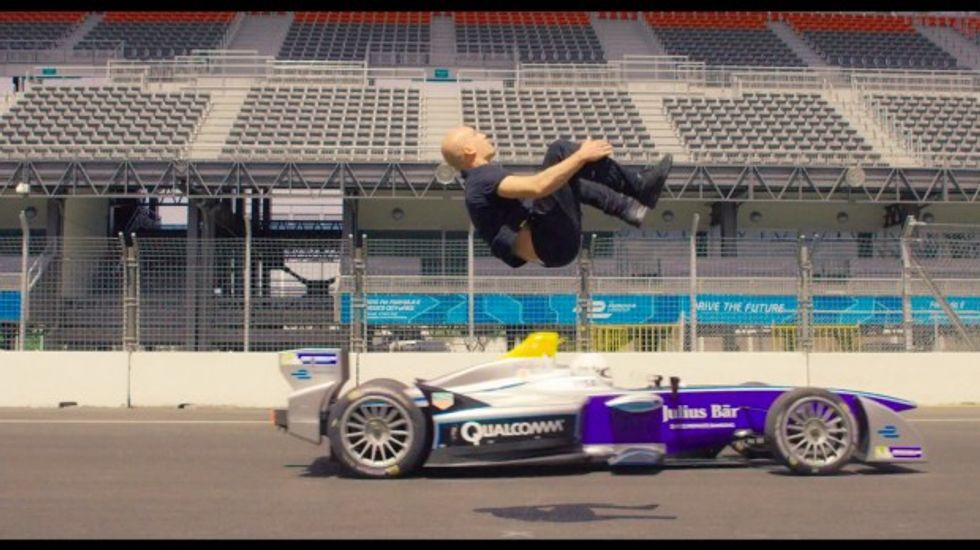 Image source: FIA Formula E Championship/YouTube
As for the math behind making the jump possible, the daring stuntman said, "We worked out how long it would take [for the car] to get to me. Then minus the time it would take for me to take off and that equaled the time I had to jump, then we did multiple side-by-side runs until it was perfect."
The driver behind the wheel of the Formula E car was Alistair Whitton, also a stuntman, who was featured in both "Skyfall" and "Kingsman: The Secret Service."
Formula E CEO Alejandro Agag said it was "very exciting" to work with Walters and his team in order to develop this intense stunt, which was filmed to promote the FIA Formula E Championship.
Watch the video:
—
Follow the author of this story on Twitter: