Chelsea Clinton, daughter of Democratic presidential candidate Hillary Clinton and former president Bill Clinton, said at a fundraiser on Sunday that abortion is "at the core of our human rights," according to the Poughkeepsie Journal.
Speaking to a group of 100 people at the Civil Service Employee union's office in Poughkeepsie, New York, Clinton covered a variety of subjects, including guns, Bernie Sanders — and the ever-contentious debate over abortion.
"A woman's right to choose is at the core of our human rights and what should be equity in our country," she told the crowd, going on to say that the 2016 election is the "most important" in her lifetime.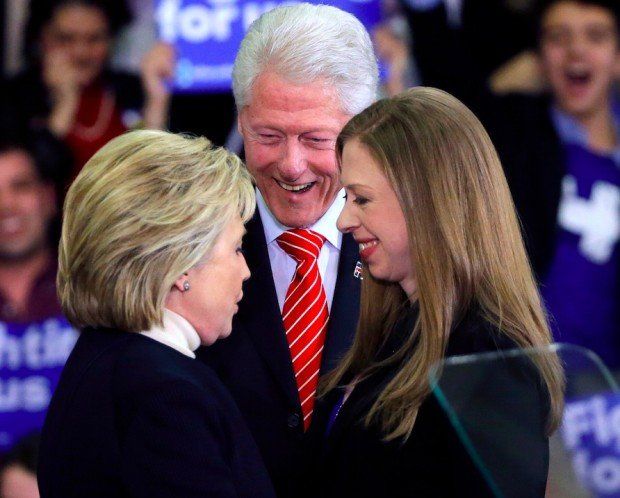 Democratic presidential candidate Hillary Clinton huddles with former President Bill Clinton and daughter Chelsea at her New Hampshire presidential primary campaign rally, Tuesday, Feb. 9, 2016, in Hooksett, N.H. (AP Photo/Elise Amendola)
As TheBlaze previously reported, abortion has been popping up quite a bit this election cycle, with Fox News host Bret Baier asking Hillary Clinton last month during a town hall about her position on the controversial procedure.
"Do you think a child should have any legal rights or protections before its born? Or do you think there should not be any restrictions on any abortions at any stage in a pregnancy?" he asked.
She responded, "Under Roe v. Wade, which is rooted in the Constitution, women have this right to make this highly personal decision with their family in accordance with their faith, with their doctor. It's not much of a right if it is totally limited and constrained."
Clinton also addressed the issue during a recent appearance on "The View," saying that she believes that a woman can be both pro-life and a feminist before proceeding to break down why she stands where she does on the controversial procedure.
"I respect the opinions and beliefs of every woman," Clinton said. "The reason why being pro-choice is the right way to go is because it is a choice, and hopefully a choice rooted in the thoughtfulness and care that women bring to this decision. So of course you can be a feminist and be pro-life."
It should be noted that, despite securing an endorsement earlier this year from the Planned Parenthood Action Fund, at least one staff member with Planned Parenthood of Illinois was discontented with some of Clinton's recent comments about abortion.
Diana Arellano, manager of community engagement at Planned Parenthood of Illinois, took to Twitter earlier this month to accuse Clinton of further stigmatizing abortion during comments that the former secretary of state made on "Meet the Press."
"@HillaryClinton further stigmatizes #abortion," Arellano tweeted. "She calls a fetus an 'unborn child' & calls for later term restrictions."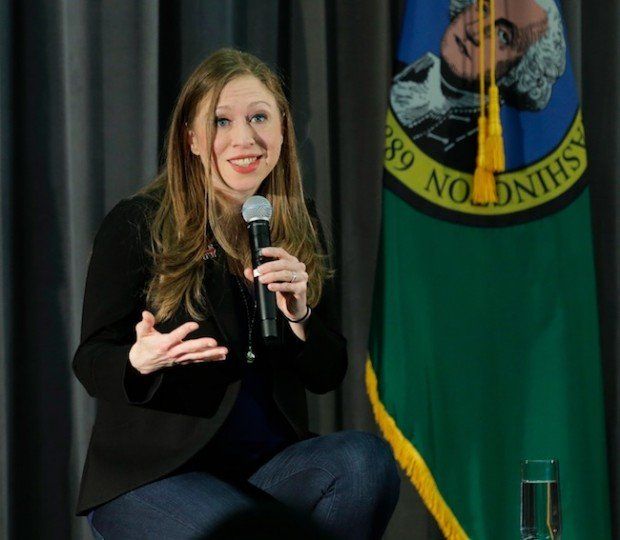 Chelsea Clinton campaigns for her mother, Democratic presidential candidate Hillary Clinton, Tuesday, March 22, 2016, at Bates Technical College in Tacoma, Wash. (AP Photo/Ted S. Warren)
This critique came after Clinton appeared on the NBC show and host Chuck Todd asked, "When, or if, does an unborn child have constitutional rights?"
It was her response that has riled critics.
"Well, under our laws currently, that is not something that exists. The unborn person doesn't have constitutional rights," Clinton said. "Now, that doesn't mean that we don't do everything we possibly can, in the vast majority of instances to, you know, help a mother who is carrying a child and wants to make sure that child will be healthy, to have appropriate medical support."
She continued, "It doesn't mean that you don't do everything possible to try to fulfill your obligations. But it does include sacrificing the woman's right to make decisions. And I think that's an important distinction, that under Roe v. Wade we've had enshrined under our Constitution."
--
Follow the author of this story on Twitter and Facebook: