Hillary Clinton is hoping to become the first woman president, but women in her own party seem less than enthusiastic. The good news for her might be that current Republican front-runner Donald Trump is even more unpopular with female voters.
Among Democratic voters, Vermont Sen. Bernie Sanders was able to close the gap to a near dead heat against the former secretary of state in a national poll – thanks largely to a surge of support from female voters initially thought to be Clinton's base.
"Hillary is demeaning and belittling to women," Kristin Tate, political commentator and author of the new book "Government Gone Wild," told TheBlaze. "She acts as if she deserves the female vote for simply throwing out some talking points on abortion. That's one side issue. Women are concerned about a lot of the same issues as men."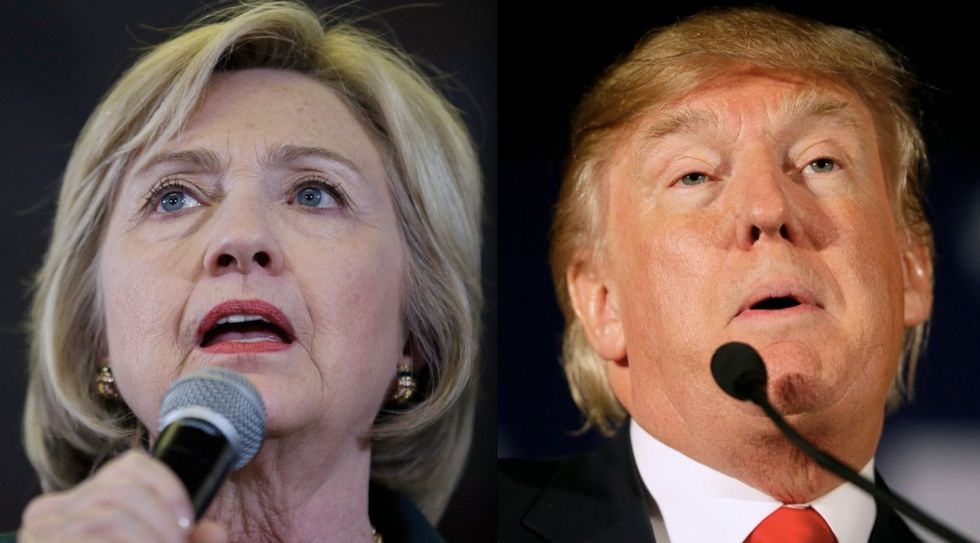 Democratic presidential candidate Hillary Clinton and Republican presidential candidate Donald Trump (AP Photos/Charlie Neibergall)
A Fox News Channel poll found that Clinton dropped 11 points among female voters over the last month, while Sanders gained 9 points nationally. She still maintains a national lead among women in most polls, but Sanders has won over the female vote in numerous states during the primary season so far.
"I've been saying for a while Bernie Sanders is the best thing to happen for the GOP," Tate said. "People I know who support him are telling me all the time they won't vote for Hillary. We may have a very low Democratic turnout in November."
For both Clinton and Trump, Tuesday's New York primary is about solidifying their respective front-runner status in a state where each has roots after a long string of losses — Clinton to Sanders and Trump to Texas Sen. Ted Cruz.
Trump has bigger problems based in part on attacks he has made on women, including Fox News host Megyn Kelley, former GOP presidential candidate Carly Fiorina and his opponent's wife Heidi Cruz. A recent Quinnipiac poll revealed that he has a 67 percent unfavorable rating with women
While polls Ted Cruz not performing great among women, he would likely lose the female vote by the same portion that Mitt Romney lost it by in 2012, according to National Review, which predicted, "Trump would probably lose the women's vote by the biggest margin in 50 years."
Tate went on to state that many November voters are likely scared of the businessman. "With Trump, there are women and men who love his bulldog focus on issues but he terrifies some general election voters," she said.
Jeanne Mancini, president of the March for Life Education & Defense Fund, feels that, unfortunately for American women, Trump and Clinton are "just two sides of a bad coin."
"Donald Trump uses reductionist and degrading language about women," Mancini told TheBlaze. "Hillary Clinton downplays the importance of motherhood. In the broad prospect, feminism and femininity includes motherhood."
The always prickly issue of abortion has at times been particularly convoluted during this election season regarding Trump and Clinton.
Trump dropped his advocacy for abortion rights during the campaign but still supports federal taxpayer funding for Planned Parenthood, the nation's largest abortion provider.
Clinton has always been an ardent supporter of abortion rights and Planned Parenthood but ruffled even some abortion activists by her choice of words when she said, "The unborn person doesn't have constitutional rights."
"She is missing the forest for the trees," Mancini said. "She says an unborn person can be aborted up to the point of birth. That is out of line with the American people, 81 percent of whom are opposed to late-term abortion."
As for Trump, Mancini is inclined to give his conversion on the life issue the benefit of the doubt — but with some caution.
"I can't judge his heart, so I will take him at his word," she said. "I do think he would do well to meet with pro-life leaders who have studied the issue."