Republican presidential contender John Kasich apparently doesn't like being reminded that he has won only his home state of Ohio during the 2016 Republican primary season.
During a press gaggle over the weekend, the Ohio governor got testy with a reporter from the Financial Times when he asked Kasich about his chances at becoming the 2016 nominee while simultaneously reminding him that he's only been victorious in one state.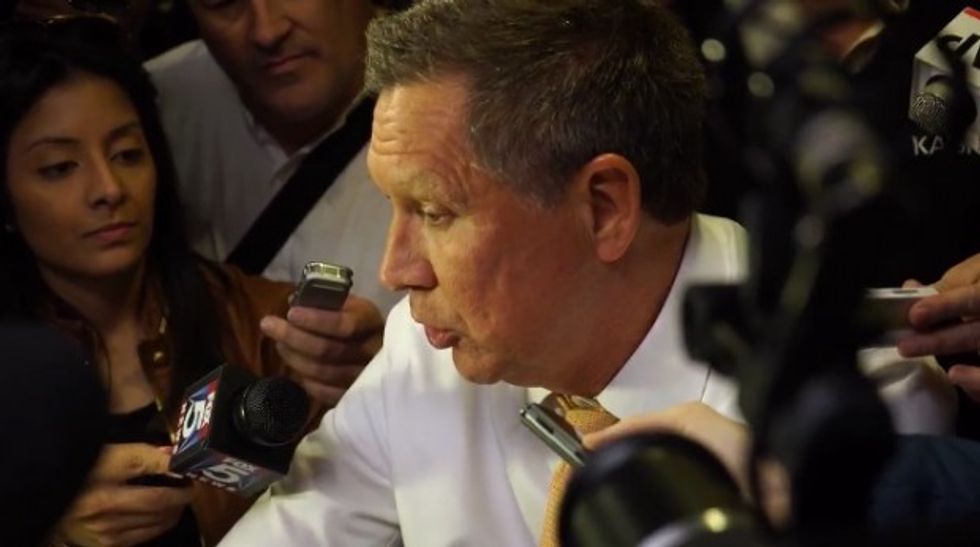 Image via Twitter/benmarinojourno
"Listen, at the end of the day I think the Republican Party wants to pick somebody who actually can win in the fall—" Kasich began.
"If you've only won Ohio—" the reporter, Demetri Sevastopulo, interjected.
"Can I finish?" Kasich countered testily.
"If you answer the question," Sevastopulo shot back.
"I'm answering the question the way I want to answer it," Kasich replied. "You want to answer it?"
Kasich then reached for Sevastopulo's recorder, pulled it out of his hand, turned it on him and asked, "What do you think?"
"I think you should answer the question," Sevastopulo said sarcastically.
At the end of the heated exchange, Kasich did give the reporter his recorder back.
Watch the exchange below, captured by Financial Times video journalist Ben Marino:
John Kasich responds angrily to @DimiSevastopulo's question on winning only 1 state in Republican race pic.twitter.com/MWAZbTrP6D

— Ben Marino (@benmarinojourno) April 18, 2016
(H/T: Mediaite)
—
Follow the author of this story on Twitter and Facebook:
[facebook //www.facebook.com/plugins/like.php?href=