A bizarre confrontation caught on video at a North Carolina hospital is going viral, and the hospital is apologizing for the "appalling" behavior by one of its ex-volunteers.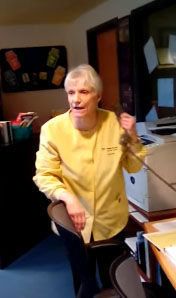 Image source: YouTube
Isaiah Baskins was at the Wake Forest Baptist Medical Center in Winston-Salem, North Carolina, with his two children, when he says a female volunteer hurled racial insults at them, including allegedly calling him the N-word.
"Get out of my face, lady. Do not put your hands on a ... do not touch my baby," Baskins tells the woman.
The woman is heard screaming, "Shut your mouth up. I'm not putting up with you. I don't care what you say. You just shut up. What's wrong with you?"
She then picks up the phone and tells the other person on the line to "take these people out of here."
"I'm not putting up with it," she says.
Then, confronting Baskins again, the woman screams "get out, get out" and "get your damn underwear out of here ... I don't want to see it."
A security officer, who identified himself as Officer Shelton, later intervenes and tries to calm the escalating situation. Shelton escorts the man out of the room, where he tries to get Baskins' side of the story.
Watch the footage below (Warning: Strong and offensive language):
Baskins says he went to the police station but was unable to file charges because he didn't know the woman's name. The woman's name has not been released, since no charges have been filed. The hospital has fired her.
"We deeply regret and apologize for this behavior demonstrated by our volunteer in this video," Wake Forest Baptist Medical Center said, according to the Winston-Salem Journal. "We are dedicated to providing an inclusive environment for all, with respect, dignity and compassion. We are taking action, and this individual is no longer a volunteer with our organization."
It's still unclear what might have led up to the moments captured in the video.
The Winston-Salem Police Department did not immediately respond to a request for comment from TheBlaze.
(H/T: WXII-TV)
–
Follow the author of this story on Twitter and Facebook: