Republican presidential front-runner Donald Trump could be in trouble with the Federal Aviation Administration for reportedly flying to his campaign stops on a plane with an expired registration.
The Cessna plane has been used for trips to cities like Jackson, Miss., and Sioux City, Iowa, the New York Times report noted.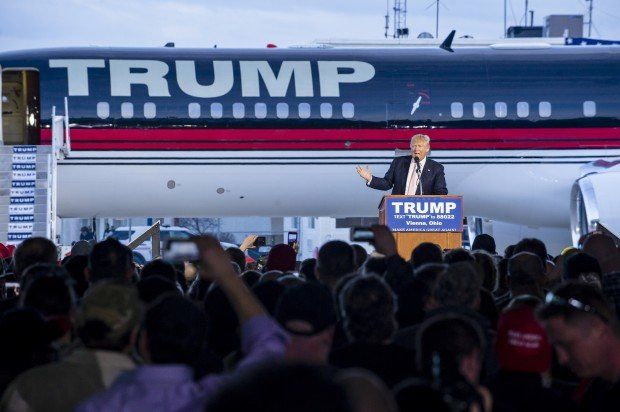 Donald Trump speaks to supporters at Youngstown Airport. (Getty Images/Angelo Merendino)
According to the FAA, the eight-person 1997 Cessna 750 Citation X has been used for hundreds of flights since Trump announced his candidacy for the Republican nomination in June 2015. However, according to the Times, dozens of those flights have been made since January 31, when his $5 registration expired.
In order to continue flying, the aircraft must be registered. If it's not, Trump's jet could be grounded for several days — or even months — while the issue is figured out. If there were to be an accident, the insurance company protecting the plane could cite the expired registration as a reason to deny coverage.
Records show that Trump was given a "final notice" in December 2015 that his registration was reaching expiration. He was also warned after it expired that it needed to be updated.
"The aircraft's registration and airworthiness certificates no longer support the aircraft's operation," the FAA wrote in a notice sent to DJT Operations CX March 1.
Additionally, though it's not likely, the FAA could fine Trump up to $27,500, the maximum penalty for flying without registration, a criminal fine of up to $250,000 and imprisonment for up to three years. The unregistered Cessna flew most recently Monday.
Regardless, Trump still has plenty of travel options.
The billionaire candidate has four other currently registered aircraft: a Boeing 757 and three Sikorsky helicopters, all of which have become a trademark of Trump's 2016 presidential campaign. The Boeing, emblazoned with his last name on the side, has frequently played backdrop to many of his speeches.
The Trump campaign has paid a company the real estate mogul owns more than $3 million for campaign-related travel since he launched presidential campaign.
—
Follow the author of this story on Twitter: