Hours before the polls close in the Empire State, Republican presidential hopeful Donald Trump said in an interview that anyone who votes for rival Ted Cruz is "maybe not a New Yorker."
Though Trump says neither Cruz nor Ohio Gov. John Kasich "would be good for New York," the billionaire candidate takes particular issue with the Texas senator, who he has been slamming recently for his comments about "New York values" at a debate earlier this year.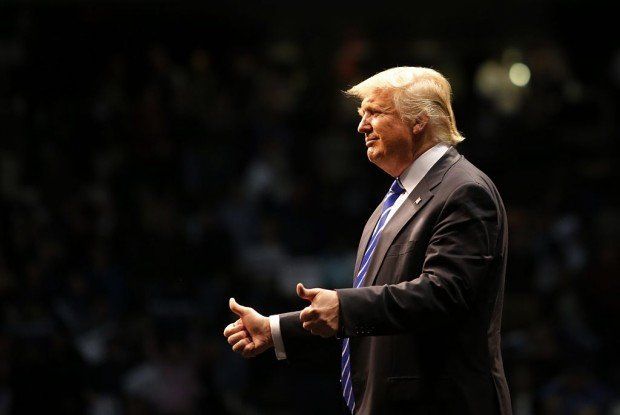 Eduardo Munoz Alvarez/Getty Images
"Cruz actually has a dislike for New York, you know, he came up with that whole 'New York values' with a lot of anger about the city and about the state," Trump told 77 WABC radio show host Rita Cosby. "I think he won't do very well, and I think any New Yorker that votes for him would be maybe not a New Yorker."
Later in the interview, Trump, who said he will win the nomination on the first ballot, took the opportunity to criticize the "rigged" Republican delegate system. He indicated that he is "not worried about second and third ballots" at an open convention this summer but is instead focused on reaching the 1,237 delegates necessary to earn the nomination.
"You know, it's a rigged system, it's a terrible system, it's very corrupt in so many different ways," Trump said. "You look at the way these delegates are chosen, and they take them around in limousines and hotel rooms and all sorts of things — this is a democracy. And if you did that with elected officials, you'd be put in jail."
"We've exposed a bad system and a very corrupt system, and hopefully people are going to remember that when they go to the booth," he continued.
If he doesn't win the Republican nomination in Cleveland this July, Trump predicts major backlash: "I think they will not accept anybody but me. I'm the messenger. It's not about me, I have the message."
In order for Trump to have a "great night" in New York, he said he would like to win at least 70 delegates in tonight's primary, adding that if he reaches 50 percent of the vote, it would "be a great tribute." However, he did acknowledge that getting to that point is "difficult" when he's running against Kasich and Cruz.
Listen to the entire interview:
—
Follow the author of this story on Twitter: