Two members of a church demolition team in China's central Henan province buried a house church leader and his wife alive Thursday when the pair tried to prevent the destruction of their church, according to local news sources. Though the church leader managed to escape, his wife suffocated to death before she could be freed.
The couple had petitioned the destruction of their church, China Aid reported Monday.
On April 14, a government-sponsored company sent workers to bulldoze Beitou Church in Zhumadian. The order came after a local developer expressed interest in the church's valuable land.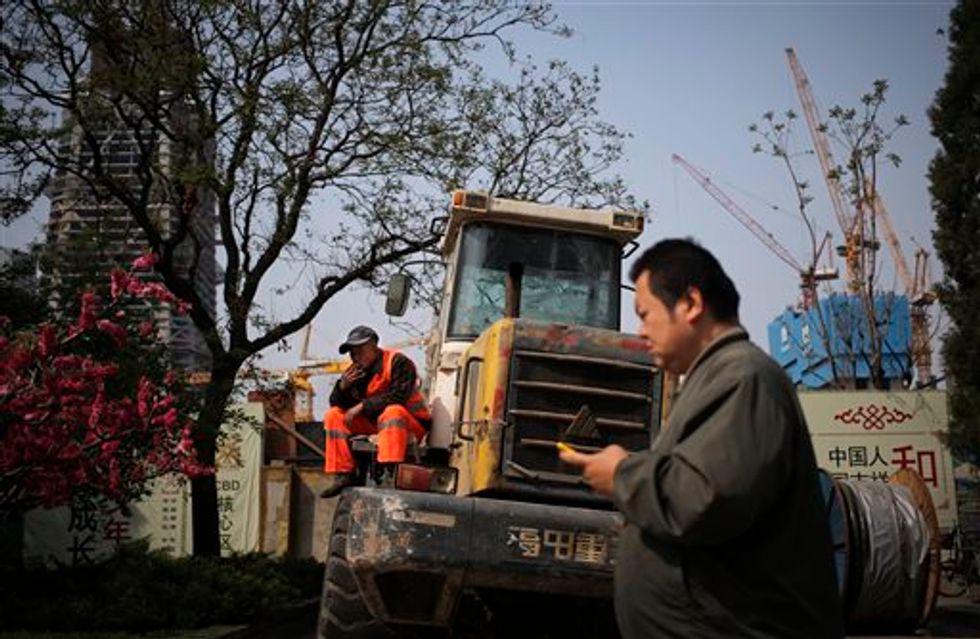 A worker takes his break on a bulldozer parked near a construction site at the Central Business District of Beijing. China will remain the main driver of growth in Asia this year despite its prolonged slowdown, helped by sustained expansions in other developing countries in the region, the World Bank said April 11. (AP Photo/Andy Wong)
When the demolition crew showed up, Li Jiangong, the church leader, and his wife, Ding Cuimei, stepped in front of the bulldozers to protest the demolition.
"Bury them alive for me," one of the workers said, according to China Aid. "I will be responsible for their lives."
The couple was reportedly pushed into a pit with a bulldozer, which proceeded to cover their bodies with soil, suffocating Ding and nearly killing Li.
Police told China Aid in an interview Sunday that two suspects are being detained in connection with the crime while a officials from the public security bureau investigate their case. Specific charges were not disclosed.
China Aid President Bob Fu described Ding Cuimei as "a peaceful and devout Christian woman" and called the grisly burial "a cruel, murderous act."
According to China Aid, Li said police took an "uncommonly long time" to arrive at the demolition site after his wife was reported to have been murdered.
The outlet also reported that local Christian witnesses said the various government departments responsible for managing the area did not show up to oversee the demolition.
"This case is a serious violation of the rights to life, religious freedom and rule of law," Fu said, calling on Chinese authorities to "immediately hold those murderers accountable and take concrete measures to protect the religious freedom of this house church's members."
Fu spoke with the Christian Post back in February and expressed his concerns about the Chinese government's treatment of Christians:
"The top leadership is increasingly worried about the rapid growth of Christian faith and their public presence, and their social influence," Fu said, adding, "It is a political fear for the Communist Party, as the number of Christians in the country far outnumber the members of the party."
Despite the resistance Li is likely to encounter, China Aid reported that the church leader is urging China's justice system to pursue a thorough investigation into his wife's murder.
—
Front-page image via Shutterstock