Dashcam footage released Monday has raised some serious questions concerning what exactly occurred on the day three teen girls drowned in a Florida pond back in March.
Pinellas County officers responded to an incident in Clearwater early in the morning March 31, reporting that a Honda Accord had its headlights turned off, according to WTSP-TV. As it turned out, the girls were driving a stolen vehicle and ended up barreling through heavy vegetation into a 15-foot deep retention pond.
Laniya Miller, 15, Ashaunti Butler, 15, and Dominique Battle, 16, all drowned that day, and the teens held criminal records for arrests and car thefts, WTSP reported.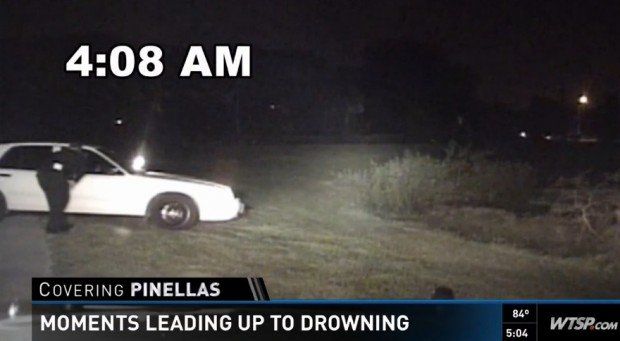 Image source: WTSP-TV
Sheriff Bob Gualtieri originally stated that the responding deputies attempted to enter the water and save the girls, although they were unable to make it very far, according to WFTS-TV. But the recently released dashcam footage raised some questions about the reports after it was reviewed.
In the footage, the officers can be seen standing by their vehicles and appearing to be observing the scene as the three girls drowned, WFTS noted.
"They're done," one deputy said to another. "They're done."
Another deputy said, "Let's get rescue out here with a boat."
One deputy can also be heard saying, "I hear them yelling, I think."
Questions soon began to arise because this particular dashcam footage does not show or indicate that any of the officers pictured attempted to go into the water after the girls and rescue them. Michele Whitfield, the attorney representing Laniya's mother, had said earlier in the month, "At this point we're seeking answers for Laniya's mother. There's inconsistencies that need to be addressed."
Lawyer Will Anderson had also stated earlier that after conducting their own private investigation, they believed that inconsistencies existed between the known facts and the law enforcement officers' statements.
"In my opinion, this has been a rush to judgment," Anderson said, according to WFTS. "In my opinion, this has been a smear campaign."
The dashcam footage is currently undergoing review, and neither the lawyers for the teens' parents nor the deputies have publicly commented further at this time.
—
Follow Kathryn Blackhurst (@kablackhurst) on Twitter