Democratic presidential hopeful Sen. Bernie Sanders (Vt.) and his campaign cried foul Tuesday after more than 125,000 New York City Democrats were purged from the city's voting rolls.
"It is absurd that in Brooklyn, New York — where I was born, actually — tens of thousands of people as I understand it, have been purged from the voting rolls," Sanders said Tuesday at a rally at Penn State University, according to CNN.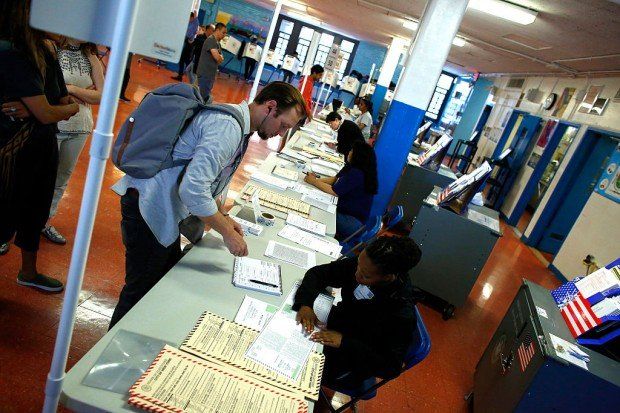 A man checks his documents before he cast his vote at a polling station in Brooklyn, New York, during the New York presidential primary Tuesday. (Kena Betancur/AFP/Getty Images)
Sanders spokesman Karthik Ganapathy told CNN in an email that what happened in the city — specifically in the borough of Brooklyn — Tuesday was a "disgrace."
"From long lines and dramatic understaffing to longtime voters being forced to cast affidavit ballots and thousands of registered New Yorkers being dropped from the rolls," he said, "what's happening today is a disgrace."
Of the 126,000 voters taken off the rolls in Brooklyn prior to New York's April 19 primary, NYC Board of Elections Executive Director Michael Ryan told CNN that 12,000 of those voters had moved out of the borough, 44,000 were placed in the "inactive" file after mailings to their residences bounded back and the other 70,000 were already inactive voters and were removed because they failed to vote in two successive federal elections or failed to respond to cancel notices.
Ryan added, "We're not finding that there were issues throughout the city that are any different than what we experience in other elections."
However, New York City Comptroller Scott Stringer was not in agreement. He told CNN that his office plans to get to the bottom of why the New York City Board of Elections is so "consistently disorganized, chaotic and inefficient."
There was even an unusually high number of complaints from voters across New York State to the state's attorney general's office Tuesday. Attorney General spokesman Nick Benson tweeted that just prior to 4 p.m. Tuesday, more than 700 voters across the state called the voter hotline with complaints.
For context, Benson said that during the 2012 general election — not the primary — the hotline received approximately 150 calls:
But for those who were unable to vote all is not lost. According to CNN's report, voter rights organization Election Justice USA is planning to file a federal lawsuit Wednesday to try to have those votes that were "disenfranchised" Tuesday counted before the primary results get certified and become official.
(H/T: CNN)
—
Follow the author of this story on Twitter and Facebook:
[facebook //www.facebook.com/plugins/like.php?href=