NEW YORK — For the three presidential candidates who call the Empire State home, Tuesday's primary was a divisive one.
As the phrase "New York values" reverberated throughout the campaign trail in the days leading up to New York's primary, Democratic presidential contenders Hillary Clinton and Bernie Sanders and GOP front-runner Donald Trump sought to make sure voters knew that they had strong New York connections — even though Sanders has spent most of his life in Vermont and Clinton is a transplant.
Yet as all three were sure to highlight their New York ties on the campaign trail, only Clinton, who won the state, was also able to win her home county.
With 98 percent of the results in, Clinton took Westchester County by 67.3 percent. The former New York senator resides in Chappaqua in the northern part of the county.
Sanders, who grew up in Brooklyn and drew a substantial crowd to his homecoming as he held a rally in front of his childhood apartment building in Flatbush, couldn't hold on to his home county — Kings County — where Clinton received 60 percent of the vote compared to his 40 percent.
Notably, the neighborhood of Flatbush also went to Clinton.
Even Trump, who arguably had the best case as a born and bred New Yorker, won every single county in the state except for Manhattan where his own Trump Tower stands. There, Ohio Gov. John Kasich narrowly took the lead with 45.2 percent of the vote compared to Trump's 41.8 percent.
However, born in Queens, Trump was able to win that county as he received 67.9 percent of the vote with Kasich coming in a distant second with 18 percent.
Even with the three candidates focusing on their ties to New York, there were plenty of New York-related gaffes made by all of the candidates on the campaign trail.
Kasich couldn't seem to eat his pizza the correct way; Clinton faced a common battle with her MetroCard on the subway; Trump mistakenly referred to 9/11 as 7-Eleven; and Sanders told the New York Daily News that the subway still used tokens.
Texas Sen. Ted Cruz faced continued criticism while campaigning in the state from those who hadn't forgotten the "New York values" comment he made earlier in the campaign. Cruz attempted to turn it around and contend that he meant the values of New York Democrats such as New York City Mayor Bill de Blasio and embattled former New York Rep. Anthony Weiner.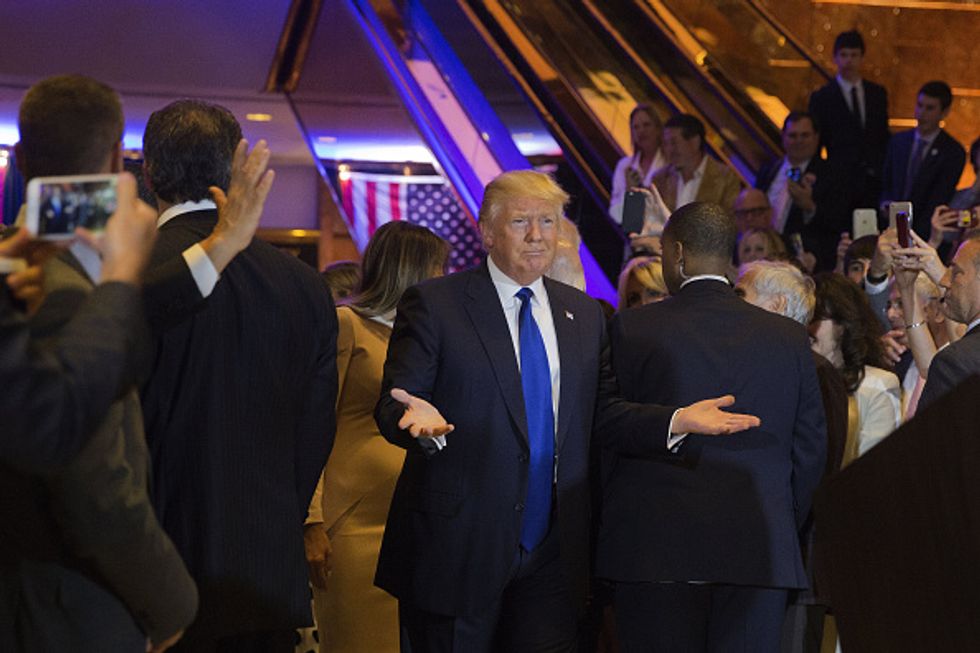 Donald Trump gestures as he arrives at an election night event in New York Tuesday. (Getty Images/Victor J. Blue)
But on Tuesday, with all the blunders behind them, there was no place like home for Clinton and Trump.
Speaking to supporters gathered at Trump Tower late last night, Trump thanked his home state and promised that there was "no where else" he'd rather have a victory.
With his resounding win in New York Tuesday, the billionaire businessman came close to sweeping the state's 95 delegates. Thus far, only three delegates have been awarded to Kasich.
Clinton, too, had words of gratitude for her own supporters gathered at a midtown hotel Tuesday night as she took 139 of the state's 247 Democratic delegates.
"We started this race not far from here on Roosevelt Island. And tonight, a little less than a year later, the race for the Democratic nomination is in the homestretch and victory is in sight," Clinton said.
But with one little phrase, Clinton echoed what the three candidates attempted to portray over the past few weeks: "This one is personal."
—
Follow Kaitlyn Schallhorn (@K_Schallhorn) on Twitter