A top aide to Democratic presidential front-runner Hillary Clinton didn't hold back in comments made to Politico Tuesday after results rolled in from the New York Democratic primary, which showed that Clinton won overwhelmingly over rival Vermont Sen. Bernie Sanders in the Empire State.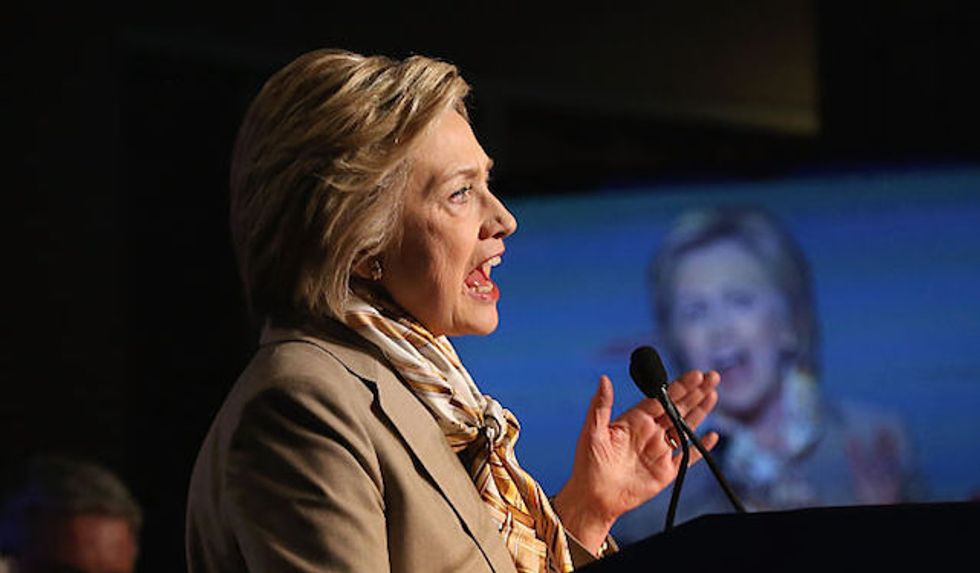 Democratic presidential candidate Hillary Clinton speaks at the America's Building Trades Unions' 2016 Legislative Conference Tuesday in Washington, D.C. (Mark Wilson/Getty Images)
"We kicked his ass tonight," the senior aide told Politico's Glenn Thrush. "I hope this convinces Bernie to tone it down. If not, f*** him."
"Clinton won by a wide margin and there was much eff-you high-fiving in the ballroom of the Sheraton New York [where Clinton gave her victory speech]. But Sanders' defeat (accompanied, as always by the big crowds and even bigger torrent of online donations) was the bitterest [sic] one yet and deepened the already yawning fault lines between the Bernie stalwarts and a Clinton team increasingly itchy to see him gone," Thrush wrote.
But with Sanders' recent change in tone, including his calling into question Clinton's qualification to be president, which he later walked back only to question her "judgment," the Vermont senator's campaign has all but confirmed that it plans to take the fight for the Democratic nomination all the way to the party's July convention in Philadelphia.
And if Sanders takes his fight to the convention floor, it could mean contested political conventions for both major political parties, assuming that no GOP candidate is able lock up the nomination before the June Republican convention in Cleveland.
(H/T: Mediaite)
–
Follow the author of this story on Twitter and Facebook: