The family of an American killed while protecting the U.S. compound in Benghazi, Libya, will receive $400,000 after the CIA announced Wednesday that it is expanding its employees' survivor benefits policies.
Glen Doherty and family finally receive heroic justice https://t.co/QkVmgCSmyO pic.twitter.com/l3fHZMpBFW

— SOFREP (@SOFREP) April 20, 2016
After CIA contractor Glen Doherty, 42, was killed on the rooftop of the embassy in Benghazi in September 2012, his grieving family was shocked to discover that the death policy Glen was compelled to pay for under the 1941 Defense Base Act could would only apply his spouse or children. At the time of his death, Glen, a former Navy SEAL, was divorced and childless, according to Fox News. Thus, the Defense Base Act, which required all overseas contractors to pay into disability and life insurance, did not allow Glen's parents to receive his survivor benefits.
But Glen's family fought back.
"It wasn't about the money, at all," said Glen's mother, Barbara Doherty, according to WFXT-TV. "It was a fight for [all families], because they didn't have a voice and we did … that's what kept us going on, knowing that they would eventually be recognized."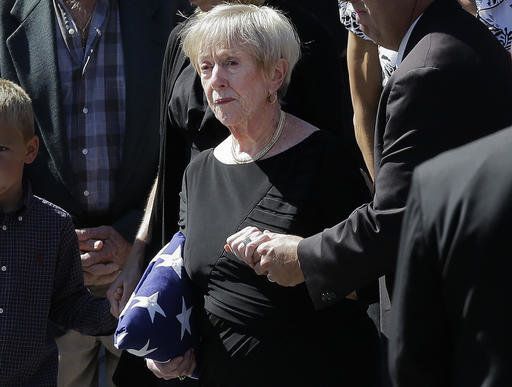 In this Sept. 19, 2012, file photo photo, Barbara Doherty, mother of slain former Navy SEAL Glen Doherty, is escorted from the Church of St. Eulalia in Winchester, Massachusetts, after his funeral. (AP Photo/Elise Amendola, File)
On Wednesday, the Doherty family's lawyers announced that the CIA had finalized changes to the old policy to allow victims' family members to receive its employees' survivor benefits — even if the victims had no dependents.
"More than three and a half years after the Benghazi attack which took his life, our family has finally received the symbolic justice all families of such American heroes deserve," Barbara said in a statement, according to the San Diego Union-Tribune. "The Doherty family fought for this benefit to ensure that the sacrifice made by others in their situation would be recognized."
This new policy — which will be retroactive to 1983, the year that a bombing occurred at a U.S. Marine barracks — will affect at least several dozen other CIA contractors, the Union-Tribune noted.
Members of the House's Select Committee on Benghazi expressed their support for the CIA's expanded policy.
"I am glad the agency made this decision so the Doherty family and others who have lost loved ones in service to and sacrifice for our country will finally receive the recognition and honor they deserve," Rep. Trey Gowdy (R-S.C.), the committee's chairman, said, according to the Union-Tribune.
The revised policy will now move through Congress.
"It gives me solace that the CIA has done the right thing," Barbara said, according to WFXT. "Now it's up to Congress to see if they can step up to the plate."
—
Follow Kathryn Blackhurst (@kablackhurst) on Twitter