As the sounds of his iconic hard-rock anthem "School's Out" played in the background, the one-and-only Alice Cooper stood in front of a video camera and sent out a summer invitation — but not for any heavy metal festival.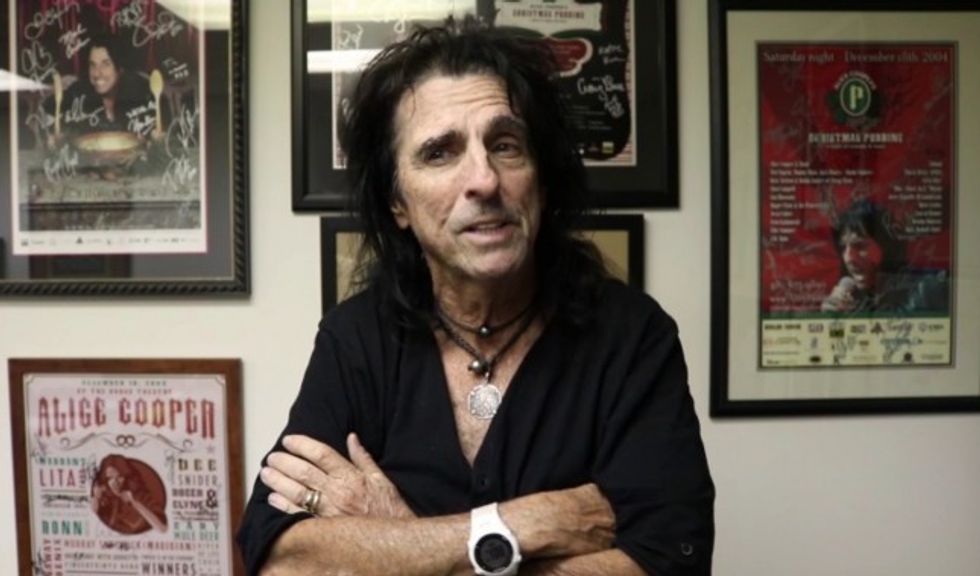 Image source: Vimeo screengrab
Cooper instead called on members of the Evangelical Covenant Church to come to Phoenix for the denomination's conference, Gather 2016, in June.
He noted that those who come a day early can check out the music and art happening at the Rock at 32nd Street Church where Cooper founded his Solid Rock teen ministry. "You'll even get to see real-live teenagers in captivity," he told viewers, "and maybe listen to a few jam sessions."
Here's the clip:
,/p>
Born Vincent Furnier, Cooper experienced a religious upbringing but eventually captured fame in the 1970s for his theatrical rock performances. Props such as top hats, snakes and lots of makeup served as a backdrop for songs like "No More Mr. Nice Guy" and the famous concept album "Welcome to My Nightmare."
Like many in the rock universe, Cooper had huge struggles with substance abuse — but soon his faith came back to the forefront. In a 2012 interview with the Huffington Post, Cooper shared that he believes "every word of the Bible is true."
As for his Solid Rock ministry, its primary mission is "to make an everlasting difference in the lives of teens" by meeting their "spiritual, economical, physical, and social needs" through a "safe, engaging environment during non-school hours — a time when they are most vulnerable to drugs, violence, and gangs." Solid Rock does this through music, arts and vocational programs — along with Christian fellowship — to "challenge teens to discover their passion through music, dance, self-expression, and creativity."