Attacking a police officer could become a hate crime in Louisiana, if the Pelican State passes a new "Blue Lives Matter" bill.
The legislation, HB 953, would alter the state's definition of a hate crime to include law enforcement officers and firefighters.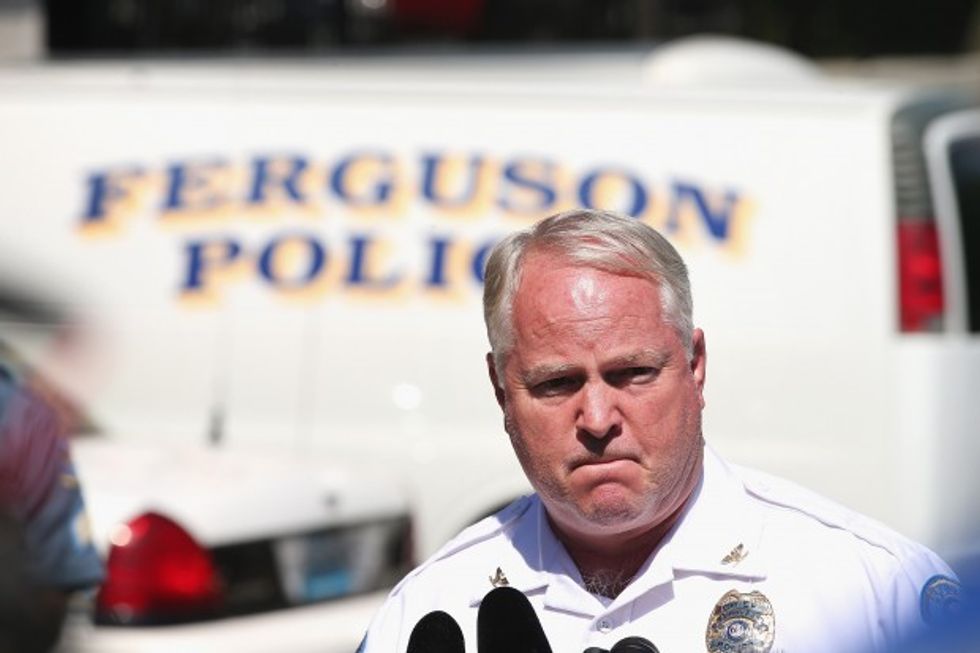 Police Chief Thomas Jackson fields questions related to the shooting death of teenager Michael Brown during a press conference on August 13, 2014 in Ferguson, Missouri. Brown was shot and killed by a Ferguson police officer on Saturday. Ferguson has experienced three days of violent protests since the killing. (Photo by Scott Olson/Getty Images)
"We have a pretty extensive hate crime law right now, but I believe we should add firefighters and policemen," Louisiana Rep. Lance Harris (R), who supports the bill, told the Advocate, a Louisiana-based news source.
Should the legislation be enacted, it will allow those who have been convicted of felonies against the newly protected groups to be sentenced to up to five additional years in prison.
Here is the text from the legislation, with the new language protecting police officers and firefighters in italics:
It shall be unlawful for any person to select the victim of the following 10 offenses against person and property because of actual or perceived race, age, gender, religion, color, creed, disability, sexual orientation, national origin, or ancestry of that person or the owner or occupant of that property or because of actual or perceived membership or service in, or employment with, an organization, or because of actual or perceived employment as a law enforcement officer or firefighter.
The "Blue Lives Matter" bill comes after a long string of questionable deaths involving police, the most notable being the death of Michael Brown in Ferguson, Missouri in August 2014. Though the bill is controversial, some feel it is necessary.
"You never know if he's coming home," Louisiana local Dionna Nelson, the daughter of a police officer, told KLFY-TV. "His life was always on the line. There's just too many police officers being killed, and firefighters and first responders being killed in the line of duty. There's just no sense for it."
But others find the bill to be unnecessary. The liberal media organization ThinkProgress criticized the legislation, saying there is "no evidence to support the idea that there's a war on cops."
"Some of the cases held up by the media as examples of anti-police sentiment turned out to be police who actually shot themselves," ThinkProgress reporter Carimah Townes wrote. "Nevertheless, law enforcement, conservatives, and media pundits frequently seize on cop killings to scapegoat minorities."
The Advocate noted that similar legislation has been introduced in the past, but none has ever been enacted. Additionally, a "Blue Lives Matter" bill was introduced in Congress last month.
—
Follow the author of this story on Twitter: