After being fired by ESPN for posting a controversial meme about the transgender restroom debate, former MLB pitcher Curt Schilling defended his stance and predicted a potential horrific scenario during a radio interview with comedian and commentator Steven Crowder.
Schilling doubled down on his views about transgender individuals' use of public restrooms, while also speaking about feeling "thrown under the bus" by ESPN management.
"Everybody's talking, 'Oh my God. People are going to get raped in a women's bathrooms.' The issue is not this," he said. "What's going to happen — it's already happened — but it's going to happen one time in a big way, somebody is going to get molested in a women's room and it's going to be a child, and some scum bag, pervert child molester is going to go to jail and the transgender community is going to be in a place they never, ever wanted to be, because they're going to have to be defending their right to use a bathroom which opens up the door."
The former pitcher went on to say that ordinances and laws could end up being misused by "people who want to manipulate the law to their advantage" and predicted that "someone is going to get hurt."
Listen to Crowder's interview with Schilling below. The bathroom warning unfolds around the 15-minute mark:
Schilling also addressed the social media post that led to his dismissal from ESPN. As TheBlaze previously reported, the transgender post, which Schilling later deleted, showed a man dressed as a woman with a caption referring to the transgender bathroom laws that have become especially controversial recently. It was unclear whether the individual seen in the photo is actually transgender.
"Let him into the restroom with your daughter or else you're a narrow-minded, judgmental, unloving racist bigot who needs to die!!!" the meme read.
According to the Huffington Post, Schilling offered his own comment with the photo, saying, "A man is a man no matter what they call themselves. I don't care what they are, who they sleep with, men's room was designed for the penis, women's not so much. Now you need laws telling us differently? Pathetic."
He doubled down on this message during his interview with Crowder.
"I responded to a Facebook post that someone else had made," Schilling said, explaining that he had shared the message on his personal Facebook account. "And my response was basically, 'Mens rooms were made for men who stand up to pee and women's rooms were not.'"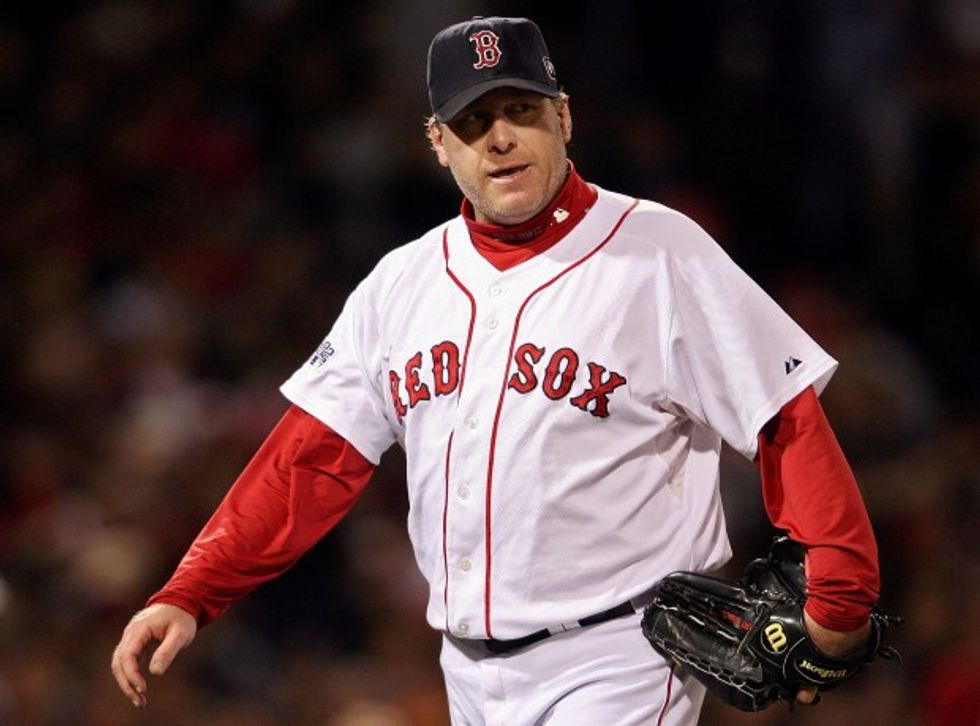 Curt Schilling #38 of the Boston Red Sox walks off the mound during Game Two of the 2007 Major League Baseball World Series against the Colorado Rockies at Fenway Park, Oct. 25, 2007. (Getty Images/Nick Laham)
Noting that he once had transgender employees at his now-defunct 38 Studios video game company, Schilling pushed back against the notion that his social media posting was somehow "transphobic" as critics have alleged.
"Nothing I said was transphobic, number one," he said before offering up a theory. "I've come to realize: The reason people get pissed is because we don't make it as big a deal as they want it to be."
He continued, "I don't care what you wear. I don't care we who you sleep with as long as it's not my wife ... I don't care about that stuff. I never have."
Schilling also told Crowder that the latest run-in with ESPN managers who fired him was "not a one time thing," pointing back to other social media messages that previously landed him in hot water. He specifically cited a Twitter message about Nazis and radical Muslims that he sent last year.
"This all started out when I tweeted out a meme about Muslim extremists and I compared them to the Nazi party ... basically saying it's just this 7 to 10 percent of extremists and then comparing it to the percentage of Nazis in Germany the Nazi party," he said.
Schilling later removed the post and was chastised by ESPN for his decision to share it.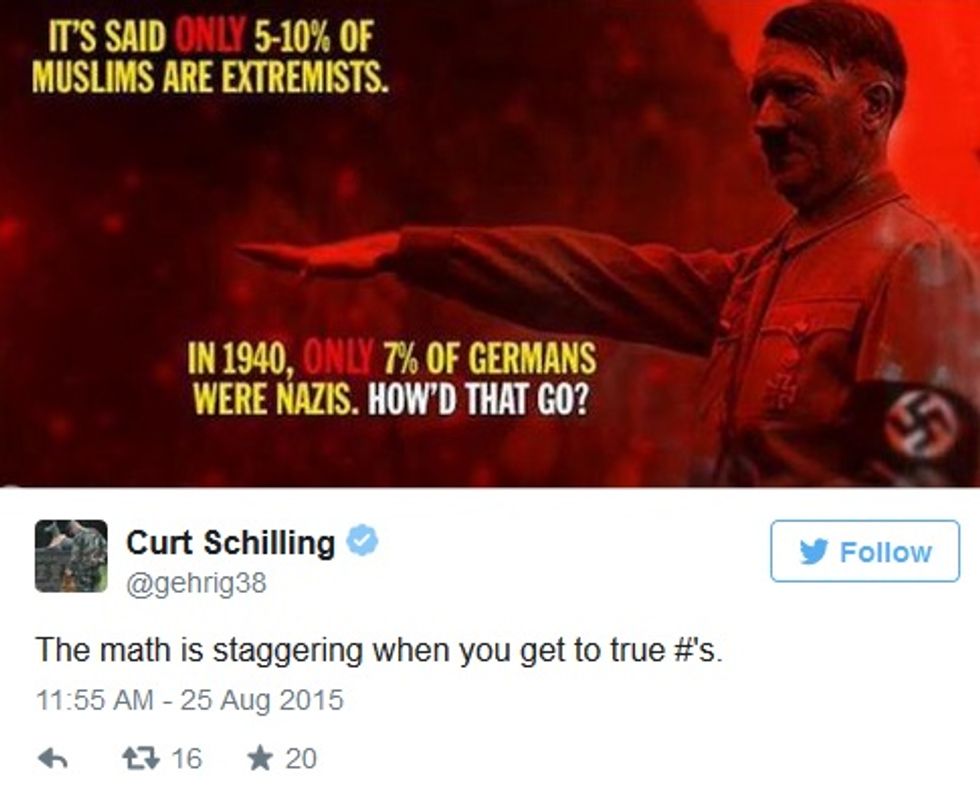 While he said that he doesn't see himself as a victim, Schilling does feel as though he was "thrown under the bus for quite a while" by ESPN management. And he left the audience with a rhetorical question.
"When did people believe that the world was supposed to conform around them instead of conforming to the world you live in or shaping yourself to the world you live in?" he asked, lamenting the idea that a "vocal minority" has repeatedly "shut up everyone else."
--
Follow the author of this story on Twitter and Facebook: