Fox News reporter Jesse Watters interviewed residents of New York City's Harlem neighborhood to hear their thoughts on Democratic candidates Hillary Clinton and Bernie Sanders following Clinton's Tuesday primary victory and, more specifically, Clinton's success in winning the minority vote.
Here's how that went:
"Are you ready for Hillary?" Watters asked.
"Of course I'm ready for Hillary Clinton," one man said. "She's one of the best."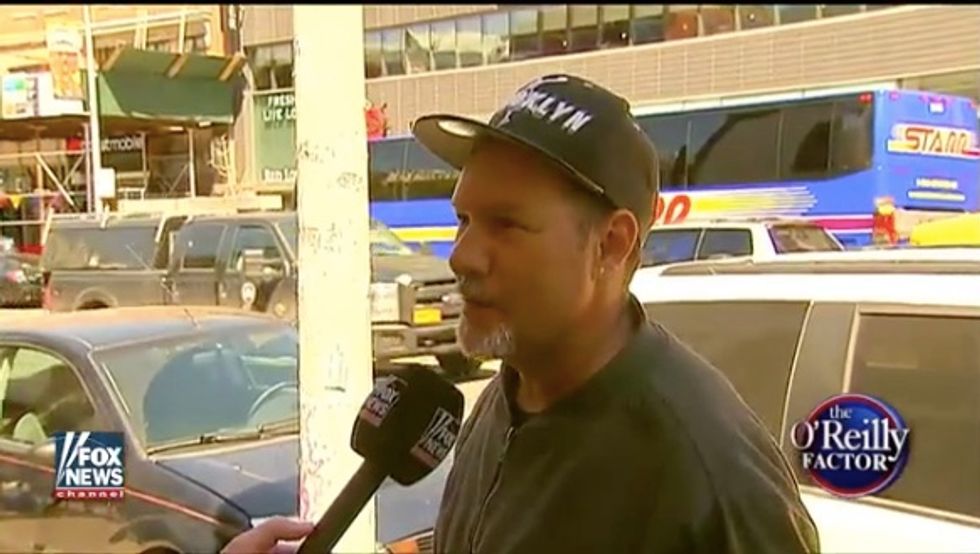 Image source: Fox News
One woman replied, "I like Hillary as a person. It's a step forward for women. We need a woman president. We've never had one."
"Yeah," one man said, before Watters added a minor detail. "To go to jail?" the reporter asked.
"Oh, no."
Another man said that he's "ready for anything," but added that "the person who relates to struggle most seems like Bernie. He'll be more helpful to the average man out here."
Watters then asked people, "Are you excited for Hillary?"
"Hell no," one man responded.
"I think Hillary's connected to that old Wall Street money," another said.
"I actually voted for Bernie," one woman confessed.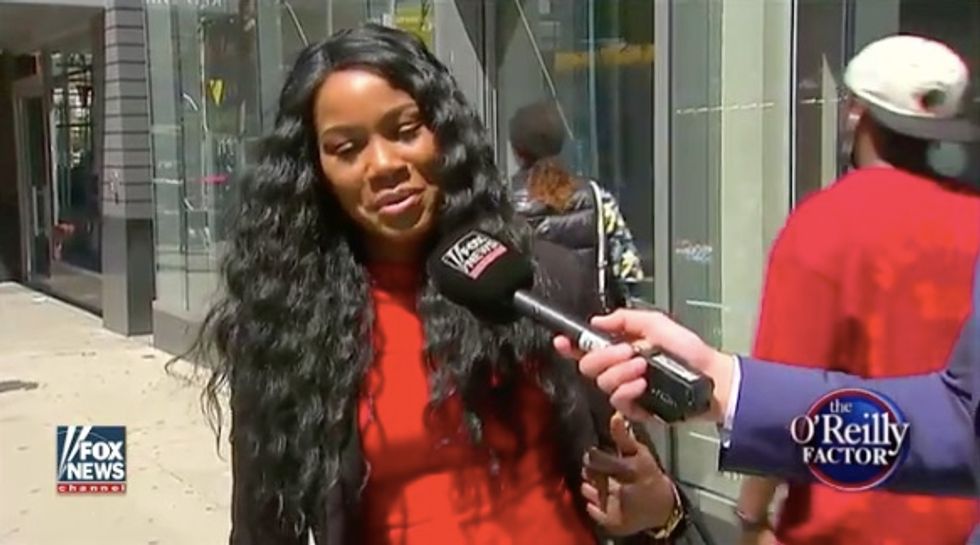 Image source: Fox News
Watters then asked folks why they like the Democratic front-runner.
"I feel like she'll bring Obama back, and I'm wanting him to be back," a woman said.
"We need a woman in the White House. That'll be great," another woman said.
Waters asked Harlem resident what they think Clinton's biggest accomplishment has been.
"She has gone around to certain places. Brooklyn. She's been to Queens," one said.
Watters pushed back this time:
"I've been to Brooklyn and Queens," he said. "Does that make me president?" The man had nothing to say.
One man said he supports Clinton because she "stopped the war and stopped building nuclear weapons."
"What wars did we stop?" Watters asked.
"The Iraq War."
"Didn't she vote for the Iraq War?" Watters pressed.
"I don't think so, but she played a little bit of a role in that," the man said.
"Do you think Hillary's an honest person?" Watters asked several individuals.
"She is an honest person," one said.
"She's about as honest as most politicians are," another added.
Some, however, were slightly more critical.
"As far as her campaign? Not at all," said one New Yorker.
Another stated, "She seems to go whichever way the wind is blowing."
"What has Hillary done for black America?" Walters asked next.
"Um …" one responded.
"They don't do nothin' for the black community," a man said.
"She supports the black community and the situations like the cops killing," another said.
Watters asked one man how Hillary has helped him out.
"Creating new jobs," the man replied
"How's Hillary going to create new jobs?" Watters asked.
"Well, she knows."
"She's just not telling anybody," Watters suggested.
"That's right," the man agreed.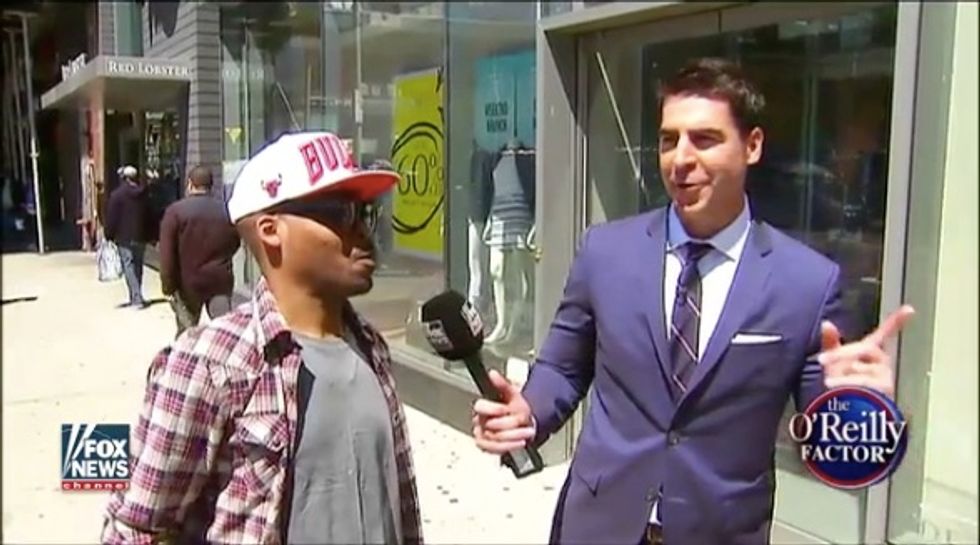 Image source: Fox News
"If you went out to dinner with Hillary, what would you tell her?" Watters asked a younger man
"I would take her to Red Lobster and tell her that I think she's cute," he joked.
"You know what happens when a woman orders a lobster?" Watters asked.
"Where's her hot sauce?" the man answered, perhaps in reference to Clinton's previous claims that she carries hot sauce with her wherever she goes. After she said this, many black voters criticized her for "pandering."
Watch the clip of "Watters' World" here: