Mississippi's Republican Party chairman is facing heat since a "threatening" text message he sent to a candidate's campaign official was brought to light.
According to screenshots of the text message provided to TheBlaze, state party Chairman Joe Nosef seemed to tout his connections with Mississippi Gov. Phil Bryant (R) and allegedly threatened potential delegates in order to get them to "work together."
"The bottom line is is [sic] I told you this can happen one of two ways," the text message read. "Either we work together and include people that we trust and also happen to be Trump and Cruz supporters or we just put whoever we want to on there have a big fight and end up in the contest committee in Cleveland."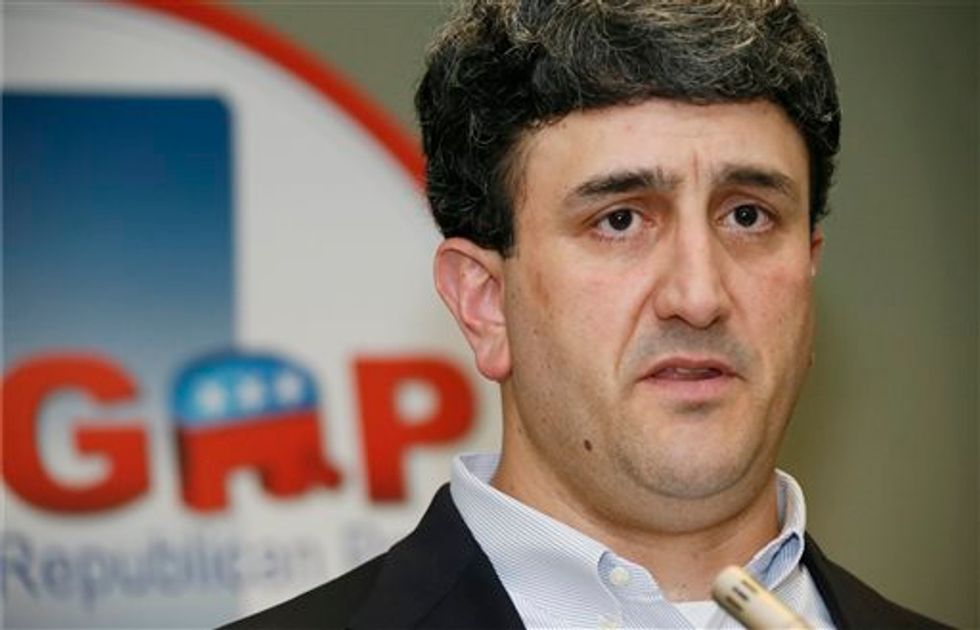 Mississippi state GOP Chairman Joe Nosef (AP Photo/Rogelio V. Solis)
"And like I told you I can promise my cousin and anybody else if they even so much as raise their voice they're going to be outside in the parking lot and they won't be back in and no I won't be removing them," the text continued. "Somebody with a gun and badge a badge will be."
GOP presidential front-runner Donald Trump's Mississippi state chair Mitch Tyner confirmed the authenticity of the text message in a phone call with TheBlaze Thursday.
"I'm very unhappy with it — that it appears to be a gestapo tactic and a rigged method of putting in delegates that the party wants instead of necessarily what the people want," Tyner said. 
Tyner also TheBlaze that Bryant should resign if he authorized Nosef "to threaten the Trump or Cruz supporters" as "it is an abuse of law enforcement in the political process."
"If the governor did not authorize Joe Nosef to make this threat, then the governor should call for Nosef's immediate resignation," he said.
Nosef's cousin, referred to in the text, is state Sen. Chris McDaniel, TheBlaze learned from multiple sources. In an email to TheBlaze, McDaniel, a state leader for Texas Republican Sen. Ted Cruz's presidential campaign, said he was "concerned" by Nosef's reference to "guns and badges" in his messages.
"I sincerely hope he doesn't mean them as they were presented, but to good Mississippians across the state, such comments obviously raise suspicions that the party elites do not want conservatives involved in the process," McDaniel said. "Whatever the intent or consequences of his words, one thing is certain: this process belongs to the good people of Mississippi — not to one man or a small group of party elite in a smoke-filled, mahogany-walled room in a Jackson mansion."
McDaniel added that he will attend the upcoming state convention where he plans "to raise my voice to fight for the people of Mississippi, conservatives and for fairness in the process."
"And I'll do so with absolutely no fear," he added.
McDaniel did not speculate on whether or not Nosef should resign but did say that if Nosef's "intent" was to intimidate, he would be "deeply saddened."
"Only Joe knows his heart, and I hope he will give a more detailed explanation," McDaniel said. "There is no justification for anyone using intimidation to influence delegates or the political process. If that was his intention, then that would be problematic."
"Dirty tricks must not be allowed," he added. "Our party deserves conservative leadership from the grassroots, not intimidation or shenanigans from the establishment's party bosses."
Calls and emails to Nosef from TheBlaze went unanswered Thursday and Friday. However, in a post on the Y'all Politics blog that was promoted by the Mississippi GOP's social media accounts, Nosef admitted to sending the text message but said it was written in a casual manner.
"This angle and this story is the opposite of the truth. I was expressing frustration because the two campaigns local leadership had no interest in working with us to ensure they didn't end up in Cleveland in a delegate fight with each other about delegates," Nosef said.
"Secondly, the part about security at the state convention is there because our people deserve and expect that we will have a professional, secure environment," he added. "No one will use our state convention to grandstand or try to intimidate people into voting a certain way. We owe it to our people for them to be safe."
The blog post also blasted Noel Fritsch, a spokesperson for McDaniel's failed 2014 Senate campaign, for circulating the text message. (TheBlaze obtained the text from Trump's state chairman — not Fritsch.)
"Given that Y'all Politics is a blog paid for entirely by the Mississippi Establishment GOP and that they defended the corruption and vote buying to keep McDaniel out of the U.S. Senate, it's unsurprising they'd defend the chairman of the GOP, working under cover of Gov. Phil Bryant, to keep Ted Cruz delegates out of the Mississippi state convention," Fritsch told TheBlaze when reached for comment.
Bryant's office also did not respond to multiple requests for comment from TheBlaze Friday, but Clay Chandler, director of communications, told the Sun Herald that a decision had not yet been made pertaining to security at the state convention.
"The decision whether to have law enforcement present, and the depth of that presence, is made by the Mississippi Department of Public Safety and local law enforcement agencies that have jurisdiction," Chandler said. "That decision has not been made, although law enforcement is normally present when federal and state officials are involved in activity where large crowds are gathered."
Bryant endorsed Cruz in March.
—
Follow Kaitlyn Schallhorn (@K_Schallhorn) on Twitter