President Barack Obama said the United Kingdom would be in the "back of the queue" when it comes to trade deals if British voters choose to exit the European Union.
"Some of the folks on the other side have been ascribing to the United States and certain actions they will take if the U.K. does leave," Obama said Friday during a joint news conference in London with British Prime Minister David Cameron. "They say, for example, 'We'll just cut our own trade deals with the United States.' I figure that you might want to hear from the president of the United States what I think the United States is going to do on that matter."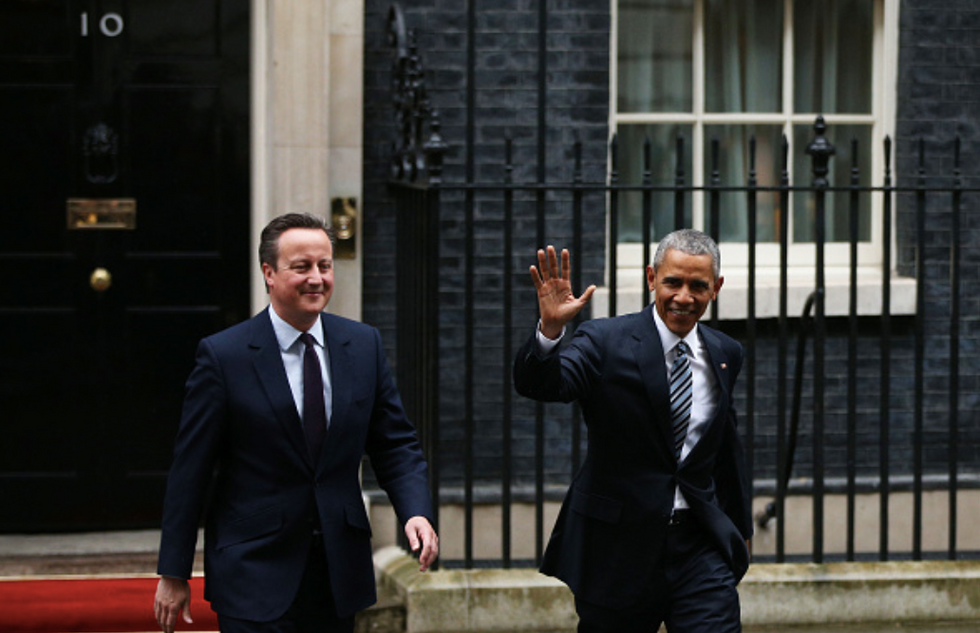 President Barack Obama leaves Downing Street after meeting with British Prime Minister David Cameron in London Friday. (Dan Kitwood/Getty Images)
Obama said the United States still has a "special relationship" with Britain but a bilateral trade deal would not be a priority:
Our focus is negotiating with a the big block to get a trade agreement done. 
U.K. is going to be in the back of the queue. Not because we don't have a special relationship but because given the heavy lift on any trade agreement, the U.S. wants to have access to a big market, with a lot of countries rather than trying to do piecemeal trade agreements.
Obama took questions from the British media asking if he was trying to interfere with Britain's EU referendum coming in June.
"This is the decision for the people of the United Kingdom to make," Obama said. "I am not coming here to fix any votes, and I am not casting a vote myself. I am offering my opinion."
Cameron, who has also urged voters to keep Britain in the EU, backed Obama's comments.
"Barack has made clear, states should remember why we are currently negotiating this biggest deal in the whole world between the European Union and the United States," Cameron said. "We set the agenda for what could be an absolutely game changing trade deal for jobs and investments because we are part of this organization."