YEREVAN, Armenia (TheBlaze/AP) — About 15,000 demonstrators in the Armenian capital held a torchlight march Saturday to a hilltop memorial complex dedicated to the 1.5 million Armenians massacred a century ago by Ottoman Turks.
American Actor George Clooney joined Armenians Sunday in remembering 101 years since the genocide, attending a service Sunday at the memorial led by Armenian church leader Catholicos Karekin II.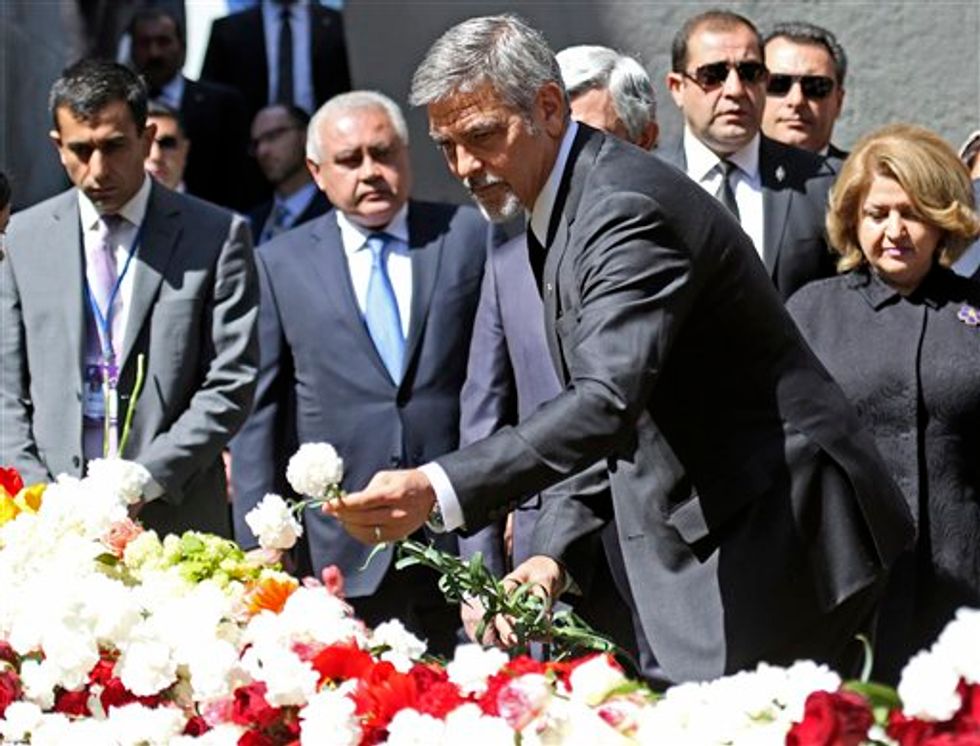 Vahan Stepanyan/ PAN Photo via AP
The killing of more than 200 Armenian intellectuals on April 24, 1915 is regarded as the start of the massacre that is widely viewed by historians as the first genocide of the 20th century.
The successor to the Ottoman Empire, known today as modern Turkey, vehemently denies the charge.
Before the march set off Saturday, participants burned a Turkish flag and another of Azerbaijan. About 75 soldiers from Armenia and Azerbaijan were killed this month in fighting over Nagorno-Karabakh, a region of Azerbaijan that is under the control of ethnic Armenian forces.
Clooney has been a prominent voice in favor of countries recognizing the killings as genocide, which the United States has not done.
Armenian-American leaders have urged President Barack Obama each year to make good on a pledge he made as a candidate in 2008, when he said the U.S. government had a responsibility to recognize the attacks as genocide and vowed to do so if elected. Obama's failure to fulfill that pledge Friday in his final annual statement on the 1915 massacre infuriated advocates and lawmakers who accused the president of outsourcing America's moral voice to Turkey.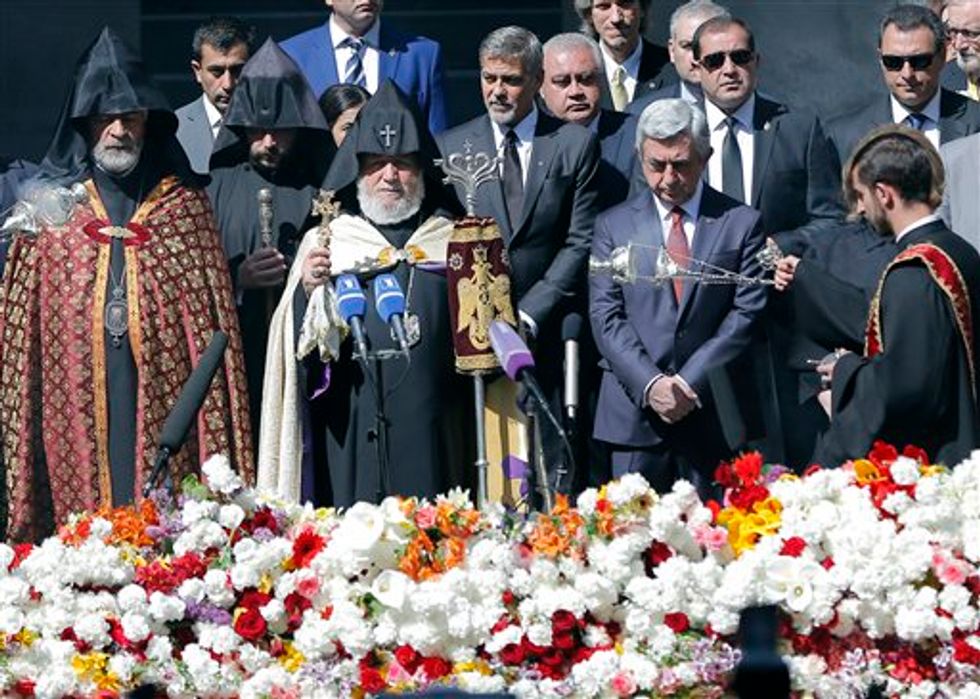 Vahan Stepanyan/ PAN Photo via AP
Though Obama administration officials have debated using the genocide label in the past, this year's deliberations come as Obama seeks Turkey's assistance in fighting the Islamic State group — especially along Turkey's long border with Syria. The U.S. and its European partners are also counting on Turkish President Recep Tayyip Erdogan to help stem the influx of migrants to Europe.
"It took a long and hard battle to finally call things by their names," Clooney said at a forum against genocide on Saturday, according to news reports. "You cannot deny what happened."
On Sunday Clooney will present the first Aurora Prize, a $100,000 award recognizing an individual's work to advance humanitarian causes.