Donald Trump Jr. appeared on CNN's "State of the Union" Sunday to discuss the Republican primary race and the final struggle to claim remaining delegates.
The GOP front-runner's son told host Jake Tapper that the only way Trump would lose to Texas Sen. Ted Cruz would be if Cruz bribed delegates in exchange for their support.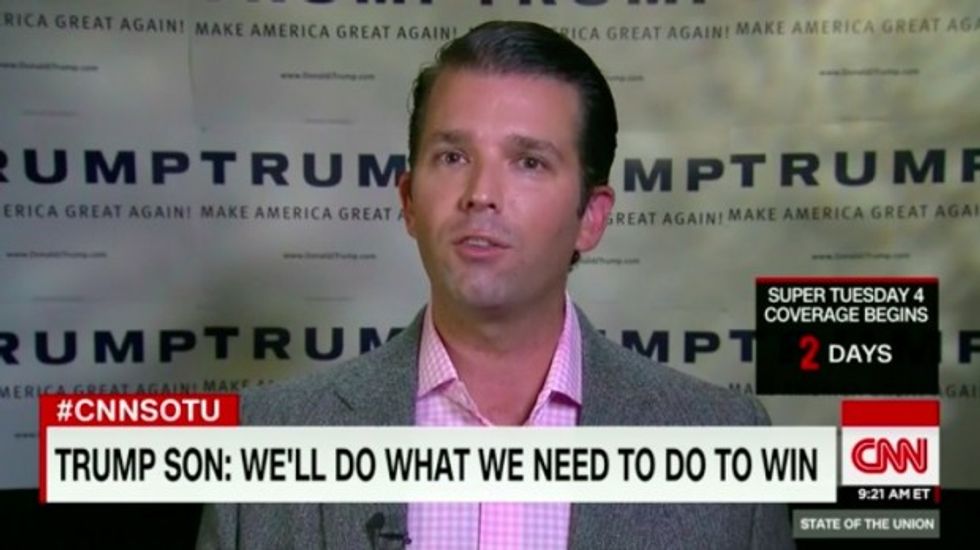 Image source: CNN
"Ted Cruz has no chance of winning this without bribing the delegates. That's his game at this point," Trump Jr. said Sunday.
He also noted that if his real estate mogul father wished to bribe delegates, he certainly could.
"He could send his private plane and send them down to Doral, they could play golf for a week and then we win that delegate," Trump Jr. explained, but added, "That's not the way this country should be run."
But Trump's oldest son indicated that he and his family are considering getting more involved in convincing delegates that their father is the right choice.
"So are you or your sister, Ivanka, or, Eric, or any other member of your family … planning to help your dad woo delegates one by one on behalf of your father?" Tapper asked.
"You know I think we'll do some of that, I think that's natural," Trump Jr. said. "I think we're going to do what we need to do to win, to a point, but I think we want to win without having to do that."
The Trump campaign has long been voicing its grievances over what it considers to be a "rigged" delegate allocation process. As a result Cruz's people have been forced to address allegations of bribery and fraud.
Cruz's campaign delegate adviser Ken Cuccinelli denied accusations similar to the ones Trump Jr. made Sunday earlier this week in an interview with CNN.
"I call foul and B.S.," he told CNN's John Berman Tuesday, April 19. "This is just more outrageous charges from the Trump campaign ... If there's any not nice tactics going on here, the Trump people are pushing delegates away from themselves and to us because of their frankly rough and unprecedented Gestapo tactics."
Trump Jr. also claimed Sunday that the Republican National Committee would rather see Democrat Hillary Clinton elected than allow his father the Republican nomination.
"I think at this point the Republican establishment would much rather just hand the things over to Hillary, hand the reins over to her, let her run it," Trump, Jr. said. "There's no accountability in the party."
"They want to try to push someone else who has zero chance of winning anywhere else," he added. "It doesn't make any sense to me. I have to certainly question their motives," he added.
Watch:
Donald Trump Jr.: Ted Cruz has to bribe delegates to win https://t.co/BI5jsa3Xmu #CNNSOTU https://t.co/8iDBwILWQF

— CNN Politics (@CNNPolitics) April 24, 2016