Democratic National Committee Chair Debbie Wasserman Schultz struggled to defend former Secretary of State Hillary Clinton's use of a private email server this morning during an interview on "Fox News Sunday."
When host Chris Wallace asked the Florida congresswoman about about Vermont Sen. Bernie Sanders' persistent critiques of Clinton's campaign and the scandal that surrounds it, Wasserman Schultz unsuccessfully tried to divert the conversation to the messy, "backwards" Republican race.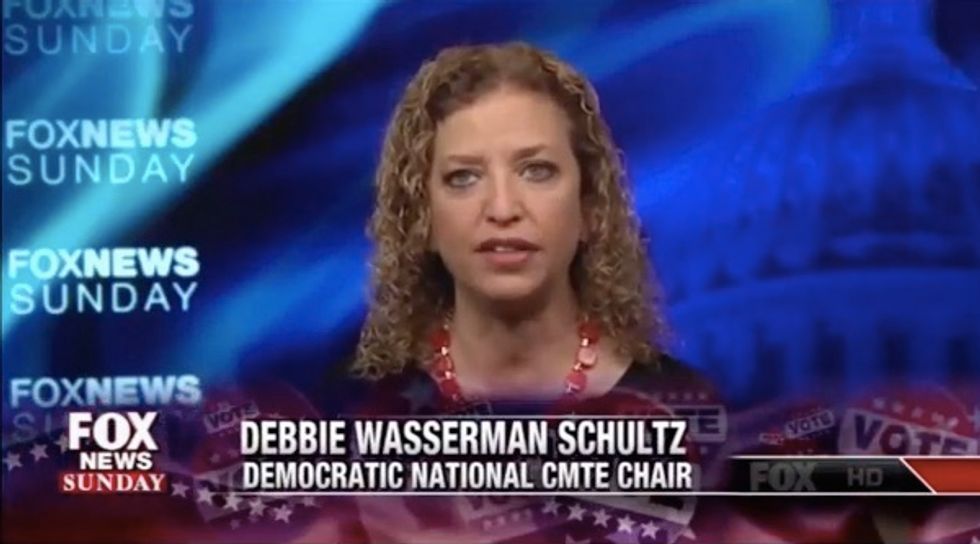 Image via YouTube
At one point in the interview, Wallace asked Wasserman Schultz if she thought the F.B.I. investigation into Clinton's emails, a project that officials federal officials have said could extend past the Democratic convention in July, has no immediate relevance to her presidential campaign.
"There's got to be something they're investigating there," Wallace said. "Are you saying it's all a waste of time?"
"It's ludicrous to keep raising the question of whether this ... plays out to an unfortunate end," Wasserman Schultz responded.
When pressed about the scandal, she said that Clinton used private emails "in the same way that previous secretaries of state have."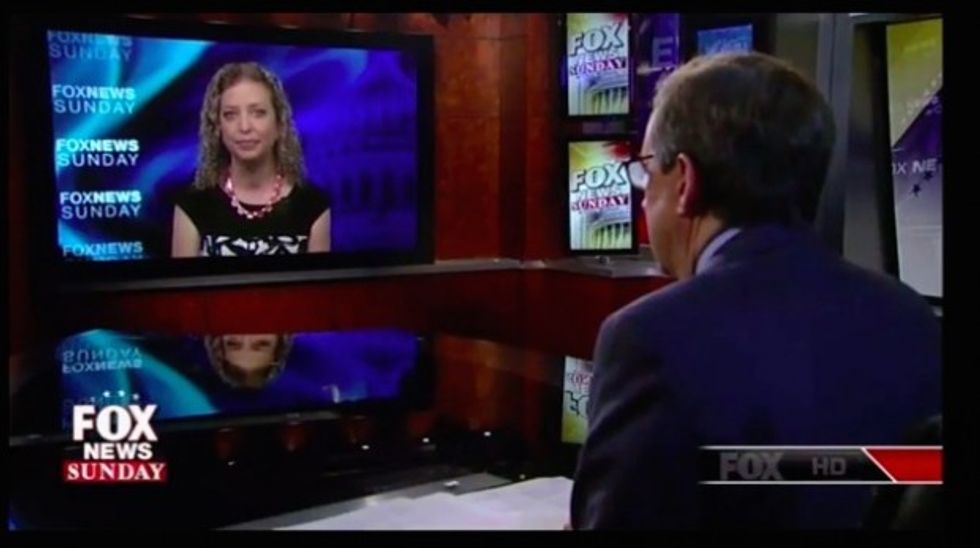 Image via YouTube
"Whoa, you know that's not true," Wallace stopped her. "Nobody says that's true."
"Other than the private server," Wasserman Schultz said.
"Well, 'other than the private server' is a big deal," Wallace pointed out. "Nobody had 30,000 work emails on their private server, or private email, period. The comparisons to Colin Powell ... that's just not true."
The DNC chair argued that the comparison was fair and noted that Colin Powell, Condoleezza Rice and John Kerry all communicated to their staff via private email.
"Yeah, but maybe a dozen — not 30,000," Wallace said.
Wasserman Schultz, apparently struggling for a response, said, "Uh ... I'm not counting," noting that Clinton did agree to release 55,000 pages of emails from her time in office.
"At the end of the day, this is a distraction," she said.
Watch the full interview: