In just a few months, the first wave of foreign first responders will set foot in Nevada to begin training on how to deal with disasters that can stem from the use of weapons of mass destruction.
Project Mercury, which will train first responders from Interpol, the world's largest international police organization, is expected to cost the U.S. Department of Defense $500,000, according to the Las Vegas Review-Journal. Only a "small contingent of foreign first responder personnel" will be involved in the training, according to a Pentagon official.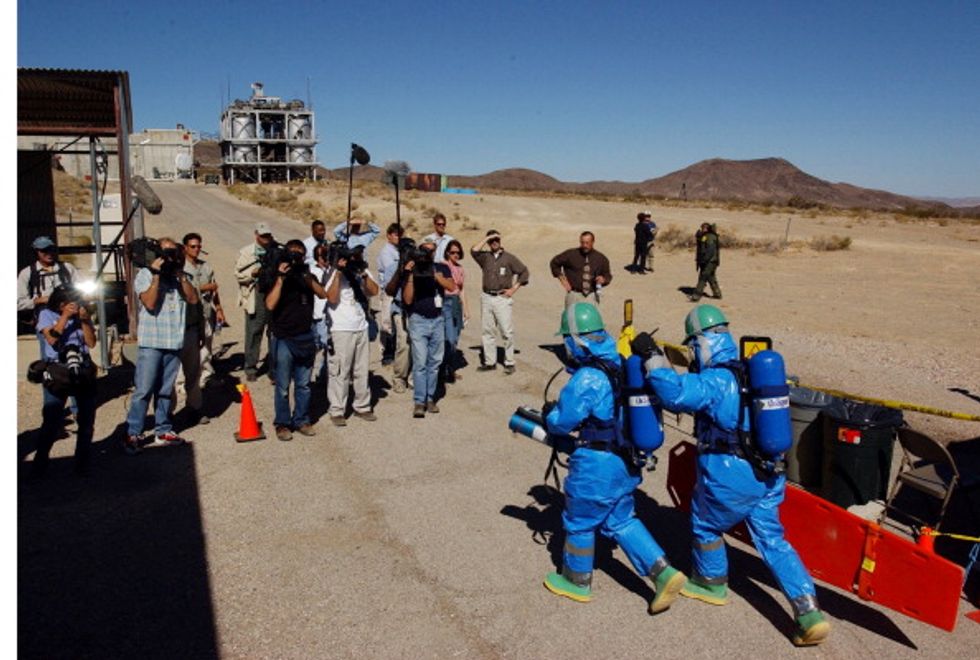 The news media photograph responders during a mock terrorist exercise at the Nevada Test Site north of Las Vegas. The isolated desert facility built for the development of nuclear rocket engines is now being used as a training ground for federal, state and local officials who will respond to terrorist attacks in the United States. (Brian Brainerd/The Denver Post via Getty Images)
The trainees will come from Eastern Europe as well as other places outside of the U.S. in September, according to the Review-Journal.
Approximately 180,000 U.S. firefighters, public safety officials, hazardous materials technicians and police officers have already trained at the facility since 1998 where they have learned how to detect, react and prevent scenarios that stem from radioactive or hazardous materials.
The new foreign first responders will train at a facility called "T-1" — the place where the Apple-2 nuclear test occurred in 1955 when an atomic bomb was detonated from a tower in order to blow up buildings and structures. While the Review-Journal reported that the test left behind a higher-than-normal level of radiation, the site is now safe for training.
"The T-1 training area is unique and cannot be replicated," Nevada National Security Site spokesman Darwin Morgan told the Review-Journal.
"It is an important asset for first responders in the United States — and eventually from other countries — because it provides them practical hands-on experience to learn about radiation, contamination and decontamination," Morgan continued.
Brian Richardson, a training supervisor for the National Nuclear Security Administration's Counter-Terrorism Operations Support Team, said Project Mercury comes as there is a growing awareness of radioactive materials from nuclear medicine sources and research reactors. There is also a heightened awareness of the possibility of terrorists obtaining nuclear material.
"Currently several terrorist organizations are attempting to get radiological material for a radiological dispersal device, or dirty bomb. Others are actually trying to acquire a stolen nuclear weapon," Richardson told the Review-Journal.
(H/T: Las Vegas Review-Journal)