A group of Ohio police officers received an unexpected blessing last Tuesday after attending the funeral of a Columbus SWAT officer.
After paying their respects to officer Steven Smith, the group stopped to grab a bite to eat at a Red Robin restaurant in Polaris, WCMH-TV reported.
When the nine officers had finished their meals, their waitress handed them their check on which she wrote a short note telling them that the $123 tab was on her.
"Officers, your bill is on me today," the server, Jessica Dunbar, wrote. "I can't imagine the day you all have had, let alone what you go through every day."
The note concluded with the hashtags, "#weseeyou," and "#policelivesmatter."
"It really touched all of our hearts," Wellington Police Lt. Jeff Shelton told WCMH.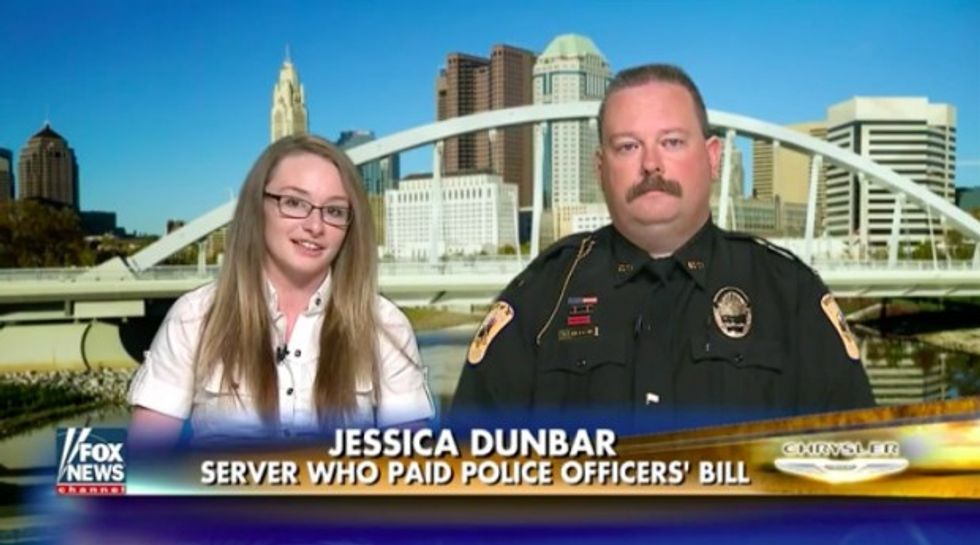 Image source: "Fox and Friends"
When the team at Fox News heard of Dunbar's kindness, Dunbar and Lt. Shelton were invited to appear on "Fox and Friends" Monday to share their story.
Dunbar, whose father is a retired police officer, told the hosts that she just felt like doing something nice for the officers to make their day "just a little bit better."
And it worked. Lt. Shelton reflected on the difficult day that was made better by a grateful citizen.
"It's not nice when you have to bury a fellow brother," he said on "Fox and Friends."
Shelton shared that when he and the other policemen received Dunbar's note, "everybody at the table basically started crying."
"There wasn't a dry eye there," he added.
When asked about her father's reaction when he heard about the note, Dunbar shared that "he was very proud."
Watch: