LeVonte Dell thought he was about to get a ticket for having tinted windows when he was recently pulled over, but he was in for a surprise from the officer.
"My heart dropped in my stomach, I thought I was going to get hammered with tickets, more stress, more bills," Dell told WJBK-TV.
During the traffic stop, Westland, Michigan, police officer Joshua Scaglione noticed that Dell's 3-year-old daughter was in the car without a car seat.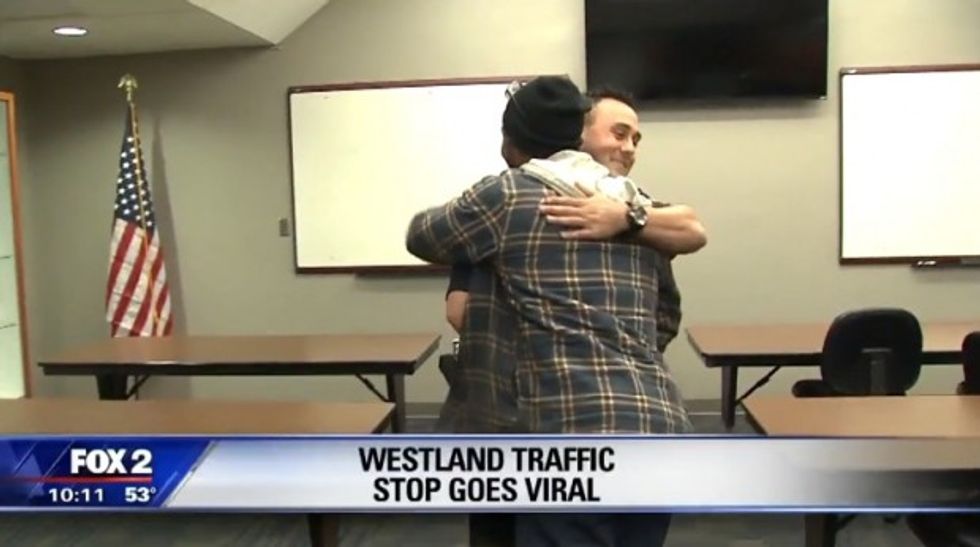 Image source: WJBK-TV
"I asked him, 'Why do you have your kids in the back without a car seat,' and he's like, 'I can't afford it,'" Scaglione told WJBK. "So I took him out of the car, separated him from his family and asked him what's going on. He's like, 'Bills are building up, overtaking my income and I can't afford a car seat right now.'"
So Scaglione decided to help.
"He looked around and said, 'Can you follow me to Walmart?'" Dell said.
Dell and Scaglione walked into Walmart together where the officer purchased a car seat for Dell's daughter.
Dell said that the officer left before he was able to thank him or even learn his name, so he wrote a viral Facebook post in an effort to find him.
The post caught the attention of the Westland Police Department, which replied, "It was difficult to identify the officer responsible as he had not told anyone about what had happened."
"It is clear that his sole purpose was to assist the driver, not to receive recognition," the department added.
After they identified the officer, the department arranged a reunion for the pair.
"I had no other choice but to do that for you," Scaglione told Dell at the meeting. "You have a daughter and she is a No. 1 priority and you deserve it."
"I appreciate it," Dell said.
"I wasn't looking for it, but it does feel good to help someone out who needs it," Scaglione told WJBK.
"A thank you is appropriate, but I still don't think this is enough," Dell told WJBK. "Like I say, he didn't have to do what he did — at all."