A hungry guy called a Florida pizza shop Sunday night and placed an order with the intent of robbing the delivery person, police said.
He kind of succeeded in his crime, police added — but failed miserably with his cover-up.
All it took was the help of a shop clerk to nab the suspect known as "Ronnie D."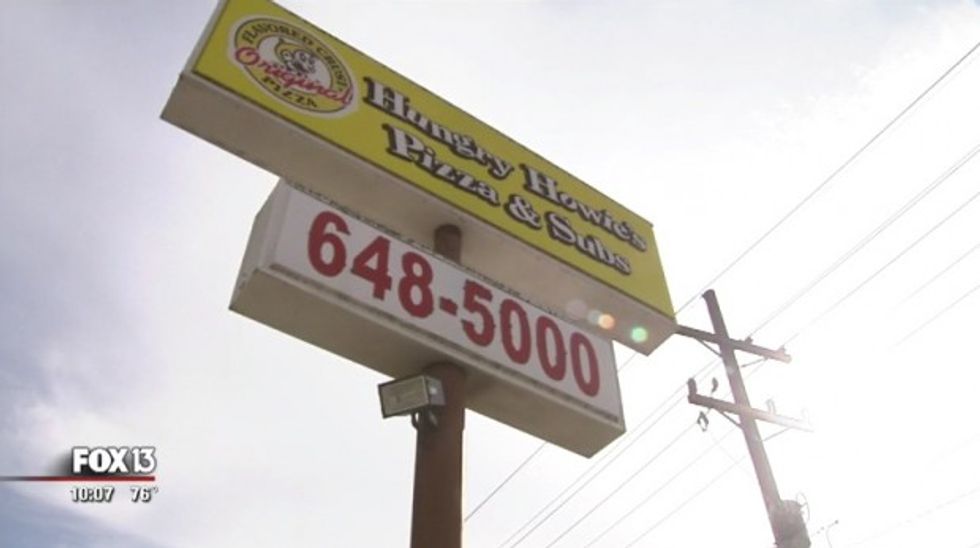 Image source: WTVT-TV
Ronnie Dougherty's alleged exploits even had Polk County Sheriff Grady Judd saying, "Come on, man! Are you kidding me?"
Police said after Dougherty ordered some Hungry Howie's wings for delivery to a home near his own. The plan allegedly was to rob the delivery person at the other address and scurry back to his place with cash and wings.
There was just one little problem: The cellphone Dougherty allegedly used to place the order was already in the Hungry Howie's system, along with his actual address. When the shop clerk informed him of this, police said he worked around that.
"She said, this is not the address attached to the phone number. He said, 'Oh, that's my friend,'" Judd told WTVT-TV.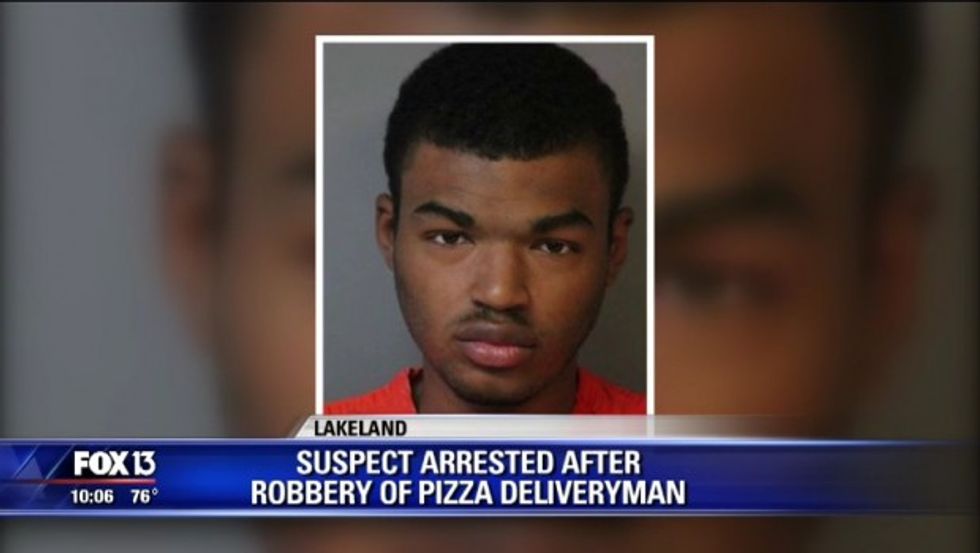 Image source: WTVT-TV
Police said that when the delivery driver arrived, Dougherty appeared with a shirt over his face and a gun in hand. He managed to steal $20, police said, but he apparently forgot the wings.
"I was just blown away by it," the woman who lives at the residence where the order was delivered told WTVT.
The woman, who asked to be kept anonymous, told the station she and her family weren't aware of what was happening outside their home.
"It was really unbelievable," she said. "I got goosebumps all over me, because like, does that really happen? You only watch this kind of stuff on the news."
But soon police up with "Ronnie D."
"This didn't take a detective to solve," Judd told WTVT. "It took a clerk at Hungry Howie's to solve it."
Turns out when "Ronnie D" called Hungry Howie's, he gave his real name. So when the robbery was reported, police said the clerk located Dougherty's real address in the system based on the cellphone number he used to place the order.
As it happens, he ordered a large pizza with mushrooms and steak just three days earlier.
"So our detectives walked over to the house, knocked on the door and Ronnie D opens the door. And we go, 'Ya gotta be kidding us,'" Judd told WTVT. "Life's tough. Life's a lot tougher if you're stupid."
Ronnie D is in now behind bars.
"Guess what?" Judd added to the station. "They don't serve Hungry Howie's wings or pizzas with mushroom and steak in the county jail."
Dougherty allegedly confessed to the crime, WTVT said, seeing the evidence stacked against him.
When police searched his home, they discovered the clothing he was wearing that night, the stolen $20, a BB gun resembling a semiautomatic handgun and two cell phones, both with the Hungry Howie's number in them, the station said.
Dougherty was charged with robbery with a firearm, WTVT reported.