After praising Fox News anchor Greta Van Susteren for her reporting on government spending, one town hall attender asked Republican presidential front-runner Donald Trump if he would consider putting the host on his cabinet if he becomes president.
"Mr. Trump, it was brought to my attention, 'On the Record,' with Greta, the amount of wasteful spending in the government, and the lack of accountability, and my question is what will you do about that, and would you consider a woman who is very informed, caring and smart like Greta as part of your cabinet?" she woman asked Trump Wednesday evening.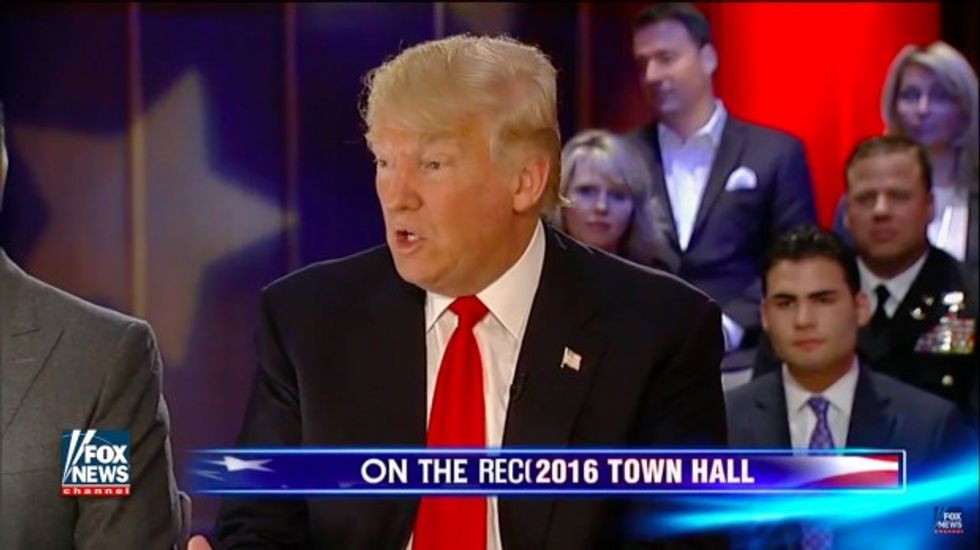 Image source: Fox News/YouTube
After the audience laughed at the proposition, Trump quickly responded enthusiastically: "That is not a bad idea, she would be excellent," he said to loud applause.
"I think more than an hour with me would be enough for Donald," Van Susteren, who was moderating the town hall, said. "I think it's about as much as he can take."
Shifting to actually answer the substance of the woman's question, Trump told her the "easiest way" for him to correct Washington spending is by "cutting."
"We have waste, fraud and abuse," Trump said. "[T]hings cost twice as much as they were supposed to cost, three times as much — not supposed to happen that way. Won't happen with the right contractors, frankly, with people knowing how to negotiate a contract."
"I hope you're gonna vote for me, by the way," he added.
—
Follow the author of this story on Twitter: