A local television news station in Baltimore was evacuated Thursday afternoon after a man wearing a "full body white panda suit" walked in and threatened to "blow up" the building, WBFF-TV reported.
A little more than an hour later, the same man appeared to be laying in the parking lot, shot by police, according to CBS News. The condition of the suspect was not immediately clear.
The Fox affiliate station was evacuated around 2 p.m. after a "suspicious person" entered the building wearing what was initially described as a "bulky suit of some kind."
#Fox45 evacuated. Suspicious person inside. Police, fire on scene. Streets blocked off.

— Karen Campbell FOX45 (@Karen_FOX45) April 28, 2016
Pictures later revealed the suspect was wearing a white panda suit, surgical mask and sunglasses.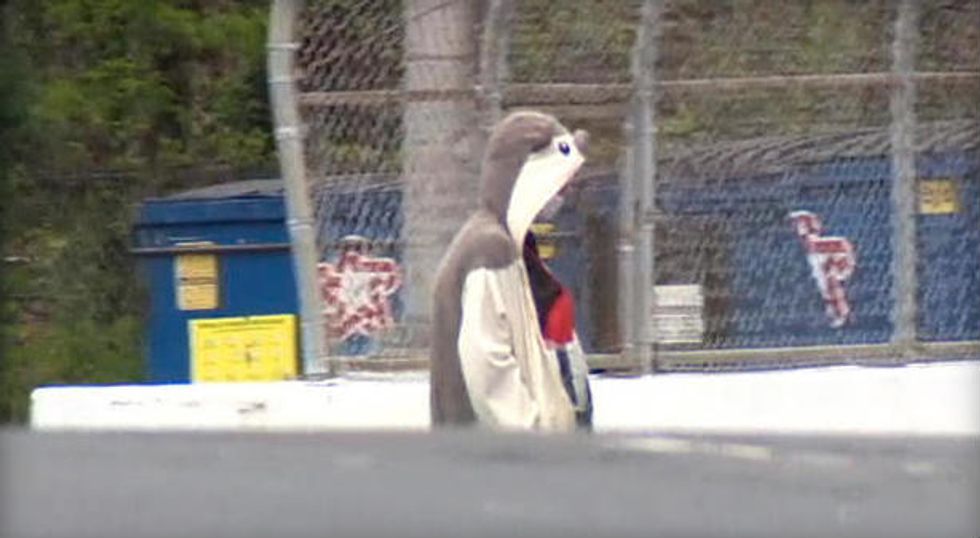 Image source: WJZ-TV
News director Mike Tomko said the man tried to give employees a flash drive, saying that he needed to show them a video, comparing what was on it to the information found in the Panama Papers, CBS News reported.
Police and firefighters responded to the scene where they say a fire was set in the gas tank of a vehicle in the station's parking lot.
The street in front of the building, situated on what is known as "TV hill" where many of the city's news stations are located, was also closed.
(H/T: WBFF-TV)
–