The National Republican Congressional Committee is blasting both CBS' "60 Minutes" and a member of Congress over what they called "largely false information" in a recent report that aired on the program.
In a letter to "60 Minutes" obtained by Politico, NRCC Executive Director Rob Simms said that CBS was "denied" permission to film at their headquarters in Washington, D.C., and "knowingly trespassed" in order to do so with hidden cameras.
"Not since Watergate has the headquarters of a major political party committee been so violated," Simms wrote.
Both political parties have "call centers" within walking distance of the Capitol where members can go to make their fundraising calls since they are prohibited from doing so in their official offices. The report utilized clandestinely shot footage of the Republicans' call center. According to CBS, they accessed the space "with the help of a staffer."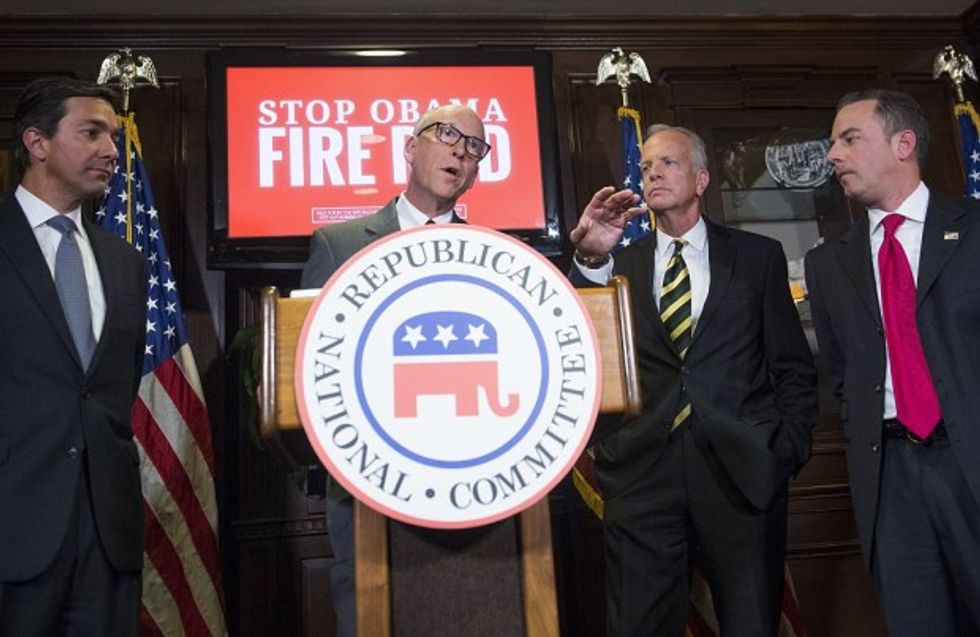 Rep. Greg Walden (Ore.), chairman of the National Republican Congressional Committee, speaks during a press conference at RNC headquarters in Washington, D.C. (Saul Loeb/AFP/Getty Images)
Simms also alleged that Rep. David Jolly (R-Fla.) lied during the broadcast, a claim Jolly's office disputed.
While discussing on "60 Minutes" his proposed legislation, the "STOP Act," which would prohibit members of Congress from personally soliciting campaign contributions, Jolly said that he was told by party insiders at a meeting that he must fundraise "$18,000 a day."
"We sat behind closed doors at one of the party headquarters back rooms in front of a white board where the equation was drawn out," Jolly said. "You have six months until the election. Break that down to having to raise $2 million in the next six months. And your job, new member of Congress, is to raise $18,000 a day. Your first responsibility is to make sure you hit $18,000 a day."
"Your first responsibility?" CBS' Norah O'Donnell pressed.
"My first responsibility," Jolly replied.
"How were you supposed to raise $18,000 a day?" O'Donnell asked.
"Simply by calling people, cold-calling a list that fundraisers put in front of you, you're presented with their biography," Jolly said. "So please call John. He's married to Sally. His daughter, Emma, just graduated from high school. They gave $18,000 last year to different candidates. They can give you $1,000 too if you ask them to. And they put you on the phone. And it's a script."
Simms denied the charge and denied that the meeting even took place.
"Simply put, this meeting never happened," Simms wrote. "It is a work of fiction. Had the reporter or producer of the story bothered to verify this claim, they would have been told as much."
Jolly's office fired back at the accusation.
"In response to the NRCC's broadside to the credibility of Rep. David Jolly, and in response to the Executive Director's bold assertion that a meeting with party leadership directing Rep. Jolly to raise $18,000 per day did not occur, we can confirm the date was April 3, 2014, the time was 5:30 p.m., the location was the NRCC's Political Conference Room on the Second Floor," Preston Rudie, Jolly's communications director, told Politico. "Rep. Jolly has intentionally left out names of participants since the beginning of this story, but if the NRCC wishes to escalate their denial, we are happy to provide additional information regarding the meeting."