BAGHDAD (TheBlaze/AP) — Iraqi officials say separate car bombings in southern Iraq have killed at least 18 people and wounded dozens.
A police official says the first explosives-laden car went off around midday Sunday near government offices in the city of Samawah, while the second exploded minutes later at an open-air bus station. The Shiite-dominated city is located some 370 kilometers (230 miles) south of the capital, Baghdad.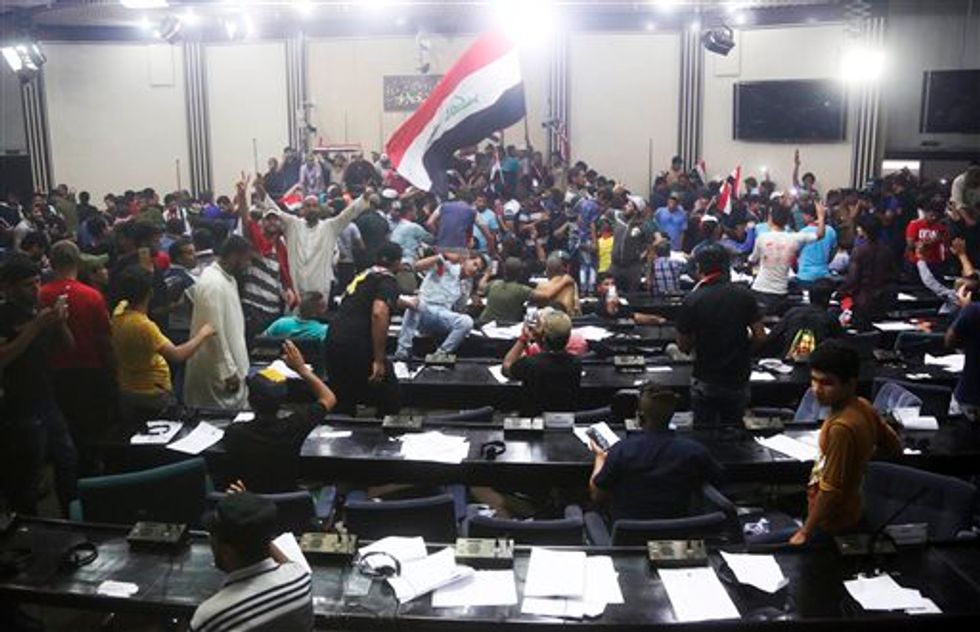 Supporters of Shiite cleric Muqtada al-Sadr storm parliament in Baghdad's Green Zone, Saturday, April 30, 2016. Dozens of protesters climbed over the blast walls and could be seen storming the Parliament building, carrying Iraqi flags and chanting against the government. (AP Photo/Khalid Mohammed)
The official added that up to 40 people were wounded in both explosions, and he expected the death toll to rise.
A medical official confirmed the causality figures. Both officials spoke on condition of anonymity as they were not authorized to release information.
No group yet has claimed responsibility for the attacks, which bear the hallmarks of the Islamic State group militants who control key areas in Iraq's north and west.
Sunday's bombings come just one day after another bombing east of Baghdad. The Islamic State claimed responsibility for Saturday's attack, which killed at least 21 people and wounded at least 42 others, according to Iraqi police and hospital officials. A statement released by the terror group described the attack as a three-ton truck bombing.
Earlier Saturday, hundreds of protesters climbed over the blast walls surrounding Baghdad's highly-fortified Green Zone for the first time and stormed into parliament, carrying Iraqi flags and chanting against the government.
The breach marked a major escalation in the country's political crisis following months of anti-government protests, sit-ins and demonstrations by supporters of influential Shiite cleric Muqtada al-Sadr. The Green Zone is home to most ministries and foreign embassies and has long been the focus of al-Sadr's criticism of the government.
Increasingly tense protests and a series of failed reform measures have paralyzed Iraq's government as the country struggles to fight the Islamic State and respond to an economic crisis sparked in part by a plunge in global oil prices.