It's no secret that Donald Trump has his qualms with China and often voices his grievances to anyone who will listen. But Sunday the Republican presidential front-runner took his critical language to a whole new level, likening the U.S. trade deficit with China to rape.
"We can't continue to allow China to rape our country, and that's what they're doing," Trump said during his a rally Sunday in Fort Wayne, Indiana.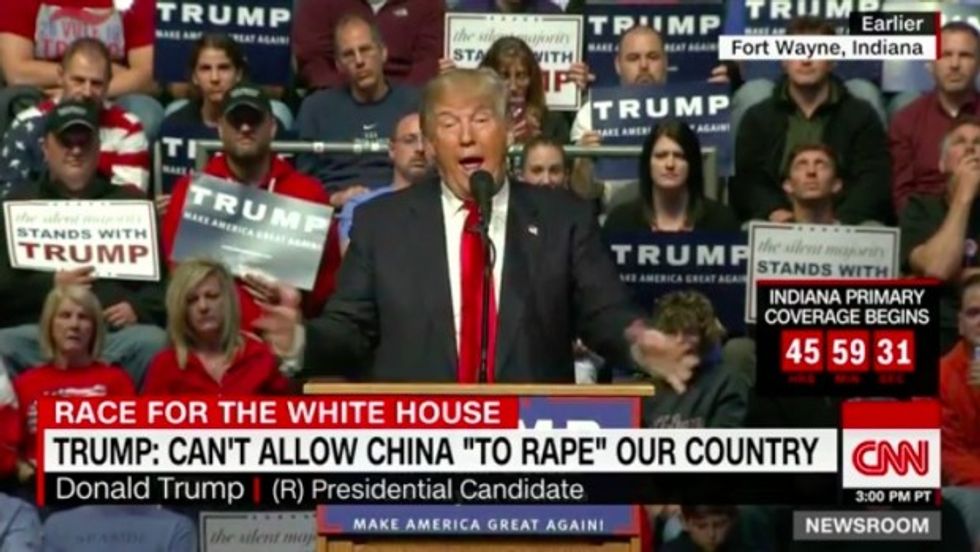 Image source: YouTube/CNN
In the past, Trump has accused China of tampering with its currency to make its exports more desirable in the global market. He's also claimed the country is "killing" America on trade. But Sunday was the first time in his presidential campaign that Trump used the "rape" metaphor to convey the dominance and abuse he perceives China to be exercising over the U.S.
"We're going to turn it around. And we have the cards, don't forget it. We're like the piggy bank that's being robbed. We have the cards. We have a lot of power with China," Trump said Sunday before making the rape comments.
Trump claimed that he is not "angry at China" but at America's "grossly incompetent" leaders.
According to CNN, Trump has used the vulgar comparison before, in 2011 while touring a defense manufacturer in New Hampshire.
Trump's analogy Sunday came after the candidate received criticism for what some have deemed sexist comments he made about Democratic front-runner Hillary Clinton and for accepting the endorsement of former boxer Mike Tyson, who was convicted of rape in Indiana.
Trump claimed that Clinton is using her "woman card" to gain supporters and suggested that the former secretary of state would not have made it this far if she were not a woman.
Texas Sen. Ted Cruz, Trump's main rival in the Indiana primary, condemned Trump for accepting the support of a convicted rapist, whom Trump praised as a "tough guy."
"I don't think rapists are tough guys. I think rapists are weak. They're bullies, and they're cowards," Cruz said Sunday on CBS' "Face the Nation."