An unemployed coal miner in West Virginia confronted Democratic presidential candidate Hillary Clinton at a campaign stop Monday for her remarks about putting coal miners "out of business."
Bo Copley, 39, a father who recently lost his job, fought back tears as he asked Clinton "How you could say you are going to put a lot of coal miners out of jobs and then come in here and tell us how you're going to be our friend?"
Copley's question was in reference to Clinton's remarks at a CNN forum in March, when she said, while touting a clean energy plan, "We're going to put a lot of coal miners and coal companies out of business."
"Those people out there don't see you as a friend," Copley said, referring to the crowd of West Virginians who had gathered to protest Clinton's visit.
Clinton insisted that her remarks were taken out of context, but she apologized for her "misstatement."
"What I said was totally out of context from what I meant because I have been talking about helping coal country for a very long time," Clinton said. "What I was saying is that the way things are going now, we will continue to lose jobs. That's what I meant to say."
Clinton acknowledged that the remark could hurt her chances in the state's upcoming primary.
"I can't take it back, and I certainly can't get people who, for political reasons or personal reasons, very painful reasons, are upset with me," Clinton said.
"Whether or not West Virginia supports me, I'm going to support you," she added.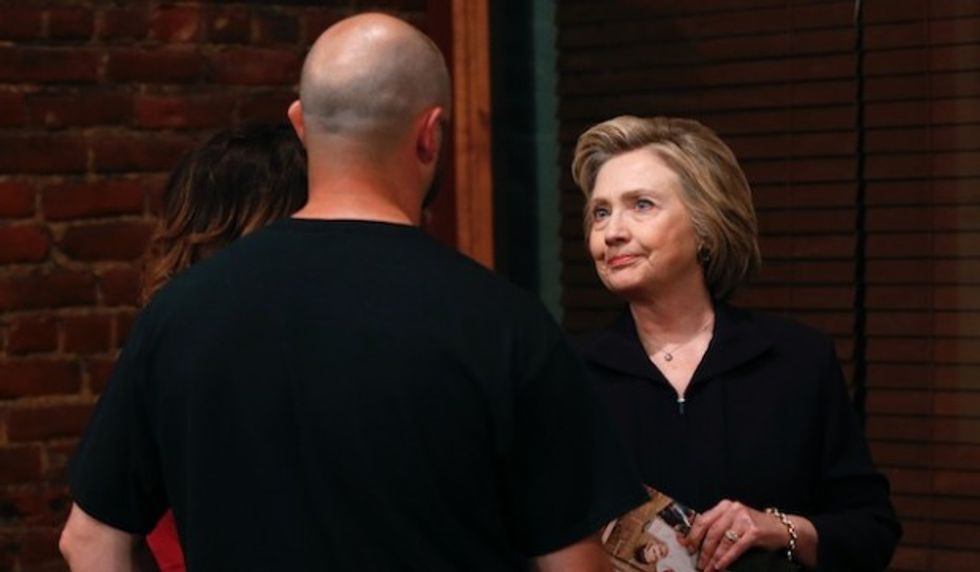 Democratic presidential candidate Hillary Clinton talks with Bo Copley and his wife Lauren, while holding a photograph of their children, after a round table discussion at Williamson Health and Wellness Center in Williamson, W.Va., Monday, May 2, 2016. (AP Photo/Paul Sancya)
Asked by NBC if Clinton's explanation had swayed his view of her, Copley said no.
Copley, who said he is a registered Republican, is still unsure which candidate he will vote for in the primary. "I'm not into political games. I'm not worried about the primary," he told NBC. "I want to hear the plans you have in store for us if you do get elected."