A group of Muslim women filed a lawsuit against a cafe in Laguna Beach, California, accusing the owner of religious discrimination.
One of the plaintiffs, Sara Farsakh, told KCBS-TV that she and six other friends were escorted out of Urth Caffé by police officers for violating the coffee shop's 45-minute seating policy.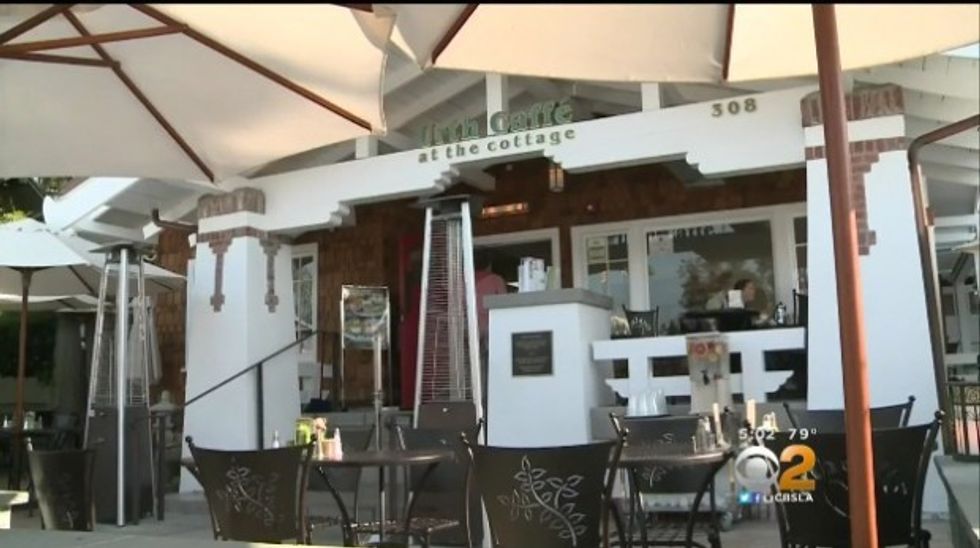 Image source: KCBS-TV
Farsakh, who said she feels "embarrassed, outraged and shocked by the discrimination" she and her friends experienced, explained that the restaurant was half empty at the time they were asked to leave.
"I truly believe had I been sitting there with my friends that were not wearing headscarfs, we would not have been asked to leave," Farsakh shared. She says other customers who witnessed the April 22 incident told her that they had been there longer than her group, and yet they were not asked to leave.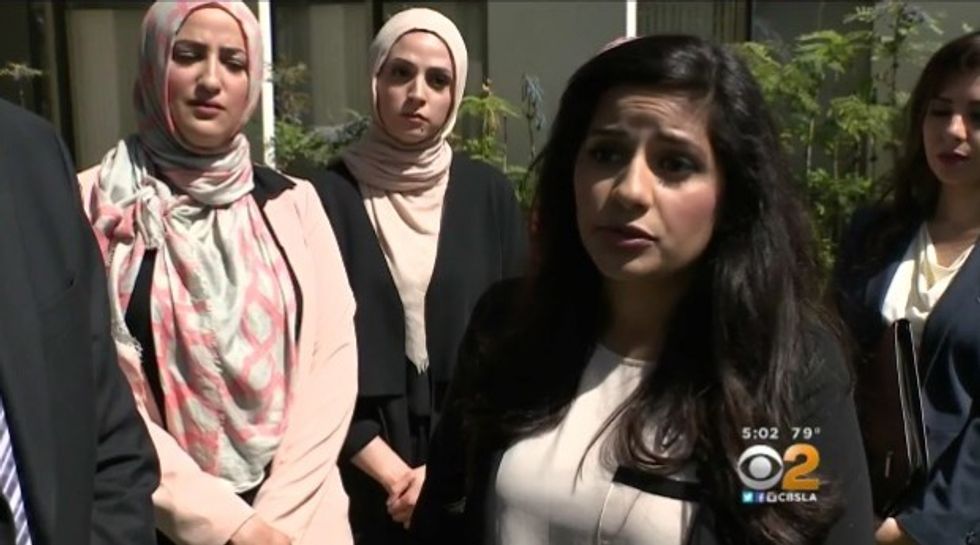 Urth Caffé in Laguna Beach, California (Image source: KCBS-TV)
Farsakh later posted a video to Facebook, which has since received thousands of shares, showing the half-empty restaurant. She claims there were at least 20 empty tables at the time she and her group were escorted out.
Now, the group of seven women is pursuing a civil rights lawsuit, asserting that they were kicked out and treated like animals because they were Muslim.
The suit alleges that there has been a series of racially charged incidents at Urth Caffé targeting Muslims, but police have denied this.
"We had gone out there a couple occasions for egg-throwing. It was reported by employees. We also had an employee report ... that their tires were slashed." Capt. Jason Kravetz of the Laguna Beach Police Department told KCBS. "At no time did we have any of the patrons ever call us to report anything that was racially motivated. All these incidents were reported by employees."
After the suit was filed, the cafe addressed the claims in a statement posted to Facebook, denying the allegations and saying that Farsakh and her friends "violated company policies."
But the plaintiffs' attorney has argued otherwise.
"Urth Caffé's expulsion of this group of women is a throwback to the days of `Whites only' signs and colored water fountains, with Muslims now being the convenient targets of discrimination," Mohammad Tajsar told KCBS.
"Urth Caffé's attempt to whitewash its upscale clientele by using its seating policy as a justification to expel those who outwardly appear Muslim is both immoral and illegal and should have no place in Orange County's diverse community," he added.
The Council on American-Islamic Relations' Greater Los Angeles office expressed concern regarding the incident in a statement issued last week.
"CAIR-LA is investigating the matter and is very concerned about the possible bias motive involved in this incident in the wake of recent events in which Muslims were kicked off a plane or refused service simply for allegedly being Muslim," the organization's executive director, Hussam Ayloush, said.
CAIR has claimed that a group of non-Muslim women in the restaurant told Farsakh that they had been there for about four hours and were not asked to leave.
The American Freedom Law Center (AFLC), the group defending Urth Caffé in this case, released a statement in response to the allegations made by Farsakh and CAIR:
Several key facts have been lost in the media frenzy to present this story in the wake of the hyped press conference of yesterday announcing the filing of the lawsuit. First, one of two owners who manage the Urth Caffe is herself a Muslim woman. Jilla Berkman, a co-owner of the Urth Caffe with her husband, was the one who actually authorized the call to the police after the women now claiming victim-status were loud and abusive to the Urth Caffe employees and refused to give up their table per the stated policy. Second, the lead plaintiff in the frivolous lawsuit is Sara Farsakh, a college-age activist for Palestinian causes who self-promotes her involvement in radical organizations, at least one of which calls for the destruction of Israel. Third, the organization behind the scenes organizing this fraudulent lawsuit is CAIR, or the Counsel on American-Islamic Relations.
"CAIR, currently named a terrorist organization by the UAE, was previously named as an unindicted co-conspirator and Muslim Brotherhood-Hamas front group by the FBI and the U.S. Attorney's Office in the successful prosecution of a terrorist funding cell organized around one of the largest Muslim charities, the Holy Land Foundation (HLF). HLF raised funds for violent jihad on behalf of Hamas, and top CAIR officials were part of the conspiracy," AFLC co-founder Robert Muise said.
"We intend to sue Farsakh and her co-conspirators for trespass and to seek damages for filing this fraudulent lawsuit," AFLC co-founder David Yerushalmi said.